by: Stefan Gleason
The U.S. economy appears headed for a hard landing.
After months of ignoring the steadily growing inflation problem, the Federal Reserve is now using monetary blunt force to try to rein in rising prices.
Fed policymakers have effectively decided that inflation is so out of hand, they are willing to induce an economic slowdown that will reduce aggregate demand for goods and services.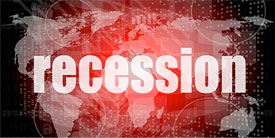 The recent carnage in the stock market suggests that the Fed's suddenly aggressive rate hikes are going to crimp consumer borrowing and hurt retail sales.
Stocks, which are now fully in bear market territory, tend to lead the economy. The message of the market is that a recession is coming.
The claims to the contrary by Biden administration officials are less than convincing – especially given their track record of failing to recognize the inflation problem until it became too overwhelming to deny.
Treasury Secretary Janet Yellen went on ABC News on Sunday to try to paint a rosy picture of the deteriorating economy.
"I don't think a recession is inevitable," she said.
Perhaps nothing is inevitable except death and taxes. But the latest economic indicators suggest that another recession caused by bungling central planners is also inevitable.
Bidenomics was predicated on fiscal and monetary stimulus propping up consumer demand.
At the same time, the Biden administration took steps to suppress supply of critical products such as fossil fuels – going so far as to shut down pipeline plans and demand that oil companies stop investing in new sources of domestic production only to later demonize them for not doing enough to alleviate record-high fuel prices!
Now the economy faces a reckoning over supply and demand imbalances.
The housing market faces a reckoning after the fastest rise in mortgage rates since 1987.
Sellers are now being forced to negotiate prices down so buyers can afford the monthly payments. Meanwhile, housing starts, home construction permits, and mortgage applications are now falling rapidly.
Other danger signs for the economy:
The Atlanta Federal Reserve Bank's GDPNow tracker shows economic growth coming in at 0% this spring, down from previous projections of second quarter GDP gains.
The Philadelphia Fed Business Index turned negative for the month of June, the first such contraction since the depths of the COVID lockdowns.
Social mood is collapsing, with the latest University of Michigan Survey of Consumers showing consumer sentiment plunging to a record low.
A recent survey found that small business owners are "feeling their gloomiest in nearly five decades."
And finally, 59% of U.S. manufacturers now believe that a recession is coming.
The upshot is that periods of great fear create great buying opportunities. Asset classes that are currently under pressure will eventually reach a bottom. Some markets may be at or near a bottom now.
But with the economy likely to worsen before it gets better, risks remain high in economically sensitive assets such as growth stocks and industrial commodities.
Non-cyclical assets such as precious metals tend to be more resilient to economic risks. They may even benefit from an investor flight to safety – especially as it becomes clearer that in a stagflation environment, cash is no safe haven.
The bottom line is that holders of certain hard assets, namely gold and silver, will be better positioned than those stuck in paper assets to survive a hard landing for the economy.
Views: