By Bob Shanahan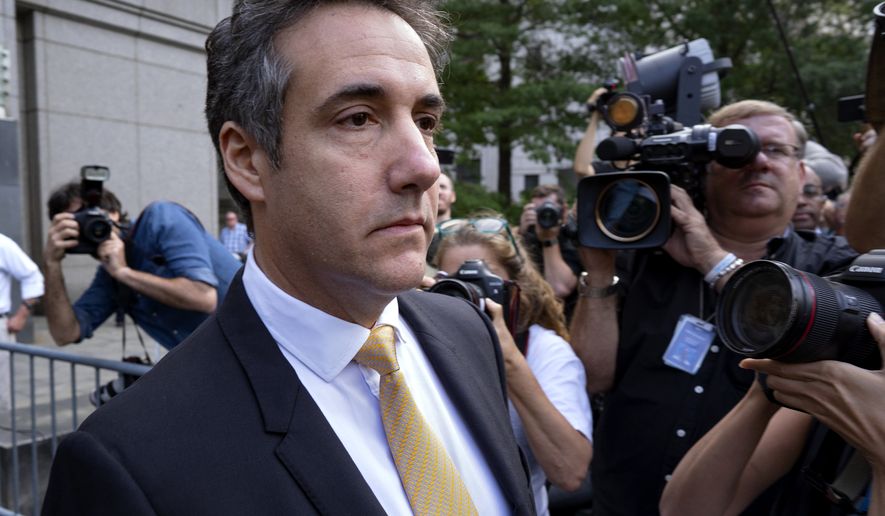 A week ago today, President Donald Trump's former lawyer Michael Cohen became the sole focus of the 24-hour mainstream media news cycle when he pleaded guilty to eight charges, including bank fraud and campaign finance crimes. What made the MSM really froth at the mouth was Cohen's implication of the president in a scheme to silence to women from making public their claims of their sexual escapades.
The lying media, deranged Democrats, and crooked anti-Trump Republicans will stop at nothing to remove our duly elected president from office. This latest Cohen debacle was covered like it was the 21st century's Watergate. Finally, the Trump administration is coming to an end! Sorry liberals, he's still your president and will be until 2020 and likely 2024.
Last Tuesday, Cohen told federal prosecutors that he made payments to the two pornstars "in coordination with and at the direction" of the president. So what? At the very least they have him on a campaign finance law violation. Essentially a parking ticket in the political realm. Obama was hit with a $375,000 fine in 2008 for violating campaign finance law. Politicians regularly are. So how the hell is this going to bring the president down, you might ask?
We did not elect a saintly man to the White House. We all know Donald Trump is far from the most moral person in the world. We knew who he was when we elected him. Evangelicals were willing to accept his faults for getting the Supreme Court picks and the tax cuts. His payment to Stormy Daniels, who accepted it, to keep the story quiet during the chaotic 2016 presidential campaign was simply a savvy political move.
President Trump is not going to get indicted. He is not going to be impeached. If Democrats win the House in November, they will likely try. And just like with Republicans and Bill Clinton, the move will spectacularly backfire. There is also a zero percent chance the Democrats take back the Senate this fall, which means two-thirds of the Senate will not vote to remove him from office. There are not that many anti-Trump Republicans in the Senate.
After a hellish week for the president following the Cohen news and the Paul Manafort verdict, his job approval has remained level. New polling by The Wall Street Journal and NBC News puts Trump at 44 percent approval with registered voters. This is essentially unchanged from 46 percent in the same poll the week before the legal news of last week.
In the runup to the midterms, Democrats and the Deep State are doing all they can to hit the president with something that will finally dissuade a sizable chunk of his supporters, but they have proven quite ineffective so far. Even with the MSM propaganda machine moving full speed ahead.
According to Peter Hart, a Democratic pollster, "the Manafort and Cohen convictions represent a fool's gold opportunity rather than a silver bullet solution" for Democrats' 2018 strategy for a blue wave November.
As of Friday, the one remaining daily presidential tracking poll, Rasmussen, had Trump's job approval at 46 percent (down from a recent high of 50 percent). After the MSM beat the dead horse that was the one-two punch of Cohen and Manafort charges last week, Trump still is well on his way toward reelection and Republicans have a solid chance of retaining control of the House, which would be an anomaly with the president's party regularly losing the House in the first midterm. Obama was at 45 percent at the same point during his first term in 2010, according to Rasmussen, and he got pummeled in his first midterms and lost the House before losing the Senate in 2014.
The media lost their minds when they thought Cohen could possibly link Trump to Russia. This was the news story they've been waiting for since November 9, 2016. However, we have learned over the last few days that there is literally nothing to that story. The MSM will come up empty again. The Deep State was thwarted once more by the Donald.
The Washington Post broke the story on Sunday when it wrote that Cohen's attorney, Lanny Davis, is "backing away from confident assertions he made that Cohen has information to share with investigators that Trump knew in 2016 of Russian efforts to undermine Democratic nominee Hillary Clinton."
In a weekend interview, however, Davis said he was no longer certain about what he told reporters on background but on the record about what Cohen knows about Trump's links to Russia and its efforts to meddle with our election. He said he "should have been more clear."
Michaels Cohen's attorney clarified the record, saying his client does not know if President Trump knew about the Trump Tower meeting (out of which came nothing!). The answer is that I did NOT know about the meeting. Just another phony story by the Fake News Media!

— Donald J. Trump (@realDonaldTrump) August 25, 2018
The story of Trump's former "fixer" going against the president and being a witness in the witch hunt Mueller investigation was THE story covered by CNN, MSNBC, ABC, NBC, CBS, et al. After the media realized that the campaign finance crimes unearthed by Cohen's guilty plea amounted to nothing truly damning on the president, it moved onto the dim possibility that Cohen could bring Trump down by connecting him to Russia, confirming collusion once and for all!  
Davis told the Post that he cannot confirm reports that his client is ready to talk to Mueller about Trump having advance knowledge of the infamous June 2016 Trump Tower meeting with Donald Trump, Jr. and a Russian lawyer.
CNN initially reported in late July that Cohen witnessed Trump being informed of the Russians' offer of having dirt on Hillary Clinton by his son, Donald, Jr. and candidate Trump approved of the meeting.
Davis has backtracked his previous story in such a way in makes one wonder if he is in fact working for the Democrats and is an informant for the Mueller investigation.
"I should have been more clear — including with you — that I could not independently confirm what happened," Davis said, adding: "I regret my error."
1. CNN reports Cohen has info on POTUS having advanced knowledge of Trump tower meeting.

2. @jonathanvswan reports Cohen told House Committee he had no such info.

3. Cohen's lawyer confirms Swan's reporting.

4. CNN refuses to correct their "reporting"

5. @brianstelter silent.

— Andrew Surabian (@Surabees) August 26, 2018
Davis further embarrassed himself on Monday night when he admitted to being the anonymous source in that July CNN story about Cohen knowing Trump was aware of the Trump Tower meeting, in direct contradiction of his own words on CNN last week. The anonymous source has outed himself as the sole source for multiple reports in recent days and has continued to destroy his competency as a reputable attorney.
Just last week, Davis told Anderson Cooper, "I think the reporting of the story got mixed up in the course of a criminal investigation. We were not the source of the story." And yet, last night, Davis told BuzzFeed that he regrets his role as an anonymous source and his later denial of his involvement in the story. CNN cited "sources with knowledge" in its article despite the fact that it was only Davis giving them the "scoop."
After the original CNN story, Davis told BuzzFeed that he did not lie to Cooper, he "unintentionally misspoke."
But Fake News CNN continues to stand by its reporting and refuses to retract it as of this writing. A CNN spokesperson told BuzzFeed, "We stand by our story, and are confident in our reporting of it." The Clinton News Network is a joke and cannot be trusted to put out objective or verified news.
This is why Americans do not trust their news networks anymore. With the media failing to learn the mistakes they made during the 2016 campaign, they continue to double down on its anti-Trump tactics by posting eye-catching headlines and damning articles with anonymous sources and uncorroborated stories. Using one anonymous source and going to press with a story is the worst kind of journalism. But it's what our friends at CNN, NYT, CBS, ABC, NBC, and the other enemies of the people do on a daily basis.
CNN's story was made so convincing by the subsequent stream of MSM outlets echoing portions of the false narrative. This was all because one anonymous source, Lanny Davis, wanted to have this story out there. Did this even help his client at all? Did Cohen even have to plead guilty to those low level crimes? Makes you wonder how Cohen decided on this Davis character to represent him in these serious matters.
So Lanny Davis is now admitting that he was the anonymous source for the now debunked story that @CNN has thus far refused to correct.

Getting embarrassing.

Keep in mind that this is a network that constantly lectures us about how they are "real news."t.co/FooyEL7gZ7

— Andrew Surabian (@Surabees) August 28, 2018
About a month later, Cohen pleaded guilty to criminal charges, including campaign finance violations. Freed from self-imposed media silence, Davis began making the TV rounds to defend his client. He appeared across cable news and said that Cohen had information that would be of interest to Mueller, including that Trump knew of the Russian hacking of the DNC (which was Seth Rich as we all know, RIP).
How could Davis make the claim that Cohen could prove Trump knew about the Trump Tower meeting when Cohen himself told the Senate Intelligence Committee that he learned of it when it was reported in July 2017?
CNN's cowardly decision to stand by the story shows its true colors. BuzzFeed's reporting notes that some staffers at CNN are upset about CNN's failure to correct the erroneous report a month ago. The fact that CNN doesn't think it made a mistake shows how desperate they are to bring Trump down and throw all its credibility out the window, the shred that remains.
So spare me the outrage. Spare me the Trump is finally going to get impeached talk. Spare me the White House in chaos narrative. Stop with the Trump is going crazy with these guilty pleas and convictions. Nothing is going to happen. Nothing is connecting Trump to Russia. Nothing will. The Mueller Deep State cabal have nothing on Trump. The media will do whatever it takes to bring Trump down but they cannot find anything on him because there is nothing to find.
There are no high crimes or misdemeanors perpetrated by candidate Trump or President Trump. There is nothing to the Russian collusion narrative. There is an anti-Trump faction in DC that will stop at nothing to put the brakes on the America First Trump bulldozer in the White House. There is nothing they can do to a man who has nothing to hide and nothing to be afraid of.  
Follow me @BobShanahanMan
Bob is a freelance journalist and researcher. He remains forever skeptical of the mainstream media narrative and dedicated to uncovering the truth. Bob writes about politics (in DC and CA), economics, cultural trends, public policy, media, history, real estate, Trump Derangement Syndrome, and geopolitics. Bob grew up in Northern California, went to college in Southern California, and lived 4+ years in Seattle. He now lives in sunny Sacramento. His writing also appears in Citizen Truth and has been posted on ZeroHedge and Signs of the Times.