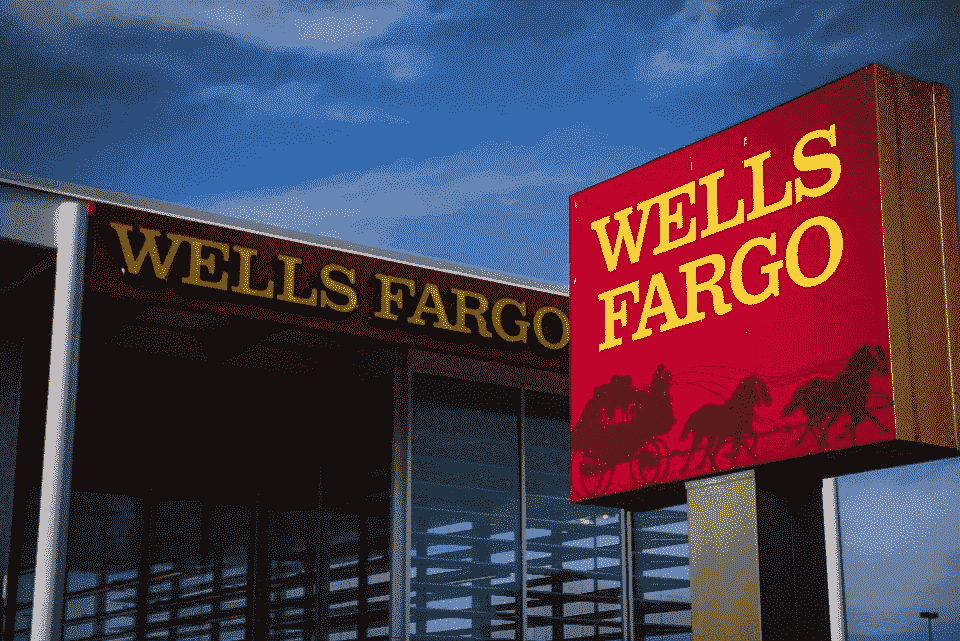 It has begun. Wells Fargo has told all its customers that it is shuttering down ALL personal lines of credit. The bank has made it clear that it is shutting down ALL existing personal lines of credit and it will no longer offer such products. That includes revolving credit lines, which typically let users borrow $3,000 to $100,000. The bank used to sell these products as a way to consolidate higher-interest credit card debt or to pay for home renovations. This also included avoiding overdraft fees on linked checking accounts.
Customers have been given a 60-day notice that their accounts will be shut down. Wells Fargo has declined to comment when asked by Reuters. Previously, Wells Fargo suspended home equity loans, claiming it was due to the economic uncertainty with COVID. Wells Fargo has been struggling with a tarnished reputation following a series of consumer financial scandals. In 2016, the Wells Fargo account fraud scandal led to the resignation of CEO John Stumpf and resulted in fines of $185 million by the Consumer Financial Protection Bureau.
Despite the fact that Wells Fargo Bank likes to portray it was formed on March 18, 1852, the truth is that it was simply a freight company back then. It was in New York City where Henry Wells and William G. Fargo joined with several other investors to launch their idea of a freight company to cover the trade between the East and West Coasts. What sparked the idea was the discovery of gold in California in 1849. They recognized that there would be a demand for cross-country shipping. Wells Fargo & Company was formed to take advantage of this great opportunity.
In July 1852, Wells Fargo & Co began its first loads of freight from the East Coast to mining camps scattered throughout northern California. The company contracted with independent stagecoach companies to provide the fastest possible transportation and delivery of gold dust, mail, and other various valuable freight. Wells Fargo began buying gold dust, selling paper bank drafts, and providing loans to help fuel California's growing economy.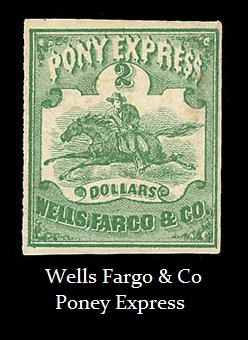 In 1857, the business was so profitable that Wells, Fargo & Co. formed the Overland Mail Company, known as the "Butterfield Line," which provided regular mail and passenger service. The company earned a reputation as a trustworthy and reliable business. It adopted as its logo the classic stagecoach which became famous even in later movies. Wells Fargo & Co. would also send an employee on horseback to deliver or pick up a message or package which became known as the Pony Express.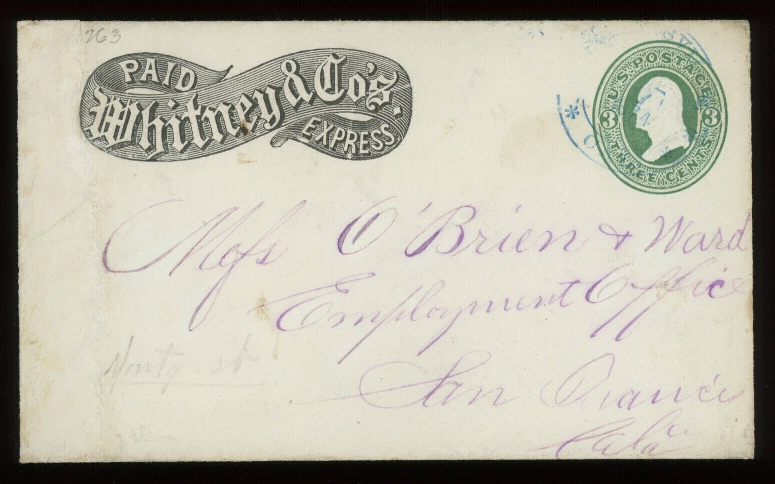 There were other competitors. John Bamber first advertised July 12, 1858, as the only authorized for daily and weekly newspapers. On September 9, 1870, Bamber incorporated as "Bamber Express Co." with four other trustees.  Then on January 1, 1874, a change in ownership was announced. On July 6, 1874, it was announced that Whitney & Co. Express had purchased the company.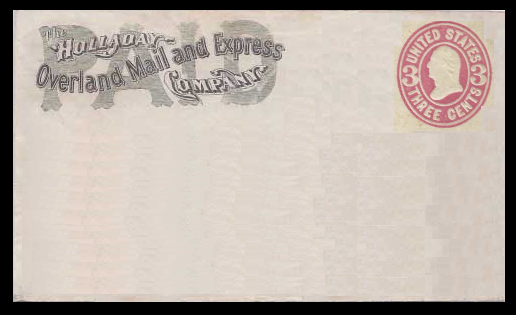 Wells Fargo & Co. began a merger and acquisition taking over other Pony Express and stagecoach lines. Wells Fargo took over the Overland Mail Company in 1860. Six years later, Holladay Express was added. By this time,  Wells Fargo & Co emerged and the leader in transportation in the West. When the transcontinental railroad was completed three years later, the company began using the railroad to transport its freight. In 1905, the company split whereas the freight business stood separately and they embarked on banking. Wells Fargo took over the Nevada National Bank and established new headquarters in San Francisco. By 1910, the freight company was covering 6,000 locations from the Eastern urban centers connecting them to the Midwest farmers and then ranchers and miners from Texas to California as well as the Pacific Northwest where the lumber mills operated.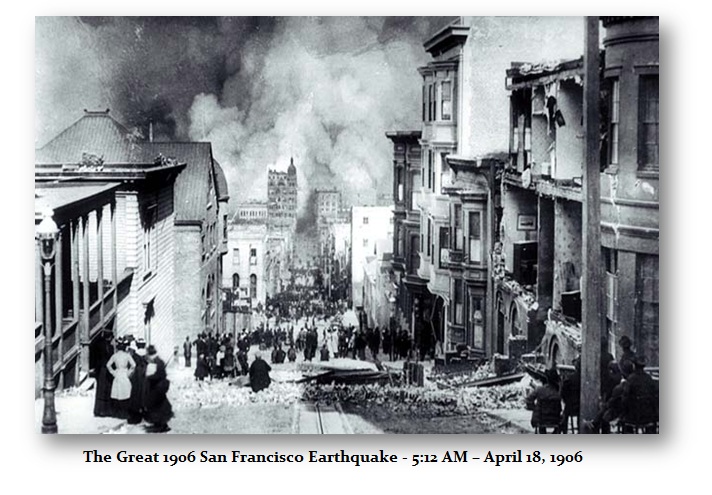 During World War I, the U.S. government nationalized Wells Fargo's shipping routes and combined them with the railroads into the American Railway Express. This actually terminated Wells, Fargo & Co. as a transportation and delivery business. The banking side was hit by the 1906 San Francisco Earthquake, but the vaults held up while the building collapsed. After World War II, the Wells Fargo Bank American Trust Company reduced its name to just Wells Fargo Bank in 1962.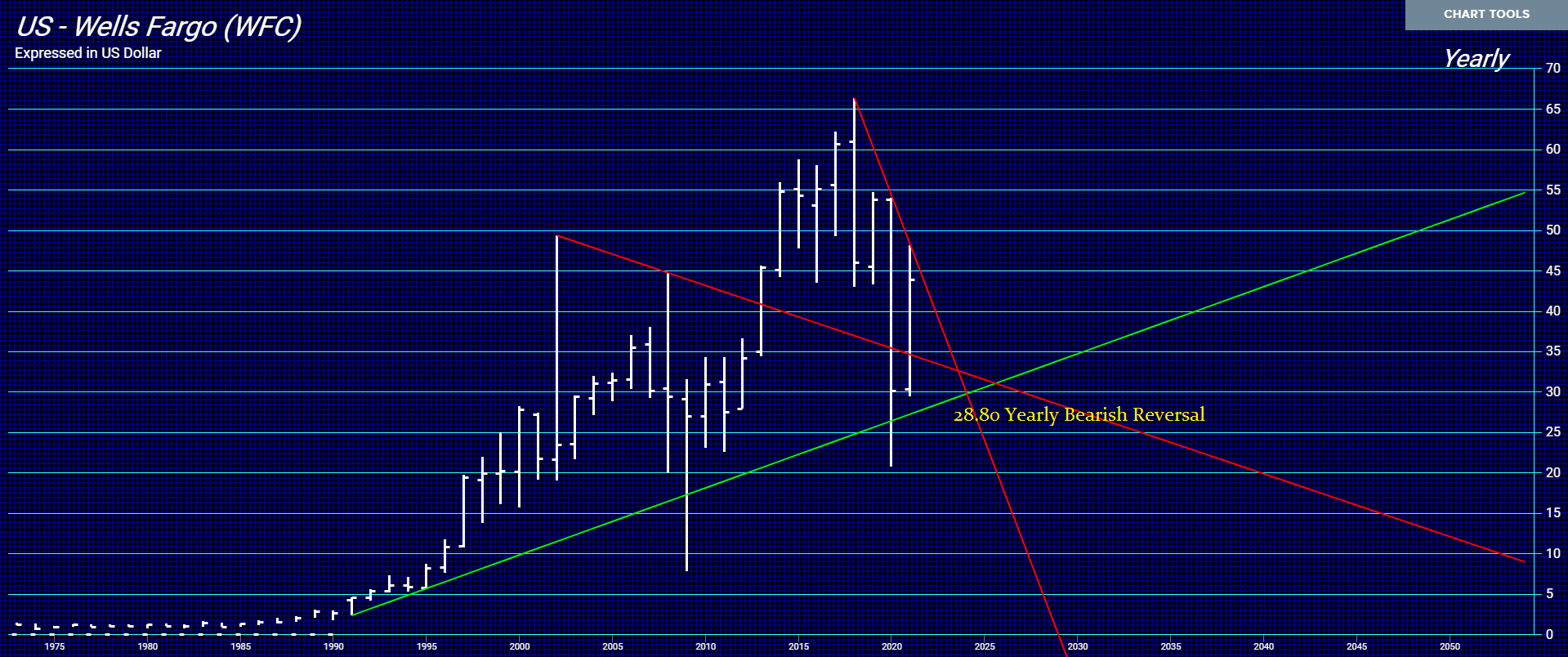 Wells Fargo from its split which was decided in 1904, peaked on the 112-year cycle in 2016. While it elect two of the near-term Yearly sell signals, the first long-term resides at $28.80. A year-end closing below that will be the kiss of death for Wells Fargo.
Related:
Last week, without warning, Wells Fargo Bank announced that it is eliminating personal lines of credit for customers.
Wells Fargo tells customers it's shuttering all personal lines of credit www.cnbc.com/2021/07/08/wells…
People forget this, but only about a year ago Wall Street insider Frank Partnoy, wrote an extensive article in The Atlantic warning about Wells Fargo having $1 trillion in bad loans and OTC derivatives hidden off balance sheet.
Link to Partnoy's article,The Looming Bank Collapse, from last year: www.theatlantic.com/magazine/…
Views: