by Pamela Williams
I don't want to forget about the courageous and amazing Monica Peterson who was the Assistant Director at the Human Trafficking Center in Colorado.  She died in November of 2016 while doing research on child trafficking in Haiti.  Back on November 13th, 2016 the Center on Human Rights Education posted a message on Facebook informing people about her death.
The director of the organization, Professor Claude d'Estree, wrote:  "I am heartbroken to report that Monica Peterson died today in Haiti.  She was a recent graduate of the Korbel School, a Research Fellow and Assistant Director at the Human Trafficking Center, and had moved to Haiti to teach and start an NGO."
Her death has been reported as a suicide, but her Mother says she does not believe that.  She said the Monica was happy and felt like she was doing good work.  There have been so many different stories online about how Monica died, and exactly what she was working on a the time in Haiti.  I know what I believe, but I want you the reader to understand the range of possibilities, which are being associated with Monica now.  I happen to believe some, but we are looking at what we actually know at this time.
Petersen's work was in relation to uncovering child sex rings and sex trafficking networks in Haiti.

At Monica's memorial her teacher, Professor Claude d'Estrée made the following statement: "(She) decided to take on one of the demagogues in the field of human trafficking. Produced a 110-page analysis of human trafficking in Haiti – 2 years of research. We were looking for someone who was smart enough and maybe brave enough to publish her work. We will continue to seek out and publish it for her. We are in a state of shock. We may never know what exactly happened to her."

The facts are Petersen's body has not been recovered. The cause of death has not been stated. An autopsy has not been performed. Her family has also not been notified as to the cause of her death or what exactly happened or why her body has not been returned.  This to me is very suspicious, and it should have already been resolved.  

Before her death, Monica sent her friend this online message:  "[…] the real significance of this scandal for me, I know you feel me [redacted], is the link to contemporary slavery and trafficking. I can't say to what extent, but there is human trafficking happening through the Clinton's Caraol Complex. And mining has always been historically linked to trafficking, slavery, and labor exploitation. I'd like to go see for myself who's laboring at Morne Bossa, but I would hypothesize that the Dominicans are doing the contractual oversight of the mining, while marginalized Haitians are being exploited for low or no cost labor in dangerous mining conditions.  That's two huge human trafficking scandals, an environmental degradation scandal, a social displacement scandal, a Presidential election scandal, a scandal with billions in unaccounted for earthquake aid… all leading directly back to the Clintons racist cronyism in Haiti."

The message below is found in the Wikileaks e-mail dump, where those close to Hillary warned about her brother's operation in Haiti. Former legislative assistant Brent Budowsky wrote in a message dated March 21st, 2015 to John Podesta…" "If there is one thing that could well bring down a Hillary Clinton candidacy it is this cycle of money issues about which I am now feeling red alerts, loud bells, warning signals, and red flags and I am now seriously pissed off that there is a real chance that her candidacy and the Democratic Party could be destroyed by these self-created dangers that continue to proliferate the closer she gets to presumably announcing her candidacy.  […] it will be megaphoned throughout the media, and foreign donations and paid speeches and hustling gold mining deals by her brother are entirely legitimate issues that are self-created, and must self-corrected before it is too late….and I do not believe the Clintons fully understand the magnitude and immediacy of the danger in the current political and media climate."
 
As far as I am concerned, I just gave you the facts of the case surrounding Monica's death.  Now we will talk about what is going on outside of her death with those characters mentioned in the facts.  
The Clintons have had ties with child sex abusers and pedophiles, including having ties to NGO's Laura Silsby, who was reportedly trying to smuggle 33 children out of Haiti, 22 of which still had parents who were concerned about them, as reported by CBS News.  www.cbsnews.com/news/who-is-laura-silsby/
Go here to watch the video in which CBS NEWS tells the story of Silsby and her connections to Hillary Clinton.  
www.youtube.com/watch?v=2Di7JDc_Czk&t=73s
[Update 12/15/2016:] Washington Post purposefully misleads readers about Monica Petersen's death, work and activism in order to smear Pizzagate, but Monica's mother sets the record straight.
In the WASHINGTON POST ARTICLE, published on December 6th, 2016, the headline itself is false in regards to the actual facts. The article was published after citizen investigators working under the PizzaGate label alleged that Monica Petersen was killed during a probe into the Clinton Foundation in Haiti.
 
Here is the link to the WASHINGTON POST article.  I do want to say that John Podesta now works for the paper.  John Podesta was Hillary Clinton's campaign manager in her 2016 presidential campaign.  Link:
www.washingtonpost.com/news/fact-checker/wp/2016/12/06/another-false-pizzagate-tale-the-death-of-a-sex-worker-activist-in-haiti/?utm_term=.ae3051995606
'Pizzagate' rumors falsely link death of sex-worker advocate to nonexistent Clinton probe.
On Dec. 4, the InfoWars.com website – run by Alex Jones, a big booster of President-elect Donald Trump – posted a YouTube video titled "Haiti PIZZAGATE: Death of Child Trafficking Investigator." It falsely claimed "she had just begun investigating the correlation regarding the Clinton Foundation's Caracol Industrial Park Complex and its connection to a human trafficking network when her life was cut short."

I want to go on to report more of what we know about Monica Peterson.  The website:  steemit.com/news/@rebelskum/the-cost-of-courage-part-v-monica-petersen-and-the-horrors-in-haiti has written a series about Monica.
The following was taken from The Cost of Courage – Part V: Monica Petersen and the horrors in Haiti:
This is a well-known picture of Monica which the website has posted: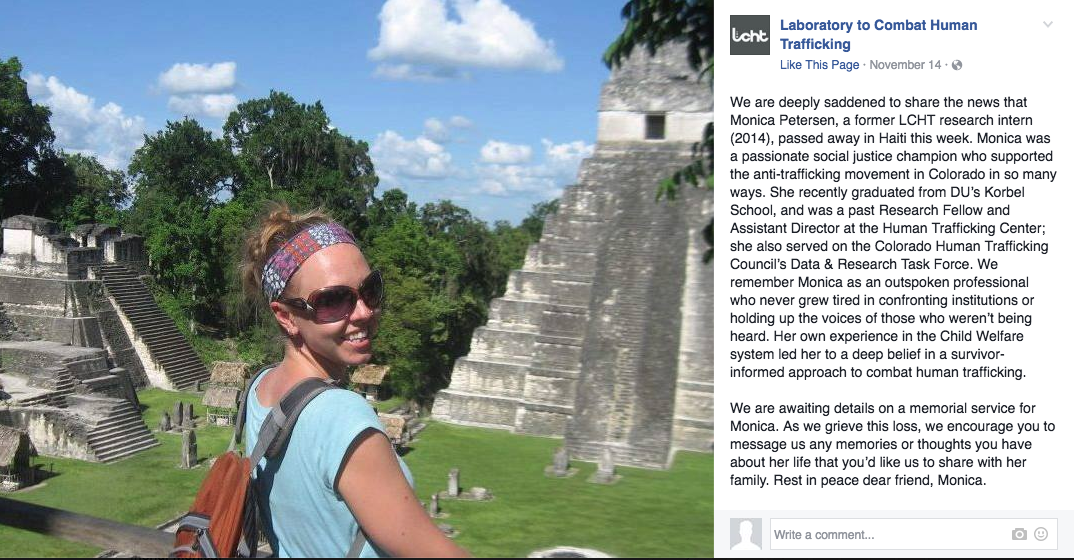 Petersen's career
Monica Petersen dedicated her life's work to the fight against human trafficking: She earned a Master's in International Development from the Korbel School of International Studies, was previously a research intern at the Laboratory to Combat Human Trafficking (LCHT), was a Research Fellow and Assistant Director at the Human Trafficking Center (HTC), and she also worked for the Colorado Human Trafficking Council's Data & Research Task Force.
Not simply content with office work, Petersen would give presentations on human trafficking throughout the country.(1) She also testified along with Professor Claude d'Estrée in front of the Colorado-Senate Committee on human trafficking.(2)
Petersen avidly published her work online through blogs and Facebook. One of her most famous posts, Root Causes and Contradictions of the Displaced Youth along the U.S./Mexico Border, was written in 2014. It harshly criticizes the United States' immigration and interventionist policies with Mexico stating that such rules not only increase the prevalence of child trafficking, but they fundamentally violate human rights as well.
Here are some important takeaway points from this particular blog post:
Illicit markets thrive where licit markets have been destroyed.
Minors in Central American conflict zones are at a higher risk for various types of child trafficking.
Hasty deportations of unaccompanied Central American minors violate international children's rights.
The international principle of non-refoulment is being disregarded by the United States government. "Non-refoulment" is the obligation of states to accept refugees and asylees seeking safety from life threatening risks in their home countries.
The U.S. has a sixty-year history of provoking regional instability in Central America.
Research overwhelmingly shows increased border militarization is an ineffective, inhumane solution for stopping migrant flows everywhere in the world.
On August 15, 2015 it was announced that Monica Petersen was going to Haiti to investigate human trafficking there.(4) That would be where Petersen would live until her death in 2016.(5)
 
The article goes on the explain Clinton ties:
It turns out that in addition to direct claims of sexual harrassment,(15), poor working conditions and wage slavery,(16) Sae-A Trading Co. has strangely set up shop in numerous countries that have been plagued by human trafficking. These countries include Cambodia, Vietnam, Nicaragua and Guatemala. In these countries Sae-A Trading Co. will also set up child-specific projects, such as the Tam Binh orphanage near their Vietnam factory,(17) an orphanage near their Guatemala factory, as well as S&H schools at the Caracol Industrial Complex in Haiti.(18)
Cambodia is one of the more peculiar cases. Just days after the Caracol Industrial Complex was built, Hillary Clinton became the first Secretary of State to visit Cambodia since 2003.(19) She spoke with Prime Minister/dictator Hun Sen and "pledged to strengthen the partnership between the United States and Cambodia". Apparently Hillary's brother, Tony Rodham, had also visited with Hun Sen back in 1998.
Since Hillary Clinton involved the State Department in Cambodia human trafficking and sex slavery has remained not only prevalent, but possibly even grown.(20) In fact, according to Cambodian police:
The big business of selling prepubescent girls to foreign pedophiles for thousands of dollars still exists, though it looks very different than it did a decade ago.
The days of brazen selling with a storefront are gone. The underground business, though, is thriving.
Source: Washington Post
It appears then that Monica Petersen was correct in her skepticism about Caracol Industrial Complex.
Petersen would also point out that Tony Rodham, again Hillary's brother, sits on the board for VCS Mining, a company that would receive lucrative contracts to operate suspiciously close to the Caracol Industrial Complex within the same year of its construction. Monica took this as a red flag:(21)
Mining has always been historically linked to trafficking, slavery, and labor exploitation.
I'd like to go see for myself who's laboring at Morne Bossa, but I would hypothesize that the Dominicans are doing the contractual oversight of the mining, while marginalized Haitians are being exploited for low or no cost labor in dangerous mining conditions.
Monica Petersen was definitely getting close to something and many of her conclusions (while unverified at the time) have turned out to be true. Even USAID admits Haitians are not in management positions at Caracol(22) and locals complain that jobs are "taken by foreigners" in Morne Bossa.(23)
It's almost a certainty that Petersen's conclusions were starting to be corroborated and she was going to use the information to affect Hillary Clinton's chances in the 2016 Presidential Election. Petersen stated herself in January as she was discovering the Clinton connections to Haiti.
Monica Petersen died in Haiti on November 13, 2016 by apparent hanging, but many including Monica's own mother suspect foul play.(24) Several friends close to Petersen also believed she was murdered.(25)(26)(27)
 
In conclusion, we have seen too many people die as of late, who are being ignored by mainstream media.  They died under mysterious circumstances, and the only ones who seem to care is alternative-media.  We have covered the murder of Seth Rich and Monica Peterson, but those are only a few.  We almost had more murders at the ball game practice of Representative Steve Scalise and other Republicans with him.  We must continue to move ahead with our reporting, for we must not forget this people who died for what they believe in.  This is a time in history that many good people are struggling with the rampant evil they see around them.  These are dangerous times that require courage and faith in God to endure.
An IWB reader, Mac, mentioned Monica, saying, 'we cannot forget about her,' and I will dedicate this report to him.