via Bloomberg:
"50 Cent" is back. Or at least, a pretty convincing impersonator who spent $5 million on volatility hedges this week.
The mysterious buyer, or buyers, earned the nickname — a play on the rapper Curtis Jackson, known as "50 Cent" — after relentlessly purchasing huge lots of call options tied to the VIX at around 50 cents a pop.
A nearly identical trade was put on over the past two days, likely intended as a hedge, betting that equity-price swings will rip higher with the Cboe Volatility Index sitting below its two-year average.
On Tuesday morning, 50,000 call options with a strike price of 28 were purchased at 50 and 51 cents a piece. Then at 9:50 a.m. in New York on Wednesday, the same trade was made at 49 cents a piece. The options expire in August. The VIX is currently below 13.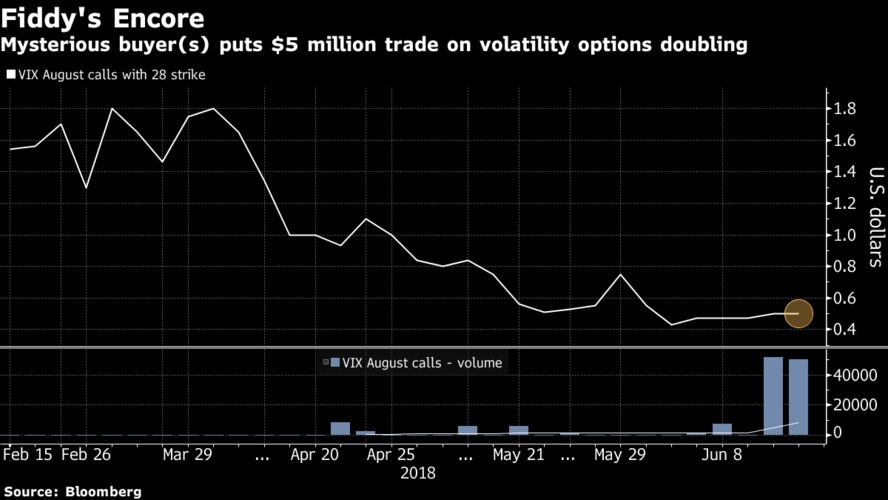 The enigmatic figure had disappeared from the spotlight after a big pay-off in February, when the VIX surged to 37.3 from 17.3 in just one day. The out-of-money options were estimated to have earned $200 million during the volatility explosion.
"He might see it as a good value hedge given the propensity for the VIX to double overnight if there is another ETN-led short squeeze like we saw in February," said Cathal Hardiman, an institutional trader at IMC Trading BV, which provides liquidity for European volatility derivatives.
569 views