Americans are falling behind on their auto-loan and credit-card bills, household debt has exceeded the amazing levels reached in 2008, only the rich can afford to live downtown now, and it's getting worse!
A shortage of homes for sale has bedeviled U.S. house hunters in recent years, so why don't builders build more? One problem is that they're running out of lots to build on—at least in the places that people want to live.
Cities that were sprawling before the Great Recession have begun to sprawl again. Space-constrained cities, meanwhile, have run out of room to build. That reality has spurred developers to focus on center-city neighborhoods where high-density building is allowed—and new units command exceedingly high prices.
At some point, said Issi Romem, chief economist at BuildZoom, vacant lots in desirable urban neighborhoods will run out. "If you have three days of rations left, you'll be fine on day one, two, three," said Romem, author of new research demonstrating home construction patterns. "On day 4, you have a problem."
Historically, cities grew outward, as builders developed tracts on the periphery—then filled in the land between various developments over time. When these so-called expansive cities of the South and Southwest run out of infill land on which to build, developers simply pushed out further.
Some of these cities, like Austin and Nashville, have seen downtown boomlets. But more broadly, the building trends in those metros looks more like Dallas: Inside a 30-mile radius from the center of the city, new home sales decreased from 2000 to 2015. Outside the radius, though, sales are up by more than 50 percent. The same trend has played out to varying degrees in Phoenix, Atlanta, and San Antonio, among other cities.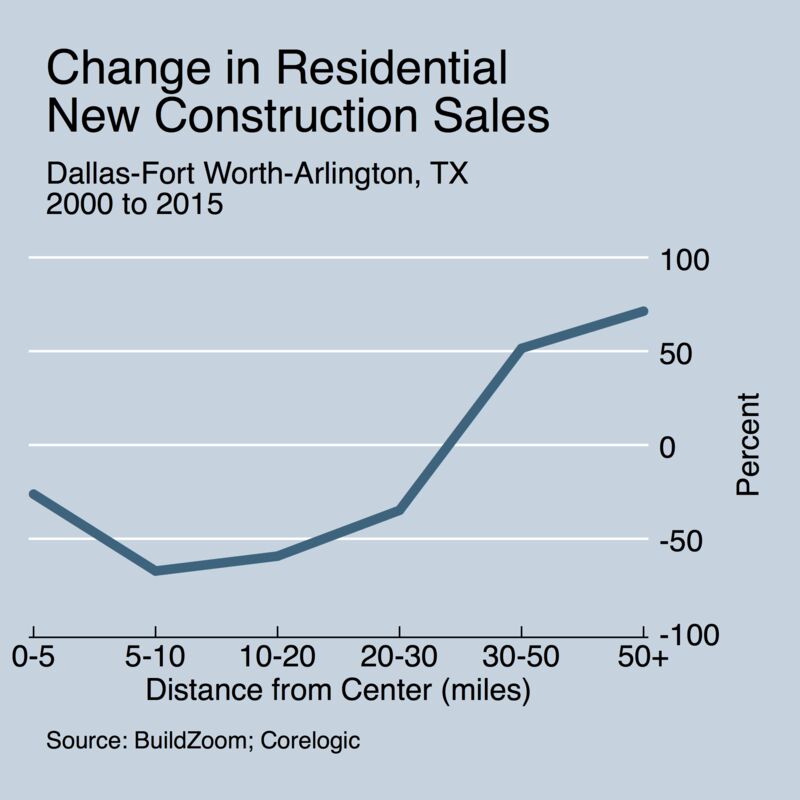 www.bloomberg.com/news/articles/2017-05-22/america-s-cities-are-running-out-of-room
A growing number of Americans are falling behind on their auto-loan and credit-card bills
 
It's unsettling that a growing number of Americans are falling behind on their auto-loan and credit-card bills. But it's even more unnerving that analysts seem somewhat surprised by the pace and scope of late payments and losses.
 
Consider private-label credit card company Alliance Data Systems, for example. It reported this week a "dramatic drop" in recovery rates in April, which led research firm Compass Point to question what the lender "may be doing operationally to create so much more volatility in recoveries than its peers," Bloomberg News reported Tuesday.
Meanwhile, lenders including Santander Consumer USA and Ally Financial have been hit by a surprisingly steep deterioration in consumer creditworthiness. Their share prices have slumped this year as they set aside more money than expected to cover loan losses and update forecasts to include deeper declines in used car resale values.
www.bloomberg.com/gadfly/articles/2017-05-18/credit-card-and-loan-losses-expose-worrisome-blind-spot
 
A Quarter of American adults can't pay all their monthly bills; 44% have less than $400 in cash
There was some good news and some not so good news in the Fed's latest annual Report on the Economic Well-Being of U.S. Households.
First the good news.
The report, based on the Board's fourth annual Survey of Household Economics and Decisionmaking conducted in October 2016, presents a "picture of improving financial well-being among Americans", at least according to the report (read on to see if this is merited). Overall, 70% of the more than 6,600 respondents said they were either "living comfortably" or "doing okay," up 1% from 2015 and up 8% from the first survey results in 2013.


Not surprisingly, the highest percentage, or 92%, of those who responded they were "living comfortably" was among the group with more than $100,000 in family income. For Americans making less than $40,000 the breakdown was almost evenly split with 49% saying they are "just getting by."  According to the same study, 28% of respondents said that their income in the last 12 months was less than $25,000, and 40% report that their income was less than the key $40,000 cutoff, which suggests that roughly 4 in 10 Americans are "finding it difficult to get by."
www.zerohedge.com/news/2017-05-20/quarter-american-adults-cant-pay-all-their-monthly-bills-44-have-less-400-cash


Household debt has exceeded the amazing levels reached in 2008, except this time the collateral are more used cars (of which there are plenty of, something that's causing problems for rental car companies), degrees and less houses.
www.wsj.com/articles/u-s-household-debts-hit-record-high-in-first-quarter-1495033206
1,059 views