via fortune:
"Credit card balances were flat in the first quarter, at $986 billion, bucking the typical trend of balance declines in first quarters," researchers wrote in the report.
"US households showed signs of increasing financial stress in the first quarter, with credit card balances not declining in the way they typically do at the start of the year and delinquencies rising for most types of consumer loans."
Wolfstreet: Households Far from "Tapped Out": Credit Card Balances, Burden, Available Credit, Delinquencies & Collections
For the first time in at least two decades, credit card balances remained unchanged in Q1 from the Q4 holiday spending binge, rather than dropping. In the data going back to 2003, credit card balances always dropped in Q1 from Q4, and often by large amounts. But this was the first time they didn't drop. Which shows just how strong spending has been in Q1, because credit card balances are mostly a measure of spending and prices rather than a measure of debt.
At $986 billion, credit card balances were up 17.2% year-over-year, according to the New York Fed today.
Credit cards as payment method not borrowing method. Consumers use their credit cards mostly as payment method and pay off their credit cards every month. According to the Federal Reserve in April this year, consumers used their credit cards to pay for $4.9 trillion in purchases in 2021.
Most of these $4.9 trillion in charges were paid off by due date and never accrued interest. But because the due-date is after the end of the month, the month-end balances that never accrue interest and are paid off a few days later still show up as credit card balances in the reports. So what we're looking at here is largely a measure of spending via credit cards and to a smaller extent interest-bearing credit card debt.
"Other" consumer loans, such as personal loans, payday loans, and Buy-Now-Pay-Later (BNPL) loans, ticked up by $5 billion, to $512 billion. Over the past two quarters, they finally edged above the high from 20 years ago. Unlike credit card balances, most of these "other" balances are interest bearing, but not all: For example, BNPL loans tend to be interest-free and are subsidized by the retailer.
Credit card balances (red) and "other" consumer credit (green) combined amounted to $1.50 trillion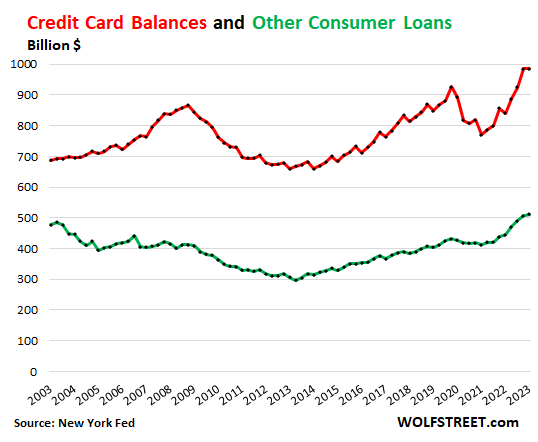 h/t AdCritical5383
Views: