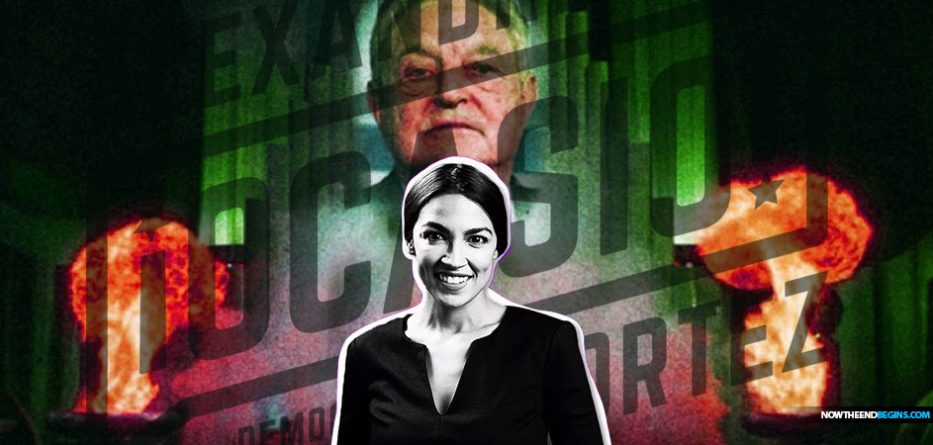 New details have emerged revealing that George Soros helped prop-up Democratic socialist Alexandria Ocasio-Cortez's political career in an attempt to put 400 Bernie Sanders-like politicians in Congress.
Well, that didn't take long. As the fake news media has been gushing and fawning over rising star Democratic Socialist Alexandria Ocasio-Cortez, pushing hard the 'she came out of nowhere!' narrative, it turns out that she in fact did come from somewhere. Alexandria Ocasio-Cortez, political candidate, was created inside the walls of  The Media Consortium, one of the crown jewels of the George Soros empire.
"A Manchurian candidate is a person, especially a politician, being used as a puppet by an enemy power. The term is commonly used to indicate disloyalty or corruption, whether intentional or unintentional." Dictionary.com
A quick peek at The Media Consortium's membership roster reveals all sorts of interesting, Far Left groups like The Young Turks, The Progressive, Worker's Independence News, Dissent Magazine and dozens of other hardcore Socialist organizations. Many of these groups, who combined receive millions in funding from George Soros, were told from the highest levels of the Soros regime to promote Ocasio-Cortez, and she has publicly acknowledged their role in her success.
So the rags-to-riches story of the working class 'hero bartender' who breaks upon the national stage is really the latest Manchurian Candidate from the political puppet master, George Soros. Soros spent many millions to create this illusion of  'voice of the people' Alexandria Ocasio-Cortez who rises from the working class to be a star on the political stage.
FROM THE DAILY CALLER: A former organizer for Bernie Sanders's presidential campaign, Ocasio-Cortez's under-dog win in the Democratic primary was undoubtedly helped by online actors. The New York Times writes that she was able to defeat her opponent, who greatly outspent her, due to her online presence. In an interview with progressive digital media outlet "The Young Turks," a member of a Soros-funded network of far-left publications called The Media Consortium, Ocasio-Cortez also admits that their coverage helped her win. Members linked to Soros-funded digital media asked Ocasio-Cortez, a former organizer for Bernie Sanders's presidential campaign, to run for office — guaranteeing favorable coverage by a media network that reaches almost 300 million people monthly. READ MORE
WHO IS ALEXANDRIA OCASIO-CORTEZ?
She is the latest weapon in George Soros relentless pursuit of controlling American democracy through infiltration and subterfuge, that's who she is. 
EVERY MONTH, REPORTERS, WRITERS AND BLOGGERS AT THE MANY OUTLETS GEORGE SOROS FUNDS EASILY REACH MORE THAN 330 MILLION PEOPLE AROUND THE GLOBE.
FROM THE MEDIA RESEARCH CENTER: Books, newspapers, radio stations, TV stations, websites and cutting edge videos. The pieces of the George Soros media empire are as diverse as the nations of the world and just as widespread. From nakedly partisan left-wing media like Think Progress, the blog for the Center for American Progress, and a TV show on MSNBC, to the supposedly impartial National Public Radio, Soros has impact on the flow of information worldwide.
It gives him incredible influence. Every month, reporters, writers and bloggers at the many outlets he funds easily reach more than 330 million people around the globe. The U.S. Census estimates the population of the entire United States to be just less than 310 million.
That's roughly the entire population of the United States with the population of Australia thrown in for good measure – every single month. This information is part of an upcoming report by the Media Research Center's Business & Media Institute which has been looking into George Soros and his influence on the media.
Just counting 13 prominent operations of the 180 media organizations he has funded equals 332 million people each month. Included in that total are big players like NPR, which received $1.8 million from Soros, as well as the little known Project Syndicate and Public News Service, both of which also claim to reach millions of readers.
And that's really just the beginning. That tally takes into account only a few of the bigger Soros-funded media operations. Many numbers simply aren't available."Democracy Now!" – "a daily TV/radio news program, hosted by Amy Goodman and Juan Gonzalez" – is known for its left-wing take on global news. Its vitriol ranges from attacks on Blackwater founder Erik Prince and supporters of Andrew Breitbart (whom it calls 'Electronic Brownshirts'), to claims the U.S. is opposed to Arab democracy. Just that one Soros-funded operation is heard "on over 900 stations, pioneering the largest community media collaboration in the United States." But it posts no formal audience numbers. Phone calls to "Democracy Now!" were not returned. READ MORE
Views: