by mark000
It's all so bloody predictable. Via the AFR:
Selling agents are starting to reveal the truth behind recent listings in Sydney's west with Belle Property Strathfield's Jimmy Kang saying up to 50 per cent of his clients were asking him to sell their homes in Sydney's western suburbs because they can no longer afford their new principal-and-interest mortgages.

…A couple asked him to sell a two-bedroom weatherboard home in Veron Street in Wentworthville, 27 kilometres west of Sydney, for $950,000 when it was only worth about between $820,000 and $830,000. They bought the home for $790,000, two years ago.

"I asked them where they got that number from and they said that was the number they need to pay back the $200,000 they borrowed from family to buy the home as well as repay their interest-only loan," he said.

"A lot of them initially paid $2000 to $2500 a month on their interest-only loans, and now they have to pay $4000."
Auctions in Western Sydney's mortgage belt have collapsed: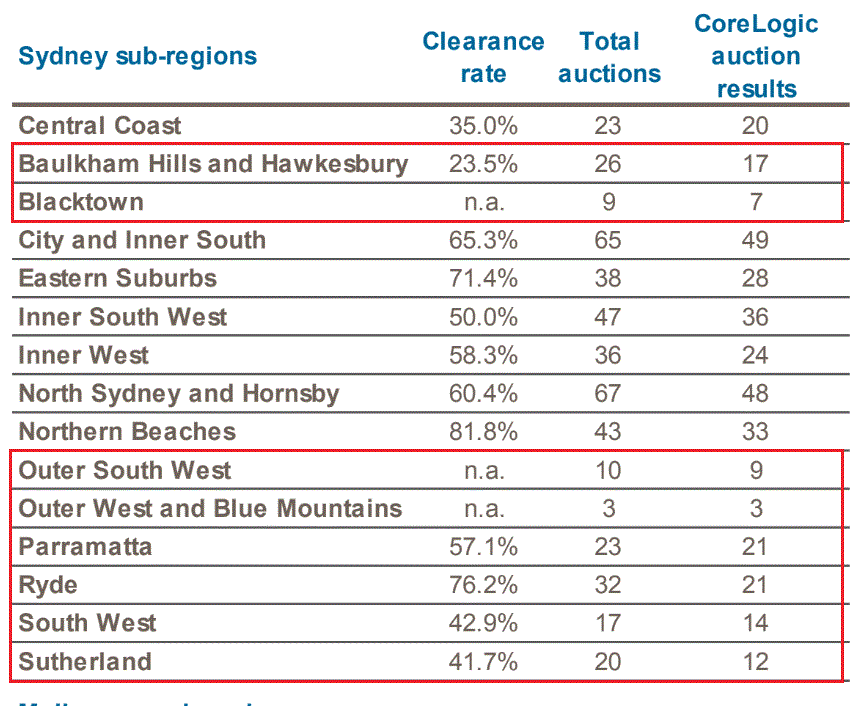 This is exactly what happened in the 2003 Sydney bust. Western Sydney is basically a low income ghetto that occasionally catches the house price bug then is astonished when its paltry income can't support the prices.
This is going to melt down worse than 2003. Back then it was bailed out by the mining boom, rising rents and wages. As well, other city house prices took off and supported consumption. Today Western Sydney is the epicentre of the mass immigration wages crush and falling rents, and it's increasingly national.
www.macrobusiness.com.au/2018/08/western-sydney-ground-zero-interest-mortgage-bust/
The number of Sydney homes for sale jumped by 30.4% in the year to August, leaving total listings at the highest level since the GFC, according to SQM Research.
Melbourne listings also rose strongly, increasing by 25.3% from 12 months earlier.
SQM says Sydney and Melbourne house prices fell 2.1% and 1.2% respectively in the month to September 4.
www.businessinsider.com.au/australia-property-sydney-listings-highest-gfc-house-prices-2018-9?nojs=1
1,203 views