It would be nice to write the market's convulsions off to liquidity failures, or tariffs, the Federal Reserve or tech valuations.
But for the people living through these swings on trading desks, none of those explanations does the trick — and that's what really worries them.
Markets have grown so jittery that moves seem detached from the fundamental or technical analysis that traders use to underpin investment decisions. Thursday alone brought the biggest reversal for the Nasdaq 100 Index since April, a swing of almost 3 percent amid relatively little news. That was after the overnight futures session began with so much selling pressure the exchange operator had to pause trading to ensure orderly execution.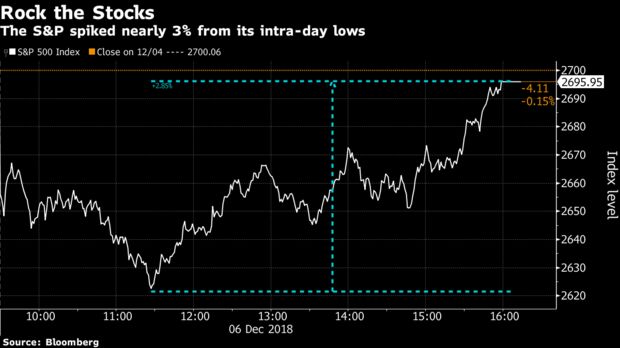 Yes, there is a plethora of viable reasons for rising volatility, from the uneasy trade truce to a suddenly uncertain path for Federal Reserve rate hikes and the persistent concerns that the U.S. economy is headed for a slowdown next year. It's just that traders have become unable to anticipate what issue will drive the day's trading and when it will hit.
"The market truly is trading off of headline risk, that being across the board," said Scott Bauer, chief executive officer of Prosper Trading Academy. "There's never been a time in my 30 years of professional trading where there have been so many hot points at one time, any of which could make the market move on their own let alone multiple headlines at once."
www.bloomberg.com/news/articles/2018-12-06/biggest-worry-for-traders-they-don-t-know-why-stocks-are-moving?srnd=premium
435 views