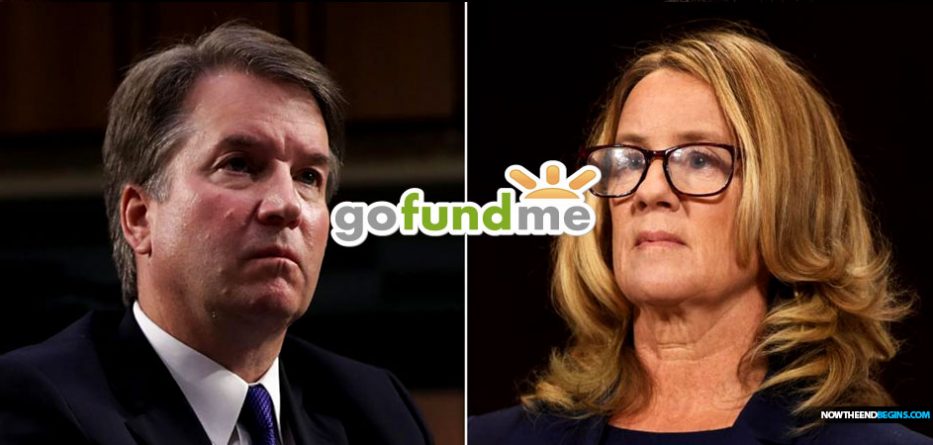 Crowdfunding sites have made it easy for people to convert feelings of sympathy into monetary gifts. Occasionally, well-meaning attempts to help the victim of targeted mistreatment or random tragedy go viral, bringing the beneficiary a major windfall
During the recent Supreme Court confirmation hearings of now-Justice Brett Kavanaugh, something that came up on both sides was the issue of character and integrity. The supporters of Christine Blasey Ford maintained that she was a person of character and integrity, as the supporters of Kavanaugh did as well. Another thing that both Kavanaugh and Ford has in common was the fact that people in both camps created Go Fund Me accounts for each of them.
Brett Kavanaugh's Go Fund Me account raised over $600,000 while Ford's account raised a whopping $840,000 and still climbing. That is a crazy amount of money to suddenly appear in your bank account, and I am sure that the vast majority of people reading this feel the same way. You can pay off mortgages with that, pay for kid's college with that, it's life-changing money. So what did Kavanaugh and Ford do with it? It's quite telling.
Brett Kavanaugh donated all of it to charity, didn't take a penny of it. Interesting to note that even though he is a Supreme Court justice, there are no ethics rules barring him from keeping it so he certainly could have.
Christine Blasey Ford, a millionaire career woman and jet-setting world traveler before the hearings began, decided she needed to keep every penny of it. As far as we know, Ford has not made even a token donation to any women's groups, shelters or halfway houses. Not a single penny.
Both sides in the hearings raised the question of character and integrity, and now the actions after the hearings of both parties involved have answered that question.
Justice Kavanaugh declines more than $600,000 raised in GoFundMe campaign
FROM YAHOO NEWS: Citing judicial ethics concerns, Supreme Court Justice Brett Kavanaugh declined more than $600,000 that was donated to aid his family during the firestorm over sexual misconduct allegations that plagued his confirmation. The judge's decision was announced on Tuesday in a message posted on the online fundraising page that gathered the funds.
John Hawkins, a veteran conservative blogger who runs a Kavanaugh-inspired "men's website" called Brass Pills, organized the fundraising campaign. On Tuesday, Hawkins posted what he referred to as an "official statement" from Kavanaugh's representatives distancing the justice from the effort:
"Justice Kavanaugh did not authorize the use of his name to raise funds in connection with the GoFundMe campaign. He was not able to do so for judicial ethics reasons. Judicial ethics rules caution judges against permitting the use of the prestige of judicial office for fund-raising purposes. Justice Kavanaugh will not accept any proceeds from the campaign, nor will he direct that any proceeds from the campaign be provided to any third party. Although he appreciates the sentiment, Justice Kavanaugh requests that you discontinue the use of his name for any fund-raising purpose." READ MORE
The GoFundMe Campaigns That Have Raised $840,000 for Christine Blasey Ford Make Me a Little Squeamish
FROM SLATE: Now that Brett Kavanaugh is sitting on the Supreme Court, Christine Blasey Ford is no longer making daily headlines. But she's still making money via GoFundMe, where one of two massively successful fundraising pages is still collecting donations for a no-strings-attached pot that currently contains more than $633,000.
An Oct. 3 message from Ford on the page, which was initially set up by an anonymous person or people identified as "her neighbors and colleagues," says the funds will be used for "security, housing, transportation and other related expenses" incurred as a result of her public sexual assault allegation against Kavanaugh. "I cannot express how grateful I am for the outpouring of support and generosity that we have received through this GoFundMe account," Ford wrote in that message, adding, "I feel like all of you who have made a contribution are on this journey with me, which is very heartening."
Ford received multiple death threats after putting her name to a confidential letter she'd sent to her congressional representative detailing an attempted rape Kavanaugh allegedly perpetrated against her in the early 1980s. The money from two Ford-affiliated GoFundMe pages (the second stopped accepting money on Sept. 20, when it had amassed nearly $210,000) was raised based on the promise that it would help defray the cost of a security detail. "The costs for security, housing, transportation and other related expenses are much higher than we anticipated and they do not show signs of letting up," she said in the Oct. 3 message.
But if Ford ends up making a hefty profit once her expenses are covered, which it looks like she almost certainly will, that will be a major loss for the anti-rape organizations that could have bankrolled survivor support programs with those funds. Ford's acceptance of the money also feeds into the time-honored canard that women lie about sex crimes to get money and fame. When Paula Jones accused then-President Bill Clinton of sexually harassing her during his tenure as governor of Arkansas, Clinton adviser James Carville quipped, "If you drag a hundred dollar bill through a trailer park, you never know what you'll find." (Weirdly, Sen. Lindsey Graham invoked that line during the Kavanaugh hearings to argue that Trump's mockery of Ford wasn't wholly unprecedented.) READ MORE
1,646 views