by Natura Naturans
Theresa May on track for the worst General Election result in Tory Party history – as Brexit Party is predicted to win more votes than Labour and Conservatives COMBINED in European elections, polls say
The Brexit Party is slated to win 34% of the vote in upcoming European elections
Labour is on 21% and the Tories are predicted to win just 11% of the vote
The data, from Opinium, also puts Labour first on 28% for a General Election
This is ahead of Conservatives on 22%, with the Brexit Party third on 21%
A separate poll puts the Brexit Party ahead of the Tories in a general election
ComRes survey puts Labour on 27%, Brexit Party on 20% and Tories on 19%
This would be the worst result in history for the Conservative Party
www.dailymail.co.uk/news/article…tions.html
Nigel Farage's new Brexit Party has surged again. After parting ways with the increasingly irrelevant UK Independence Party (UKIP), Farage's newly branded "people's army" is now polling above the Labour and Conservative parties put together ahead of the European Parliamentary elections at the end of May.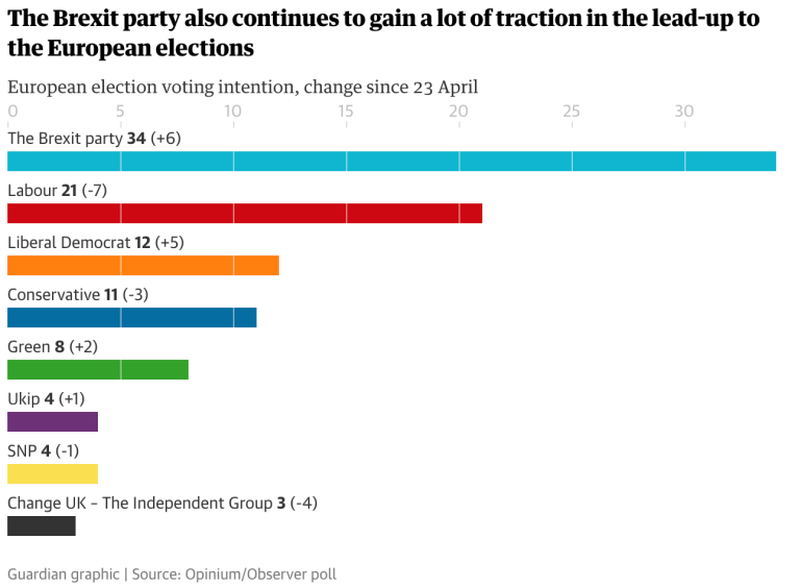 Soon with the other anti EU right wing parties gaining so quickly in Europe they will be able to remake the EU back into little more than a common market. A defanged EU would not be able to dictate immigration, borders, military matters and leave all rules up to the individual EU states. Postponing brexit will allow the Brixit party to help emasculate the totalitarian communist EU. Will Spiddy still have a job when this all happens? Globalists are going down soon as the PEOPLE rebel against their communist masters.
One cannot defeat a problem without knowing its origins. We cannot stop the disease of the European Union symptomatically. Instead, we must find where the problem came from. The answer to this dilemma may surprise many with just how devastating it is.
"Many people will falsely claim that European political elites desired a common free market. Thus, they may say, the elites formed the European Union to accomplish this. However, this could not be further from the truth.
To first see the true initiative that shaped the idea of a United Europe, we have to look at the portfolio of the man behind it all, Altiero Spinelli.
Spinelli, a communist even during Mussolini's government, was one of the most influential people who formed the EU. He was a member of the European Commission for 6 years, from 1970-1976 (he left voluntarily), as well as a member of the European Parliament for seven years after. A staunch supporter of Trotsky, his views were so radical that the Italian Communist Party threw him out."
71republic.com/2018/08/13/europe…ist-roots/
Most assuredly the EU is communist.
'European Union is just another name for 4th Reich!' Poles FURIOUS at German-led EU
THE ultimate goal of the European Union is to dissolve borders under a communist German super-state, a trio of Polish experts has claimed.
www.express.co.uk/news/world/841…ism-Poland
For the future of the EU and the world is communist according to the UN:
All you have to do is look at the quotes from the likes of Christina Figueres, executive secretary of the U.N.'s Framework Convention on Climate Change:
"In comments that laid bare the hidden agenda behind global warming alarmism, Christiana Figueres, executive secretary of the U.N.'s Framework Convention on Climate Change, let slip during a February 2015 press conference in Brussels that the U.N.'s real purpose in pushing climate hysteria is to end capitalism throughout the world:
This is the first time in human history that we are setting ourselves the task of intentionally changing [getting rid of] the economic development model that has reigned since the Industrial Revolution."
www.americanthinker.com/blog/201…hange.html
This the the globalist communist totalitarian state that we ALL must oppose
815 views