by Umar Farooq

If we consider the weight the market is carrying now, it is no secret that we are on the verge of yet another market collapse. If we take the debt levels, the national debt is now $165,542 per taxpayer. If we take the household net worth to GDP, Analyst Trey Reik says this measure is way out of whack. And if it adjusts down to a reasonable level, Trey writes, it implies: Wait … $46 trillion? Now we're talking real money.
 
If we take the P/E multiples, the S&P 500 is at 24.5. That's a lot, especially considering lackluster earnings growth and an economy stuck in second gear. The P/E ratio has been higher before during the financial crisis, and twice during the dot-com boom and bust.

All these indicators imply the fact that stock market crisis is on the horizon. The chart of the action in the S&P 500 from 2000 to 2002 below indicates that the crisis began in August. By February, the signs of worry appear on faces all over Wall Street. Except the gold traders. In February, they started to smile. And that smile spread wider for gold … even as the S&P 500 went down for the count.



Source: etfdailynews
"The timing couldn't be better for gold. The dollar is plummeting, the stock market has lost over 80 percent of the 'Trumphoria' gains it made, and gold is once again everyone's favorite safe haven asset. Gold is looking fantastically more attractive as the market keeps pulling back from its record highs, with the Dow Jones falling for the eighth straight session on Monday in its longest losing streak since 2011. The last straw was the failure of the GOP healthcare plan last week. Lost faith in the market, means burgeoning faith in gold, which has hit a four-week high and is poised for a hot spring rally." finance.yahoo

The SPDR Gold Trust ETF (NYSE:GLD) fell $0.39 (-0.33%) in premarket trading Friday. Year-to-date, GLD has gained 7.73%, versus a 5.60% rise in the benchmark S&P 500 index during the same period.

"Nonetheless, the markets are starting to realize that perhaps Trump won't deliver on tax reform (at least this year) or infrastructure spending. This means less upward pressure on long-term treasury yields and the Fed not being forced to raise rates at a faster-than-expected pace due to inflationary pressures. These developments provide another boost to the demand for gold. Sure enough, the chart below of GLD's gold hoard shows an increase, which indicates a higher demand for the ETF." seekingalpha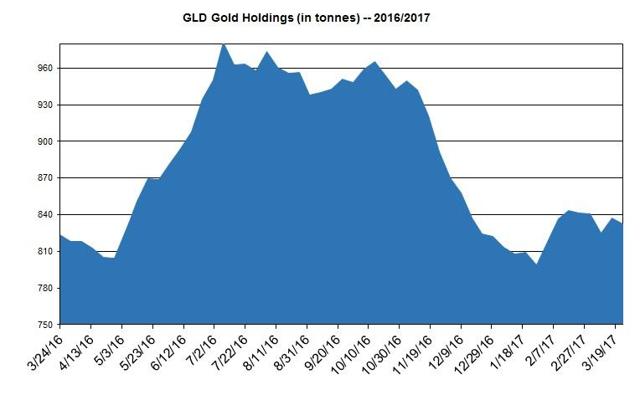 Source: seekingalpha
Bottom line is that now is the perfect time to invest in gold when the rates are low for the metal and that we all know that the stock market crash is going to happen very soon.