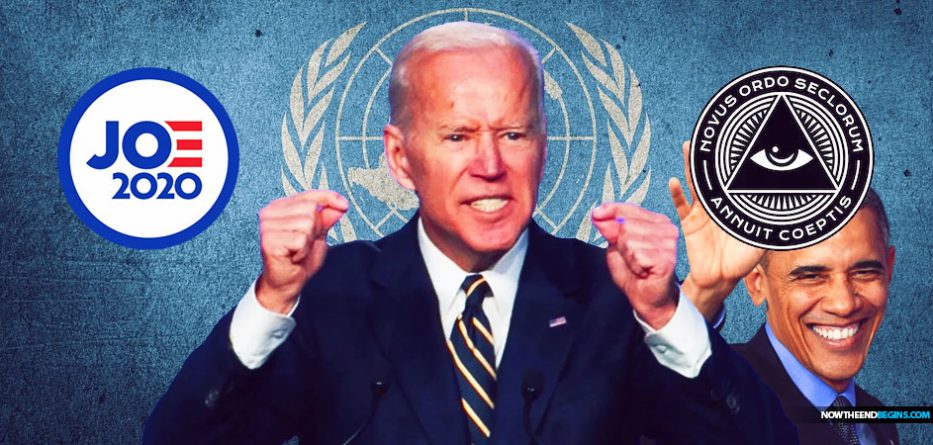 Denouncing President Donald Trump as an affront to American values, Democratic candidate Joe Biden vowed Thursday that if elected he would hold a summit aimed at halting a backslide in global democracy.
Watching Creepy Joe Biden on the campaign trail these days is a rough thing to do. He stutters, slurs and mumbles his way through his lines, looking for all the world like he either needs to take a nap or he just woke up from one. His rallies and speeches are so sparsely attended that there are at times barely a couple of dozen people, on a good day he'll have a couple of hundred. Now he wants America to know that he pledges the first year of his presidency to returning America back to globalism, and will restore Obama-era policies on things like Climate Change. Remember that Biden is the candidate that the fake news media needs you to believe can 'beat Trump', the one who is "winning all the polls' at this point in the race.
The Democrats are furious that Biden is the so-called front runner, the one anointed by the fake news media to be the 'Trump slayer', mostly because they know that Creepy Joe has absolutely no chance at all of beating Donald Trump. Like Crooked HIllary, Biden comes with lots and lots of baggage, not to mention various financial scandals that took place during his time in the Obama administration. Worst of all though, is that if Biden is planning on "running on his record" he is finished before he ever starts. He has no record. Last but not least is how uncomfortable things will get if he makes it to the final debates as nominee when the subject of his lifetime of unwanted touching and kissing is brought up.
If you miss globalism and Barack Obama's failed policies, vote for Creepy Joe Biden, and let's start apologizing for America.
Blasting Trump, Biden pledges global summit on democracy
FROM YAHOO NEWS: The former vice president, who leads early polls for the Democratic nomination to challenge Trump in next year's election, said his foreign policy would be "based on clear goals driven by sound strategies, not by Twitter tantrums."
"The world sees Trump for what he is: insincere, ill-informed and impulsive — and sometimes corrupt, dangerously incompetent and incapable, in my view, of world leadership and leadership at home," Biden said in a speech on foreign policy in New York.
Biden chastised Trump for downplaying human rights and voiced alarm at the "rapid advance of authoritarianism, nationalism and illiberal tendencies around the world" even among US allies, naming Hungary, the Philippines and Turkey.
HE SAID HE WOULD HOLD A SUMMIT IN THE UNITED STATES WITHIN ONE YEAR OF TAKING OFFICE THAT WOULD RECOMMIT TO DEMOCRATIC VALUES AND INVOLVE CIVIL SOCIETY.
"Leaders who attend must come prepared to cooperate and make concrete commitments to take on corruption and advance human rights in their own nations," he said. "We have to be honest about our friends that are falling short and forge a common agenda to address the greatest threats to our shared values," he said.
Biden said he would also convene a separate summit on climate change within 100 days of taking office where the United States would press other major carbon emitters to join it in making "more ambitious national pledges."
Biden, like other Democratic contenders, has vowed stronger action to fight climate change amid growing signs that rising temperatures are already significantly impacting the planet. Trump pulled the United States out of the Paris accord on climate change negotiated by his predecessor Barack Obama, saying it was unfair to the world's largest economy. READ MORE
Joe Biden In 2013 Called For A New World Order
Vice President Joe Biden calls for the creation of a "new world order" at the Export Import Bank conference in Washington on April 5, 2013
Creepy Joe Biden Slurs His Way Through First Speech as Presidential Candidate
At 76, Joe Biden is one the oldest people to ever mount a presidential campaign, and in his first speech as a presidential candidate Monday, it showed.
Watch Joe Biden Getting Handsy And Creepy
946 views