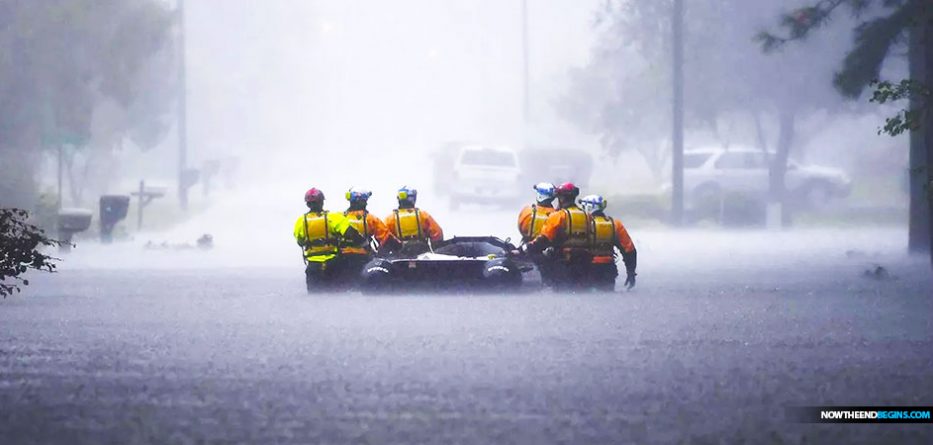 Wilmington Cut Off by Florence as Catastrophic Flooding Spreads Across North Carolina
Having been downgraded from a hurricane to a tropical storm, Florence has mostly disappeared from the headlines. But torrential rain continues to fall, and widespread flooding has gotten so bad that the entire city of Wilmington has been completely cut off and is functionally an island. The death toll has risen to nearly 20, and by all accounts will continue to rise.
Please pray for all the people affected by this storm and for the first responders risking their lives to get people to safety.
FROM WEATHER.COM: The city of Wilmington, North Carolina, has been entirely cut off by floodwaters from Tropical Depression Florence, forcing North Carolina officials to call for additional help from state law enforcement and the National Guard. Roads leading in and out of the city were under water Sunday night, forcing residents to wait for hours outside the few stores that were open for basic necessities. Police were allowing only 10 people at a time inside the door of one store.
During a news conference Sunday, Woody White, chairman of the board of commissioners of New Hanover County, said additional rainfall Saturday night made roads into the city impassable.
"Our roads are flooded," he said. "There is no access to Wilmington."
He said water and food would be flown into the city that is home to about 120,000 people. READ MORE
FROM FOX NEWS: The death toll from Hurricane Florence rose to 17 Sunday after a 3-month-old died when a pine tree crashed into a mobile home, officials said. The large pine tree split the mobile home down its center, Police Capt. Jon Leatherwood said. The tragedy happened around 12:45 p.m., the Gaston Gazette reported. The paper identified the child as Kade Gill. Leatherwood said the boy's father and mother were home but not hurt.
The boy's home in Dallas is about 240 miles west of where Hurricane Florence made landfall Friday in Wrightsville Beach, Gaston County manager Earl Mathers said. Officials blamed rain and wind from the storm's remnants on the falling tree, county spokesman James McConnell told The Associated Press.
The remnants of Florence have pounded Gaston County with heavy rainfall since Friday night, the Gazette reported. Before Gill's death, no serious injuries or deaths were reported in the county.
Southeast of Gaston, in Union County on Sunday night, officials failed an attempt to rescue a 1-year-old child in a vehicle who was ultimately swept away in floodwaters, the Charlotte Observer reported.
Rescue officials saved an adult who was in the vehicle. WBTV reported that rescue vehicles were driving away from the search area before midnight, indicating they had called off the search. It was not immediately clear whether the search would resume in the morning.
As Florence pushed further inland through the weekend, flash flood watches were posted in Virginia and southern West Virginia. The National Weather Service has issued the watch through Monday evening in several West Virginia counties. READ MORE
1,908 views