Wolf Richter wolfstreet.com, www.amazon.com/author/wolfrichter
"It's a bizarre occurrence and it will not be resolved soon."
Orders for Class 8 trucks in July jumped 187% from a year ago to 52,250 units, the highest number of monthly orders ever. These are the heavy trucks that haul a significant part of the goods-based economy across the US. For the first seven months this year, order volume of Class 8 trucks doubled from the same period a year ago: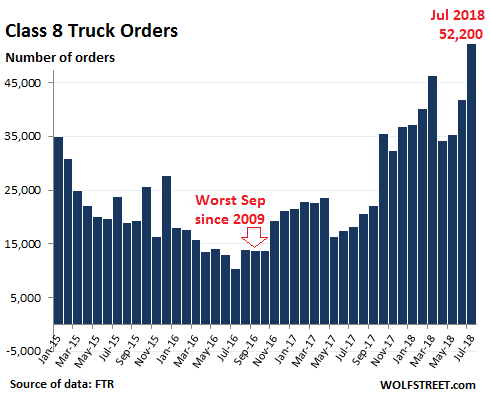 FTR Transportation Intelligence, which provided the data, explained: "Fleets are desperate to get new trucks, but supply is limited. Because fleets are frustrated by the current situation and are uncertain when they can receive trucks, they are placing a large volume of orders in hopes of getting some deliveries at some point in the future."
The chart below shows the percentage change of Class 8 orders compared to the same month a year earlier. What a change from the transportation recession in 2015 and 2016 when orders plunged, and truck and engine makers reacted with layoff!. Orders began to rise again in early 2017 on a year-over-year basis and haven't looked back since: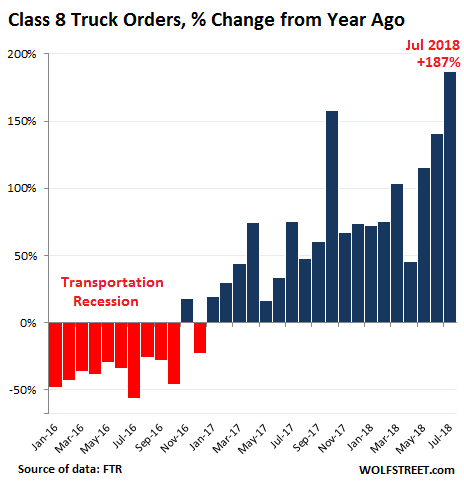 "In essence, there is a truck shortage," FTR said. "Freight growth is robust and industry capacity is extremely tight. OEMs [original equipment makers such as Paccar] have been hindered because numerous parts and component suppliers have not been able to produce and deliver on time."
But it's not the new normal. It's transitory, to use Fed speak. FTR VP of commercial vehicles, Don Ake, explained why:
"This is a unique situation where strong demand is meeting limited supply.  Prices can't rise enough to alleviate the situation.  Therefore, the market is responding by placing an immense number of orders into the backlog.  Fleets are reserving places in line, so they can get the maximum number of trucks in the future.

It is a bizarre occurrence and it will not be resolved soon.  Conditions may be abnormal, but they are abnormally good."
The transportation industry, and particularly trucking, is highly cyclical. The above charts along with Ake's comments show why: When demand for shipments surges – as it has been doing for over a year since the transportation recession that had occurred even while the overall economy was being kept afloat by the service sector – trucking companies get very confident, and they want to make hay while the sun shines. So they want to expand capacity precisely when everyone in the same business wants to expand their capacity.
So, orders for Class 8 trucks skyrocket, out of the dumpster. Manufacturers, after having laid off workers and shut down shifts, are scrambling to get them back. But because the backlog is growing, and orders are not being filled quickly, trucking companies order even more, hoping to get some units, and this inflates orders further and strains manufacturing capacity all the way up the supply chain.
Then, as manufacturers and their supply chains catch up, these orders get delivered. And trucking capacity soars. And by that time, demand for transportation in the goods-based portion of the economy, which is also cyclical, tends to level off, and the cycle starts all over again. But for now, let the good times roll.
Demand for shipping has been very strong across all modes of transportation. Freight shipment volume by truck, rail, air, and barge jumped 7.2% compared to a year ago, and the total amount spent on freight by all modes of transportation jumped 16%. Read…  What's Going on in Trucking and Rail? 
Views: