Deficit Projected to Top $1 Trillion Starting Next Year
WASHINGTON—The Trump administration expects annual budget deficits to rise nearly $100 billion more than previously forecast in each of the next three years, pushing the federal deficit above $1 trillion starting next year.
The revisions, which went largely unnoticed when the White House submitted its annual update to Congress last week, reflect the cost of federal spending increases agreed to earlier this year and higher interest payments.
Food-Stamp Use Is Still at Recession-Era Levels Despite Job Gains
(Bloomberg) — Judging by the number of Americans on food stamps, it doesn't feel like one of the best job markets in almost a half century and the second-longest economic expansion on record.
Enrollment in the Supplemental Nutrition Assistance Program, better known as food stamps, fell to 39.6 million in April, the most recent government data show. That's down from a record 47.8 million in 2012, but as a share of the population it's just back to where it was as the economy emerged from the longest and deepest downturn since the Great Depression.
While robust growth is a bragging point for President Donald Trump and a campaign theme for Republicans trying to break a historical pattern by keeping control of the House and Senate in midterm elections, the rising tide isn't lifting all boats. Elevated SNAP use displeases congressional Republicans, who want a shift toward more job training in the five-year farm bill that's taking shape. Democrats say continued support is needed as an uneven rebound leaves behind millions.
"The economic recovery took longer to reach people who work in low-wage jobs," said Dottie Rosenbaum, a senior fellow at the liberal-leaning Center on Budget and Policy Priorities in Washington and a former Congressional Budget Office analyst. SNAP enrollments have remained elevated for years because of higher participation rates in the program, and because the jobless are only one segment of the needy.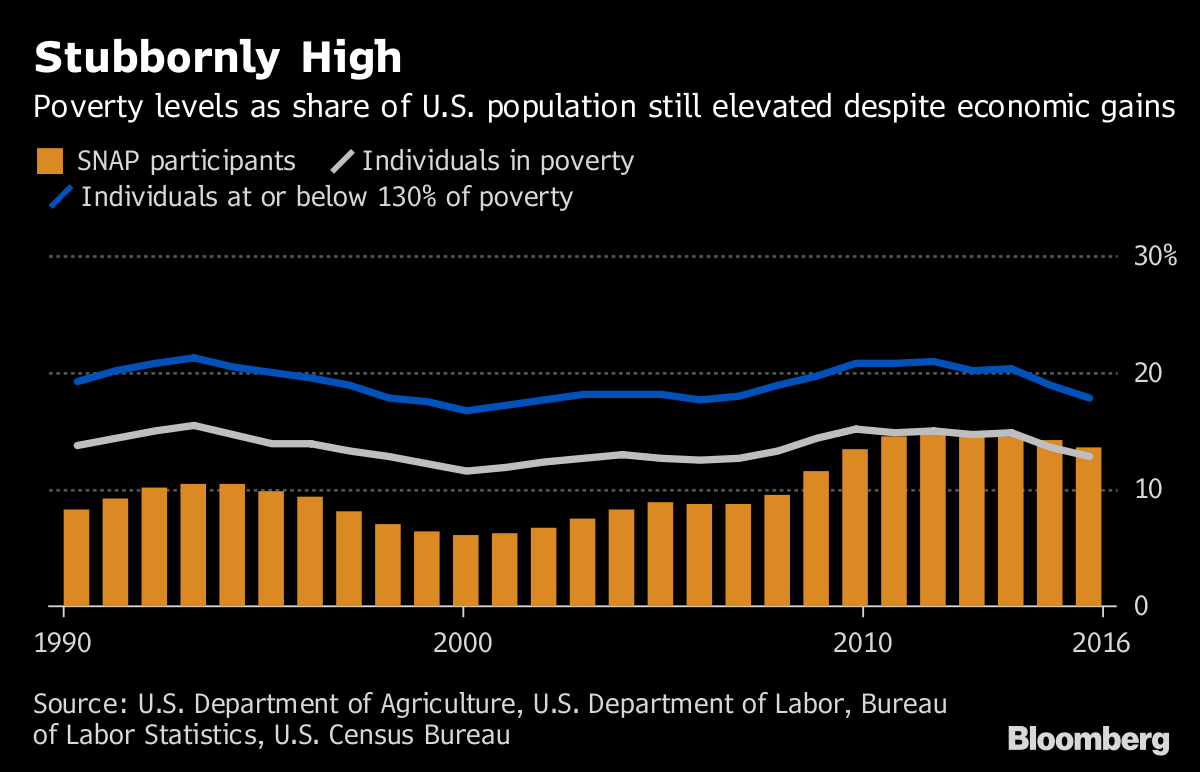 923 views