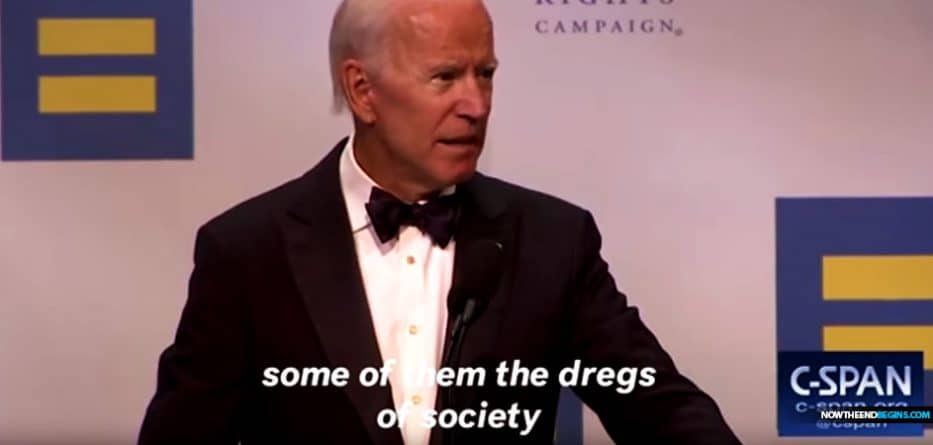 Joe Biden called Trump voters the "dregs of society" during an impassioned speech at an LGBTQ+P for Pedophile charity event. Donald Trump Jr. has hit back at the former vice president saying his statement went "too far".
Democrats want you to know two things right off the bat. First thing is pretty obvious, Donald Trump lives in their heads and they hate him for it. Second, the Democrats hate you if you voted for Donald Trump in 2016. Hillary Clinton referred to you all as "deplorables" and now Creepy Joe Biden wants you to know he thinks that you are the very 'dregs of society'. This is the real reason why they are pushing so hard for impeachment right now, to let you know that you don't count, the person you voted for doesn't count, and that your vote is meaningless.
Like it or not, and believe it or not, America is right now in a state of Civil War, and instead of North versus South we have Red versus Blue. The war will not be over until one of two things happen. Either the Democrats succeed in ramming their anti-Israel, pro-transgender, pro-Socialist agenda down our throats, or the verbal hostilities break out into physical hostilities and we fight until the dead bodies line the streets of Washington, DC. But if you think this is going away, or is just a 'passing phase in our long American story', you could not be more wrong.
This is war, and they aren't taking prisoners. Which side are you on?
Joe Biden calls Trump supporters the 'dregs of society'
FROM RT: While speaking to the crowd at the Human Rights Campaign dinner in Washington on Saturday night, Joe Biden lamented the fact that "virulent people" and the "dregs of society" have a friend in the White House.
"Despite losing in the courts and in the court of public opinion, these forces of intolerance remain determined to undermine and roll back the progress you all have made," he argued. "This time they — not you — have an ally in the White House. They're a small percentage of the American people, virulent people," he continued. "Some of them the dregs of society.
"And instead of using the full might of the executive branch to secure justice, dignity [and] safety for all, the president uses the White House as a literal, literal bully pulpit, callously exerting his power over those who have little or none."
Joe Biden also asked for God's forgiveness for not speaking out against President Trump sooner. Biden said he and former president Barack Obama agreed to stay silent for a while to give the new administration the "chance to get up and running in the first year".
"God forgive me", he added before blessing himself with the sign of the cross. Biden's wife Jill then reassured the crowd by saying the couple no longer plan on remaining silent and now want to "pick a fight" against bullies.
The president eldest son, Donald Trump Jr., said this time "creepy Joe's" comments "went too far". Biden says he'll decide in January whether he'll run for president in 2020. He did reply "thank you" to the supporters who yelled "run Joe!" at the end of his speech. READ MORE
Joe Biden Refers To Trump Supporters As 'Dregs Of Society'
Former Vice President Joe Biden unleashed a vicious attack on supporters of President Donald Trump. His remarks came at the Human Rights Campaign's annual dinner at the Washington Convention Center on September 15.
Joe Biden Sidesteps Questions About Son's Foreign Work
More than once, after Joe Biden engaged in diplomacy on behalf of the United States, his son, Hunter Biden, conducted business in the same country.
Views: 2