"Don't Blame The Weather" Trader Warns "It's Always Been The Economy, Stupid"
Overnight headlines from China confirmed the global economic slump as exports crashed, and while excuse-makers are out in force this morning already (as US and Chinese stocks tumble), former fund manager and FX trader Richard Breslow warns, "don't blame the weather for the market gloom." Simply put, it's the economy stupid (and the deluded stock market's gap to reality).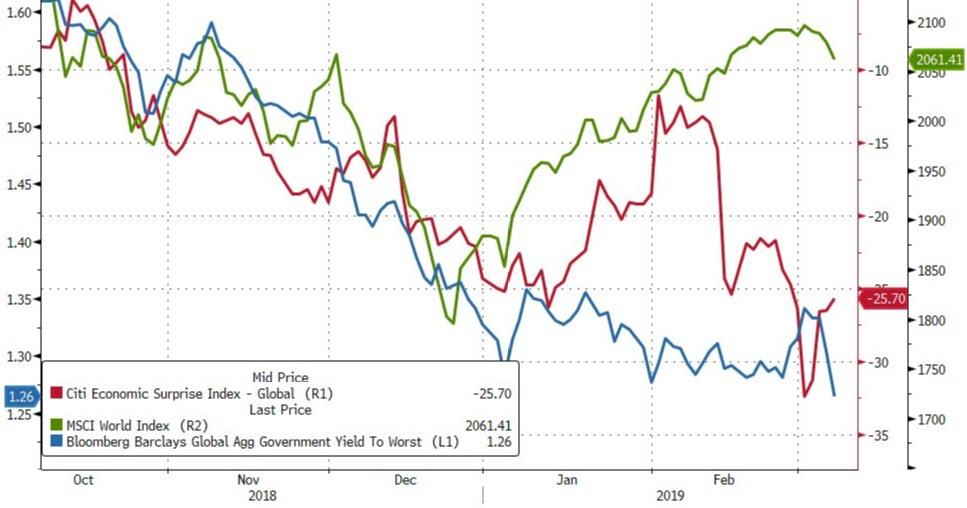 ECB Opens The Money Spigot—-Shocks Markets With Recession Fears
Mario Draghi has been grumbling about the deleterious side effects of trade tensions and other geopolitical worries for months, but the European Central Bank's surprise policy moves in the face of a slowing global economy appeared to bring the danger home to investors.
Stocks on Wall Street fell alongside European equities, underlining rising worries among investors that weakness in the global economy could prove to be a drag on U.S. growth.
Household Net Worth Drop In Q4 Was Second Largest Ever
Americans' net worth fell at the highest level since the financial crisis in the fourth quarter of 2018 as sliding stock market prices ate into the household balance sheet.
Net worth dropped to $104.3 trillion as the year came to an end, a decrease of $3.73 trillion from the third quarter, according to figures released Thursday by the Federal Reserve. The fall amounted to a drop of 3.4 percent.
Fed Still On Autopilot: Balance Sheet Shrinkage Reaches $547 Billion
In February, the Fed shed $57 billion in assets, according to the Fed's balance sheet for the week ended March 6, released this afternoon. This slashed the assets on its balance sheet to $3,969 billion, the lowest since December 2013. Via its "balance sheet normalization," the Fed has now shed $501 billion. And since peak-balance-sheet at the end of 2014, the Fed has shed $547 billion: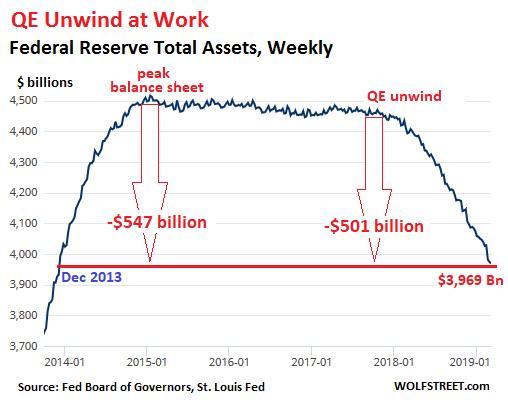 1,077 views