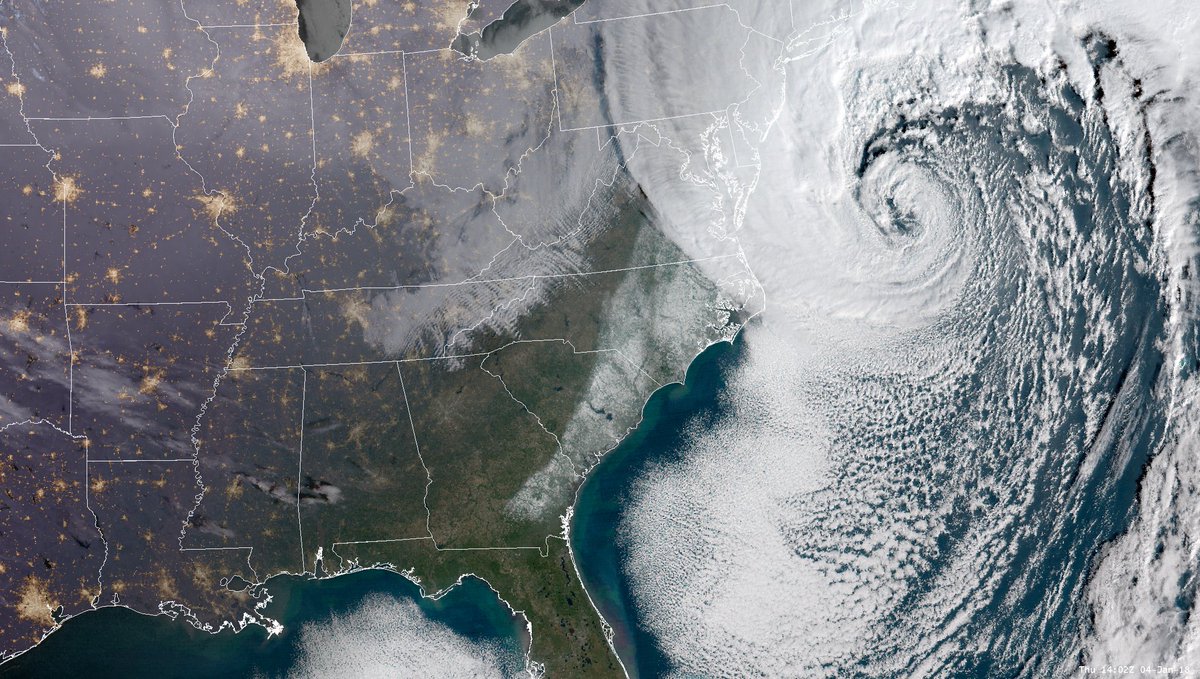 U.S. East Coast Blitzed by Fast-Moving, High-Impact Winter Storm
By the time Friday is here, people along the length of North America's East Coast will be recuperating from a punishing round of heavy snow, high winds, and bitter cold. This nor'easter—dubbed Grayson by The Weather Channel—will rank among the most impressive of recent decades in its fast development, deep low pressure, and fierce winds. Various models agreed that Grayson's surface low would deepen by an astounding 30-40 millibars or more from late Wednesday to late Thursday, more than qualifying the midlatitude cyclone as a meteorological "bomb" (defined as 24 millibars of deepening in 24 hours). The deepening rate could be among the strongest observed off the East Coast in the last several decades of records, according to David Roth (NWS).
As of late Wednesday, blizzard warnings covered parts of each coastline from North Carolina to Maine. Some uncertainty in the storm track remained on Wednesday night—complicated by the storm's rapid development and unusual strength—but Grayson's center should remain just far enough offshore to keep the worst impacts east of the I-95 corridor until the storm reaches southeast New England. There, Grayson may produce a strong enough blizzard to impress even the hardest-bitten Yankee. Snow amounts won't be off the charts, but the impact will be worsened by winds at gale force or stronger and frigid temperatures, especially in the 24 to 48 hours after Grayson has passed.

Figure 1. Winds at the 850-mb level, about a mile above the surface, are predicted to be howling at more than 110 knots (126 mph) well off the U.S. East Coast on the southeast side of a powerful nor'easter, according to the forecast for 1 pm Thursday, January 4, 2017, produced by the 18Z Wednesday run of the GFS model. Image credit: tropicaltidbits.com.
National Weather Service warns: Up to 18 inches of snow in Boston
Greater Boston and most of the rest of eastern Massachusetts are forecast to get buried under 12 to 18 inches of snow today, the National Weather Service is warning this morning, and near-hurricane force winds are expected to whip the Cape and Islands.
The Massachusetts Emergency Management Agency reports this morning the worst of the storm will hit Boston between late morning and through the afternoon, when snow will fall at a rate of up to 3 inches per hour in white-out blizzard conditions. A blizzard warning was posted this morning and will remain in effect through 7 p.m. in Essex, Suffolk, Norfolk, Plymouth and Bristol counties.
 
Harsh cold, biting winds to threaten Midwest, Northeast into the weekend
Despite already experiencing some of their coldest weather in recent years, residents of the Midwest and Northeast will need to brace for even colder conditions beginning on Friday.
Behind the snowstorm that is poised to barrel up the East Coast through Thursday, a fresh round of arctic air will spill into region.
This new wave of cold air will be about 5-10 degrees lower than the one that froze the Northeast during the final few days of December and start of January, according to AccuWeather Meteorologist Kyle Elliott.
Temperatures are anticipated to fall to their lowest levels of the season Friday through Saturday, failing to exceed the single digits on Friday from Minneapolis to Indianapolis; Albany, New York; and Burlington, Vermont. High temperatures in coastal areas of the Northeast are expected to inch into the teens.
Arctic cold air will keep the eastern half of the nation shivering through this weekend.

Dangerously cold wind chills are expected in the Northeast after Winter Storm Grayson.

Dozens of daily record cold temperatures have been set, and more are likely through this weekend.

Some relief from the bitter cold is expected next week.

LIVE CHILL MAP… 


City threatens to condemn man's home — for sheltering homeless during cold!
A suburban Chicago resident who was offering up "slumber parties" in his basement for homeless people in his neighborhood during dangerously cold weather says city officials have given him an ultimatum.

Stop the "slumber parties" or the house will be condemned.

Greg Schiller, of Elgin, said he began letting a group of homeless people sleep in his unfinished basement last month during brutally cold nights, offering them food, warm beverages and a cot to sleep on while watching movies.

"I would stay up all night with them and give them coffee and stuff and feed them," he said, adding that no drugs or alcohol were allowed inside his residence during the evening events.