via boingboing: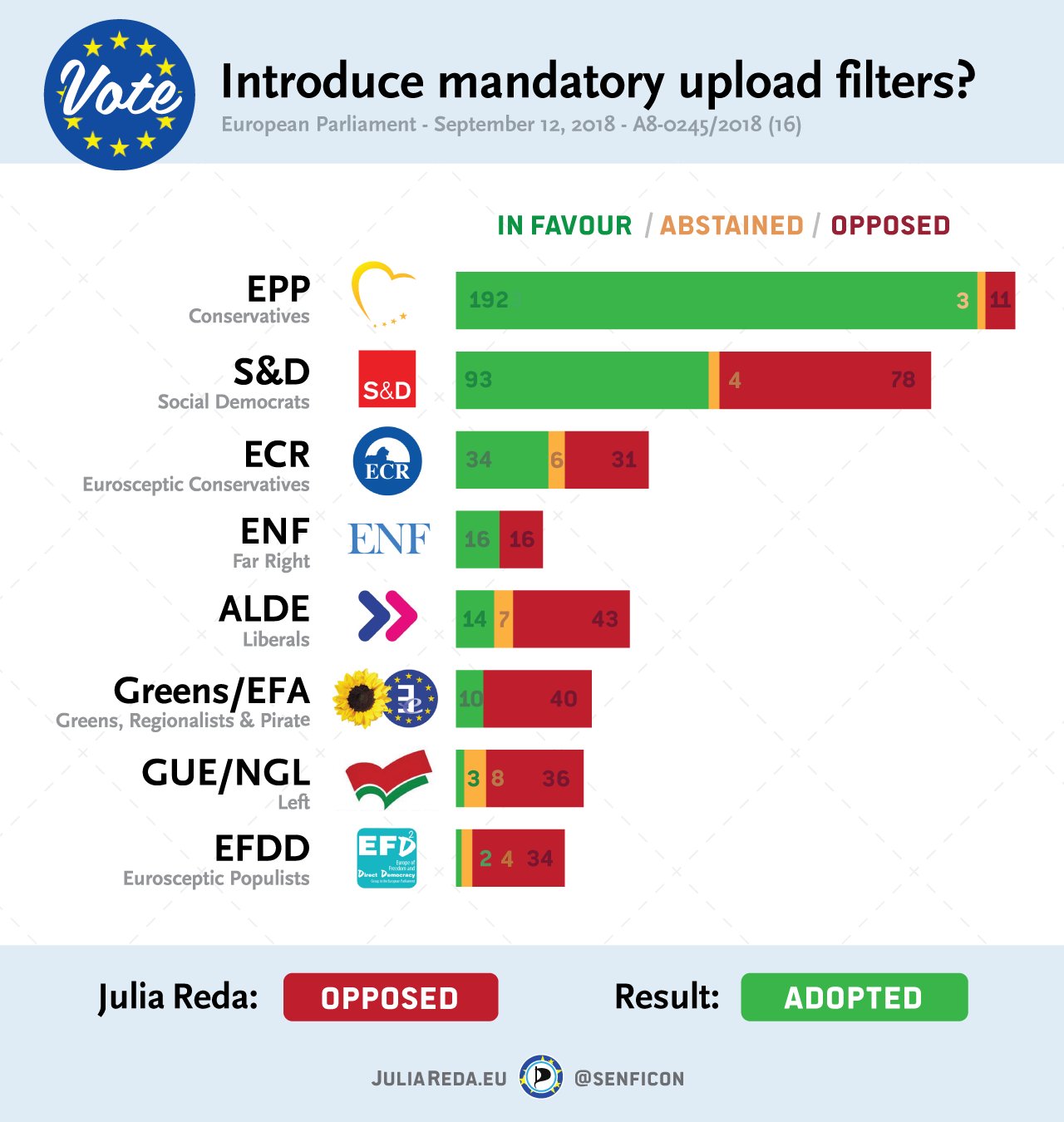 Lobbyists for "creators" threw their lot in with the giant entertainment companies and the newspaper proprietors and managed to pass the new EU Copyright Directive by a hair's-breadth this morning, in an act of colossal malpractice to harm to working artists will only be exceeded by the harm to everyone who uses the internet for everything else.

Here's what the EU voted in favour of this morning:

* Upload filters: Everything you post, from short text snippets to stills, audio, video, code, etc will be surveilled by copyright bots run by the big platforms. They'll compare your posts to databases of "copyrighted works" that will be compiled by allowing anyone to claim copyright on anything, uploading thousands of works at a time. Anything that appears to match the "copyright database" is blocked on sight, and you have to beg the platform's human moderators to review your case to get your work reinstated.

* Link taxes: You can't link to a news story if your link text includes more than a single word from the article's headline. The platform you're using has to buy a license from the news site, and news sites can refuse licenses, giving them the right to choose who can criticise and debate the news.

* Sports monopolies: You can't post any photos or videos from sports events — not a selfie, not a short snippet of a great goal. Only the "organisers" of events have that right. Upload filters will block any attempt to violate the rule.

Here's what they voted against:

* "Right of panorama": the right to post photos of public places despite the presence of copyrighted works like stock arts in advertisements, public statuary, or t-shirts bearing copyrighted images. Even the facades of buildings need to be cleared with their architects (not with the owners of the buildings).

* User generated content exemption: the right to use small excerpt from works to make memes and other critical/transformative/parodical/satirical works.

Having passed the EU Parliament, this will now be revised in secret, closed-door meetings with national governments ("the trilogues") and then voted again next spring, and then go to the national governments for implementation in law before 2021. These all represent chances to revise the law, but they will be much harder than this fight was. We can also expect lawsuits in the European high courts over these rules: spying on everyone just isn't legal under European law, even if you're doing it to "defend copyright."

In the meantime, what a disaster for creators. Not only will be we liable to having our independently produced materials arbitrarily censored by overactive filters, but we won't be able to get them unstuck without the help of big entertainment companies. These companies will not be gentle in wielding their new coercive power over us (entertainment revenues are up, but the share going to creators is down: if you think this is unrelated to the fact that there are only four or five major companies in each entertainment sector, you understand nothing about economics).

But of course, only an infinitesimal fraction of the material on the platforms is entertainment related. Your birthday wishes and funeral announcements, little league pictures and political arguments, wedding videos and online educational materials are also going to be filtered by these black-box algorithms, and you're going to have to get in line with all the other suckers for attention from a human moderator at one of the platforms to plead your case.

The entertainment industry figures who said that universal surveillance and algorithmic censorship were necessary for the continuation of copyright have done more to discredit copyright than all the pirate sites on the internet combined. People like their TV, but they use their internet for so much more.

It's like the right-wing politicians who spent 40 years describing roads, firefighting, health care, education and Social Security as "socialism," and thereby created a generation of people who don't understand why they wouldn't be socialists, then. The copyright extremists have told us that internet freedom is the same thing as piracy. A generation of proud, self-identified pirates can't be far behind. When you make copyright infringement into a political act, a blow for freedom, you sign your own artistic death-warrant.
DISPATCHES FROM AIRSTRIP ONE: Britain Turns Offensive Speech Into a Police Matter.
It is chilling that cops, whose only business should be fighting crime, now want to hear about non-crime. Anyone who has even a sliver of respect for the ideal of liberty, for the right of people to go about their lives without being watched or narked on, should be seriously concerned that cops would want to hear about non-criminal behavior, otherwise known as everyday behavior.

Even more perversely, these non-crimes really just mean "insulting comments." So if you're in Yorkshire and someone on Facebook calls you a fat slob, call the cops. If you wear a niqab and a work colleague tells you—a la Boris Johnson—that you look a little bit like a mailbox, phone the police.

In essence, South Yorkshire Police want people to report on everyday conversations. This is Stasi territory. Coppers asking citizens to file reports on things they have read or overheard really should have disappeared from Europe with the fall of the Berlin Wall. Yet here it still is, this GDR-style instruction to eavesdrop and squeal, though now it's happening on the other side of the old Iron Curtain.
George Orwell intended 1984 to be a warning, not a how-to guide, as did the producers of The Lives of Others.
h/t GR
867 views