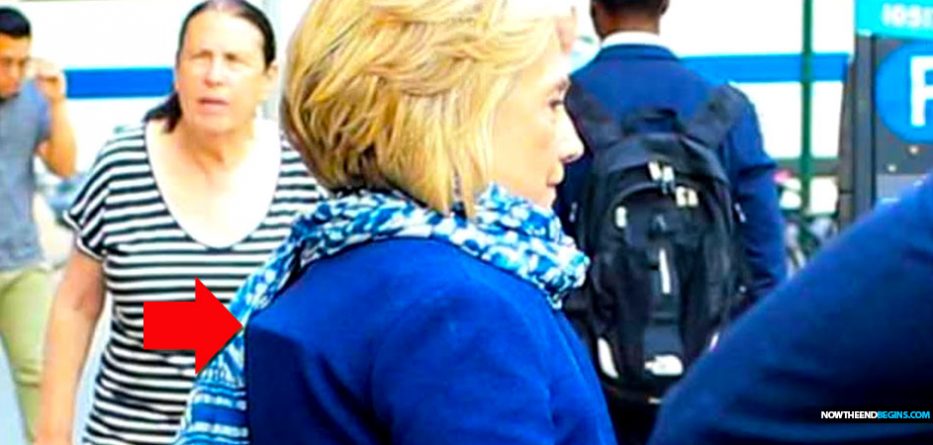 FIRST LADY MELANIA TRUMP MADE HER FIRST PUBLIC APPEARANCE IN NEARLY A MONTH ON WEDNESDAY, TAMPING DOWN RUMORS ABOUT HER NOTICEABLE ABSENCE FROM THE PUBLIC EYE AFTER SHE UNDERWENT A KIDNEY PROCEDURE.
EDITOR'S NOTE: The fake news media is over the moon obsessed with Melania and her kidney operation. The economy is booming, lowest unemployment in half a century, talks about to start with North Korea, but all the fake news media can write about is Melania's extended absence to recover. On the other hand, we have Hillary Clinton wearing bulky heavy outfits that are massively inappropriate in the warm summer weather, topped off with scarf piled to high it looks like a pitcher's mound, and obviously concealing at the very least a back brace. Has Hillary had surgery??, is her MS advancing??, she is hiding something alright. You would think all that would get the ace fake news reporters reporting, but, ahh, no…not a single one of them even mentions it one time. 
The first lady sat next to President Donald Trump at the headquarters of the Federal Emergency Management Agency for a 2018 hurricane season briefing with the vice president and several cabinet officials also in attendance.
"She's doing great," Trump said, next to a smiling Melania Trump. "She went through a little rough patch but she's doing great." He added, "We're very proud of her, she's done a fantastic job as first lady."
The appearance was her first in public since May 10, four days before she underwent a procedure for what her office called a "benign kidney condition." The first lady did not make any remarks at Wednesday's meeting.
EARLIER WEDNESDAY, HOURS BEFORE THE SCHEDULED MEETING, TRUMP RIPPED THE "UNFAIR" AND "VICIOUS" MEDIA "NARRATIVE" SURROUNDING MRS. TRUMP'S PROLONGED PUBLIC ABSENCE.
"The Fake News Media has been so unfair, and vicious, to my wife and our great First Lady, Melania. During her recovery from surgery they reported everything from near death, to facelift, to left the W.H. (and me) for N.Y. or Virginia, to abuse," Trump tweeted Wednesday morning, ahead of the first lady's expected re-emergence.
THE FAKE NEWS MEDIA HAS NO TIME FOR THIS…
In a second tweet, Trump claimed that "four reporters spotted Melania in the White House last week walking merrily along to a meeting" and "never reported the sighting because it would hurt the sick narrative that she was living in a different part of the world, was really ill, or whatever."
But, in fact, reporters did note Melania Trump's movement within the White House last week. Eamon Javers, of CNBC, tweeted on May 30 about the first lady walking with her aides.
Her disappearance touched off a whirlwind of conspiracy theories over her whereabouts, her physical condition (she remained hospitalized for several days after her procedure) and the status of her relationship with the president — and it raised the question of the significance of the first lady to the president's state of mind and the functioning of the White House.
Despite her husband's claims, Melania Trump's scheduled appearance could be her last for awhile.
BUT CANNOT STOP OBSESSING OVER THIS…
The first lady's office said earlier this week that she would not be joining the president for the Group of Seven summit in Canada this week, or for the highly anticipated North Korea meeting in Singapore on June 12.
On the left, in particular, there has been rampant speculation that the first lady has essentially been held hostage by her husband's presidency while he embarrasses her. Trump acknowledged earlier this year that he had compensated lawyer Michael Cohen for a hush payment to the adult film actress and director who says she had an affair with Trump while he was married to Mrs. Trump, who has repeatedly rebuffed her husband's attempts to hold her hand in public.
The first lady's office has attempted to quash that chatter.
AND WHO REMEMBERS HILLARY TOO WEAK TO EVEN GET INTO HER SUV UNDER HER OWN POWER?
"I see the media is working overtime speculating where I am & what I'm doing," Melania Trump's official account tweeted May 30. "Rest assured, I'm here at the @WhiteHouse w my family, feeling great, & working hard on behalf of children & the American people!" source
1,665 views