via CoverDrive
Summary
With Tesla's Model 3 now in full production, the profitability narrative is in serious jeopardy and a why new narrative is needed.
On Tuesday, The Saudi announcement of a $2B stake in TSLA gave Musk an irresistible opportunity to springboard on the momentum.
With time running out in the game, Musk gambled with a Hail Mary.
At Tesla's (TSLA) earnings conference call on August 1st, everything seemed to be under control. The call began with a lengthy discussion of 10x faster tensor processing, followed by a brief apology for terse behavior at the Q1 conference call. Honestly, everyone just seemed to be relieved that Elon avoided another CC meltdown.
The analysts all fell into line, offering only softball questions once again. No mention was made of Q2 earnings. No mention was made of SolarCity. No mention was made of the $89 million improvement in "other income". Only good times for sure, followed by a solid rebound in stock price. And this reiteration of profitability.
"I feel comfortable achieving a GAAP income positive and cash flow positive quarter every quarter from here on out."
Then, six days later, Elon Musk stunned the investment community and stunned the Board of Directors with a complete change of direction in the Tesla story narrative. Obviously, Musk decided on Tuesday that Time has Come Today.

Chambers Brothers – Time Has Come Today (live)
With everything going so well at the conference call, what led to this surreal state of affairs launched by Musk's tweets last Tuesday? Let me begin by saying that if Tesla could deliver a profitable third quarter, all of these shenanigans would be unnecessary. One can only conclude that the profit narrative was evaporating.
Musk needed something even bigger to take its place. And what could be bigger than proposing to take the company private?
THE HAIL MARY IS LAUNCHED
In ordinary situations, taking the company private would be a material event requiring months of study and approval by the Board of Directors, and the filing of an 8-K. But in this circumstance, timing was more important for Musk than regulatory process.
On Tuesday, an event occurred that vaulted Musk into action. The Saudi Arabian sovereign wealth fund announced a minority stake in TSLA, not unlike the one Tencent (OTCPK:TCEHY) acquired in early 2017. With the momentum of the Saudi disclosure, Musk had no choice but to launch the Hail Mary on Tuesday. It looked like a touchdown – fans were euphoric.
(Photo source Bloomberg) Was it a touchdown? The play is under further review by the SEC.
PROFITABILITY SITUATION
Let's take a closer look at why the change in narrative was necessary. Back in 2017, the narrative was purely one of growth. In fact, Musk stated this:
"What people should absolutely have zero concern about, and I mean 0, is that Tesla will achieve a 10,000 unit production week by the end of next year [2018].
But in the ensuing 12 months, Tesla found themselves deep in the throes of "Manufacturing Hell". It became clear that the visionary production level would never be achieved within the walls of Fremont. As a result, capital expenditures were scaled back dramatically and the narrative was changed to "profitability at 5,000 per week".
And what about Musk's "profitability from here on out"? At the conference call, only Galileo Russel asked for more detail.
"And so I'm curious if there's any trade-off to growth with that new strategy or sort of what's the rationale behind the scenes because this seems like the biggest change in Tesla's financial engineering strategy since the IPO."
It was an insightful question, to be sure. But as expected, the response was vague and ambiguous. The rambling finally had to be cut off by Martin Viecha.
Continued profitability is a really big deal, especially considering that additional capacity will not be available until the Shanghai Gigafactory is built. The profitability claim is coming from a company that has posted a $2.8B loss in the last 12 months. How is the turnaround possible? Has production hell been reduced to purgatory?
A quick assessment of Q3 profitability can be made by taking last quarter's key numbers and applying reasonable assumptions from Tesla's guidance. In the spreadsheet below, I began with estimated sales and Average Transaction Prices for each car model, generating revenue numbers. I then estimated Gross Margins to calculate COGS. I think Tesla can achieve 15% GM on the Model 3 once they reach 5,000/week sustained production. However, they're starting the quarter with more than 11,000 cars built at Q2 margins. I think a GM of 12.5% is reasonable.
The "Other" row includes all other income and COGS not associated with automotive production. I used last quarter's numbers with a modest increase.
Operating Expenses are another key line item. Even if R&D does not increase, I don't know how they can deliver 84% more cars without at least a 10% increase in SG&A. There may be restructuring charges added also, but I assume most of it was reported in Q2.
Note that all of the numbers are GAAP. With the exception of ATP, all dollar amounts are in thousands. All gross margins are ex-ZEV. I have instead moved ZEV credits toward the bottom of the spreadsheet (Tesla will report ZEV in Revenue and Operating Income).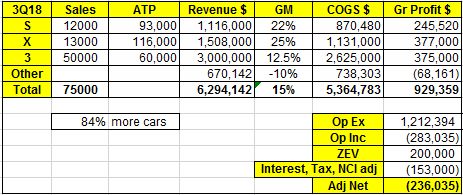 (Source: Author's estimates, extrapolated from second quarter 10-Q and Tesla guidance)
Even while reporting record ZEV credit sales, Tesla can be expected to fall some $236 million short of GAAP profitability. It's going to take some serious financial engineering (to use Galileo Russel's term) to report a profit. The peril is even greater if record ZEV credit sales fail to materialize.
CONCLUSION
Musk's tweet resulted from the need to change the narrative from profitability in Q3 to taking the company private. With the clock ticking, the Saudi investment announcement provided the perfect opportunity to leapfrog on the momentum. Unfortunately, there was no time to confer with the board of directors, and the tweets went out without the benefit of corporate scrutiny. Musk has placed his company in a perilous position.
At the time of this writing, an 8-K describing the details of the go-private proposal has yet to be filed. No source of secured funding has been identified. If the secured funding source is not identified, it would appear that Musk's tweets on Tuesday were an overt attempt to manipulate the share price. On that matter, I'll leave it for the experts to decide.
Views: