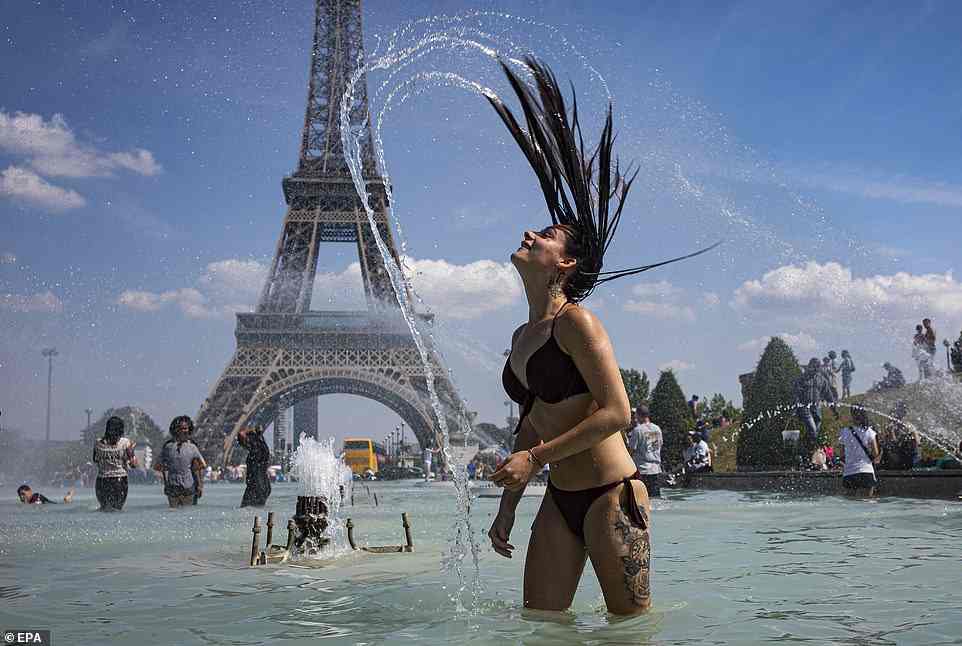 European Heat Wave Shatters June Records in 6 Nations and France Set a New All-Time Record
A major heat wave continues over western Europe.
The all-time record highs for June have already been topped in six European nations.
An area of high pressure in the upper atmosphere is responsible for the extreme heat.
A heat wave currently baking western Europe has already set new all-time June record highs in six nations and an all-time record high in France as an intense dome of high pressure taps into hot air from northern Africa.
An all-time record high was preliminarily smashed in France on Friday when a temperature of 114.6 degrees Fahrenheit was reported in Gallargues-le-Montueux, in southern France. In addition, at least 12 stations saw temperatures higher than the previous national record on Friday. The previous all-time record high for any month was 111.4 degrees, set on Aug. 12, 2003.
This also marked the first time the 45 degree Celsius threshold (113 degrees F) was reached in France, according to Meteo France and is the hottest day ever measured in June for the country.
France had set a new all-time June record high on Thursday, when Grospierres recorded a high of 108.1 degrees. Previously, the highest fully reliable June temperature in France was 106.7 degrees at Lezignan-Corbieres on June 21, 2003, according to Etienne Kapikian, a meteorologist at Météo-France.
On Wednesday, highs ranged from the 90s to lower 100s in parts of Spain, France, Germany, Belgium, Switzerland, Italy, Austria, Hungary, the Czech Republic, Slovakia and Poland. Berlin and Paris both rose into the 90s, well above the late-June low-70s average high in both capital cities.
Relief in sight for France after heat more typical of Death Valley breaks all-time high
The extreme heat wave that is suspected of killing several people this week set an all-time high in France on Friday. Relief is on the horizon but not before the heat strengthens its grip across Europe this weekend.
The highest temperature ever measured across France in the entirety of record keeping was set on Friday afternoon. Temperatures soared to 45.9 C (114.6 F) at Gallargues-le-Montueux in southeastern France, exceeding the nation's previous all-time record high of 44.1 C (111.4 F) at Conqueyrac on 12 August 2003.
A high near 46 C (115 F) is more typical of what is recorded in California's Death Valley in the United States this time of year. Parts of southeastern France were actually slightly hotter than Death Valley on Friday.
Amid the unrelenting grip of dangerous heat, France's national weather service issued the first ever "red" hazardous weather warning for southeastern portions of the country on Friday. A "red" warning is the highest level out of a four-level alert system put into effect after the deadly 2003 heat wave that claimed 15,000 lives, according to the Associated Press.
France records its hottest EVER day as temperatures hit 113F during Saharan Bubble heatwave frying Europe
The temperature was recorded in the southern village of Villevieille and beat the previous record of 111.4F
The previous record was in Saint-Christol-les-Ales and Conqueyrac during notorious August 2003 heatwave
Child was rushed to hospital in the southern city of Cordoba after collapsing while he worked in countryside 
Officials said he felt dizzy and jumped into the swimming pool at the property where he had been working 
Europe set to face sizzling heat with wildfires in Spain and record-breaking temperatures expected for France
The country has issued red heatwave alerts for the first time ever as southern regions brace for the weather 
WARNING: GRAPHIC CONTENT
France has recorded its hottest ever temperature of 113F (44.3C) as Europe sweltered in an early summer heatwave already blamed for several deaths.
With France, Spain, Italy and parts of central Europe particularly badly hit by the high temperatures, officials urged people to take common sense precautions – complaining that this was not always the case.
The record temperature was recorded in Villevieille, a village in the southern department of Gard near Montpellier, the same area where a previous high of 111.4F (44.1C) was set in August 2003, Meteo-France said.
Earlier the mercury rose above 111F (44C) in the southeastern town of Carpentras. The town was deserted, with cafe owners contemplating empty terraces, which would normally be packed.
Heatwave cooks mussels in shells on California shore
1,416 views