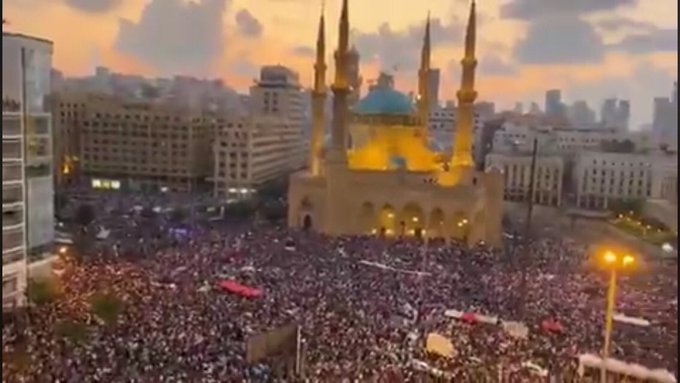 IN THE LAST WEEK
Bolivia
Lebanon
Chile
Spain/Catalonia
Hong Kong
Britain
IN THE LAST MONTH
Iraq
Algeria
Egypt
Haiti
France
THIS YEAR
Sudan
Russia
Uganda
Indonesia
Ukraine
Peru
Zimbabwe
Colombia
Venezuela
Ethiopia
Brazil
Ecuador
Serbia
Bosnia
Global (Climate)
General unrest stretches across the globe t.co/EZslV4oTQh

— 𝕮𝖍𝖎 🛢️ (@chigrl) October 22, 2019
Everywhere you look around the world there are protests with some surface "story" (catalyst).

However, my opinion is the underlying symptoms are inequality & super high inflation. Forgot CPI data — cost of living is through the roof & people are angry! pic.twitter.com/SpRRW7MStp

— Tiho Brkan (@TihoBrkan) October 22, 2019
Hong Kong, Beirut, Jakarta, Santiago, Barcelona, Paris… which city is next?pic.twitter.com/yPIoPOP608

— Tiho Brkan (@TihoBrkan) October 23, 2019
What the Protests Breaking Out All Over the World Have in Common
Millions of people are taking to the streets. It might just be the beginning.

All around the world, governments are telling people to cut back and raising prices on basic needs. The result has been rage and chaos.

Fifteen people have died in violent protests in Chile over the past week. The unrest was originally sparked by a 4 percent increase in subway fares in the capital city, Santiago, but has since spread to other cities, triggered by more widespread anger over inequality and rising costs. "It's not about 30 pesos, it's about 30 years," went one slogan, referring to the three decades since Chile transitioned from dictatorship to democracy, a period during which many Chileans have felt left behind by the country's much-lauded economic growth. The chaos in Chile has been shocking in large part because of the country's relative prosperity and political stability. But it followed a very familiar recent pattern.
1,223 views