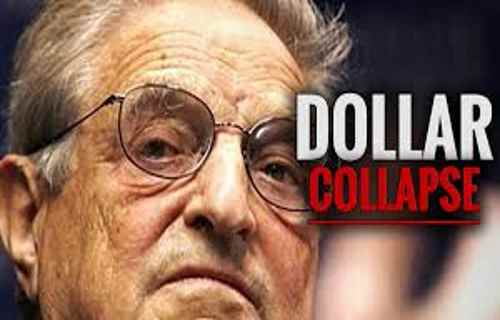 Why is George Soros selling stocks, buying gold and making "a series of big, bearish investments"?  If things stay relatively stable like they are right now, these moves will likely cost George Soros a tremendous amount of money.  But if a major financial crisis is imminent, he stands to make obscene returns.  So does George Soros know something that the rest of us do not?
The recent trading moves that Soros has made are so big and so bearish that they have even gotten the attention of the Wall Street Journal…
Worried about the outlook for the global economy and concerned that large market shifts may be at hand, the billionaire hedge-fund founder and philanthropist recently directed a series of big, bearish investments, according to people close to the matter.

Soros Fund Management LLC, which manages $30 billion for Mr. Soros and his family, sold stocks and bought gold and shares of gold miners, anticipating weakness in various markets. Investors often view gold as a haven during times of turmoil.
One thing that George Soros is particularly concerned about that I haven't been talking a lot about yet is the upcoming Brexit vote.  If the United Kingdom leaves the EU (and hopefully they will), the short-term consequences for the European economy could potentially be absolutely catastrophic…
Mr. Soros also argues that there remains a good chance the European Union will collapse under the weight of the migration crisis, continuing challenges in Greece and a potential exit by the United Kingdom from the EU.

"If Britain leaves, it could unleash a general exodus, and the disintegration of the European Union will become practically unavoidable," he said.
But Soros is not just concerned about a potential Brexit.  The economic slowdown in China also has him very worried, and so he has directed his firm to make extremely bearish wagers.
According to the Wall Street Journal, the last time Soros made these kinds of bearish moves was back in 2007, and it resulted in more than a billion dollars of gains for his company.
Of course Soros is not alone in his bearish outlook.  In fact, Goldman Sachs has just warned that "there may be significant risk to the downside for the market"…
Goldman Sachs is getting nervous about stocks.

In a note to clients, equity strategist Christian Mueller-Glissmann outlined the firm's fears that there may be significant risk to the downside for the market.
Ultimately, George Soros and Goldman Sachs are looking at the same economic data that I share with my readers on a daily basis.
As I have been documenting for months, almost every single economic indicator that you can possibly think of says that we are heading into a recession.
For instance, just today I was sent a piece by Mike Shedlock that showed that federal and state tax receipts are really slowing down just like they did just prior to the last two recessions…
US federal personal tax receipts receipts are falling fast. So is the Evercore ISI State Tax Survey.
The last two times the survey plunged this much, the US was already in recession.
Is it different this time?
And online job postings on LinkedIn have now been falling precipitously since February after 73 months in a row of growth…
After 73 consecutive months of year-over-year growth, online jobs postings have been in decline since February. May was by far the worst month since January 2009, down 285k from April and down 552k from a year ago.
Last week, the government issued the worst jobs report in nearly six years, and the energy industry continues to bleed good paying middle class jobs at a staggering rate.  The following comes from oilprice.com…
That may seem counterintuitive in an industry that has been rapidly shedding workers, with more than 350,000 people laid off in the oil and gas industry worldwide.

Texas is one place feeling the pain. Around 99,000 direct and indirect jobs in the Lone Star state have been eliminated since prices collapsed two years ago, or about one third of the entire industry. In April alone there were about 6,300 people in oil and gas and supporting services that were handed pink slips. Employment in Texas' oil sector is close to levels not seen since the aftermath of the financial crisis in 2009. "We're still losing big chunks of jobs with each passing month," Karr Ingham, an Amarillo-based economist, told The Houston Chronicle.
At this point it is so obvious that we have entered a new economic downturn that I don't know how anyone can possibly deny it any longer.
Unfortunately, the reality of what is happening has not sunk in with the general population yet.
Just like 2008, people are feverishly racking up huge credit card balances even though we stand on the precipice of a major financial crisis…
American taxpayers are quick to criticize the federal government for its ever-increasing national debt, but a new study released Wednesday found taxpayers are also saddled with debt, and are likely to end 2016 with a record high $1 trillion in outstanding balances.

Wallethub, a site that recommends credit cards based on consumers' needs, said that will be the highest amount of credit card debt on record, surpassing even the years during and before the Great Recession. The site said the record high was in 2008, when people owed $984.2 billion on their credit cards.
Will we ever learn?
This has got to be one of the worst possible times to be going into credit card debt.
Sadly, the "dumb money" will continue to act dumb and the "smart money" (such as George Soros) will continue to quietly position themselves to take advantage of the crisis that is already starting to unfold.
We can't change what is happening to the economy, but we do have control over the choices that we make.
The Economic Collapse of America is imminent. After President Donald Trump's Speech on congress, nobody should have any more doubt that the American Economy has been in the process of Collapsing. Donald Trump's speech to a joint session of Congress is being hailed as his best speech ever.  Even CNN's Van Jones praised Trump, which shocked many observers.  Jones said that when Trump honored the widow of slain Navy Seal Ryan Owens that it "was one of the most extraordinary moments you have ever seen in American politics", and Jones believes that Trump "became President of the United States in that moment".  But Trump's speech is not just being praised for that one moment.  He detailed many of the most important problems that our nation is facing, and he explained his prescription for addressing those problems.
Hopefully Trump's words helped people to understand that our problems did not get fixed just because he got elected.  It is going to take extraordinary action to fix those problems, because our problems run very deep.  In particular, Trump made an exceedingly strong case that the U.S. economy has been badly deteriorating for a very long period of time.  The following are 11 quotes from Trump's speech to Congress that show that the U.S. economy is in a state of collapse…
1 "Ninety-four million Americans are out of the labor force"
2 "Over 43 million people are now living in poverty"
3 "Over 43 million Americans are on food stamps"
4 "More than one in five people in their prime working years are not working"
5 We have the worst financial recovery in 65 years"
#6 "In the last eight years, the past administration has put on more new debt than nearly all of the other Presidents combined"
#7 "We've lost more than one-fourth of our manufacturing jobs since NAFTA was approved"
#8 "We've lost 60,000 factories since China joined the World Trade Organization in 2001″
#9 "Our trade deficit in goods with the world last year was nearly 800 billion dollars"
#10 "Obamacare premiums nationwide have increased by double and triple digits. As an example, Arizona went up 116 percent last year alone."
#11  "We've spent trillions and trillions of dollars overseas, while our infrastructure at home has so badly crumbled"
The second financial bubble is going to soon burst, and there's nothing anyone can do about it.
Peter Schiff stated, the Federal Reserve has set up the American economy for financial collapse and market crash for printing trillions of dollars back in 2008 and 2009.
The Federal Reserve's policies of printing trillions of dollars back in '08-09 have locked into place a serious financial crisis at some point in our future, Going so far as to intimate the economic collapse will occur at least some time in the next two years Paul wrote, It's unavoidable, and even Donald Trump can't stop it.
Trump will be the patsy for the supposed impending financial ruin. Just like everyone blamed Obama for the financial collapse in 2009, this time, Trump will unfairly get the blame, the former Texas representative wrote. Prepare for the coming stock market crash and economic collapse.
Defense Strategy and Capabilities .Conflicts and alliances around the globe are shifting constantly, enhancing the need for reliable and timely research and analysis. CSIS analyzes a wide range of issues related to defense strategy and capabilities.
4,736 views