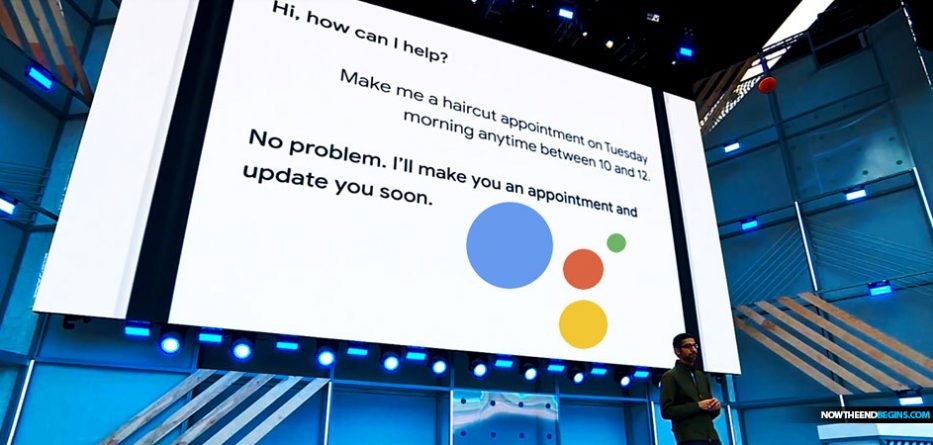 GOOGLE SHOCKED THE WORLD THIS WEEK WHEN IT SHOWED OFF GOOGLE DUPLEX, ITS NEW TECHNOLOGY TO HANDLE TASKS OVER THE PHONE. SINCE ITS REVEAL ON STAGE AT THE GOOGLE I/O CONFERENCE, THERE HAS BEEN SOME NEW INFO REGARDING THE A.I. THAT WILL MAKE PHONE CALLS — HAIR APPOINTMENTS OR DINNER RESERVATIONS — IN THE BACKGROUND, SO YOU DON'T HAVE TO.
"And he had power to give life unto the image of the beast, that the image of the beast should both speak, and cause that as many as would not worship the image of the beast should be killed." Revelation 13:15 (KJV)
EDITOR'S NOTE: As you will see in the videos in this article, Google has finally done "it". They've created an AI virtual assistant called Duplex that can call businesses on your behalf, ask and answer questions in real time, make reservations for you, and none of it requires your help or input. You are not notified until the reservation or whatever else the matter involved has been made and taken care of. Having trouble visualizing the Mark of the Beast? Revelation says "that the image of the beast should speak". This out to go a long way towards helping you out.
During the opening keynote at Google I/O on Tuesday, CEO Sundar Pichai introduced the world to Google Duplex. In a demo, the A.I. was able to handle tasks over the phone in a realistic manner. Although this wowed the audience in attendance and people watching at home, the demo failed to mention the legal issues of the A.I. such as identifying itself and recording conversations.
To personalize your #GoogleAssistant even further, we've used AI to create six new voices that will start rolling out today—with familiar voices coming later this year → t.co/SXa4jo5Rw0 #io18 pic.twitter.com/ouDDoyZuSW

— Google (@Google) May 8, 2018
A Google spokesperson tells CNET that Duplex technology would identify itself when used in order for the other person on the call to realize they're talking to a robot. Since the technology is still being developed, and the company continues to test it, Google tells The Verge that the assistant will not be used in the states that require consent to record the call from all parties.
Google plans Duplex to make life a little easier for both people and businesses. Users can save time using Google Assistant to handle tasks over the phone with the Duplex technology, in particular, those people who are hearing impaired or have issues with the local language. Businesses can make use of Duplex to handle appointments without delegating that task to an employee.
Testing of Google Duplex will start this summer. Google Assistant users with access to the technology will be able to make restaurant reservations, book hair salon appointment, or check a business' holiday hours over the phone.
Now that people have an A.I. that can mimic human conversation, all that's needed for the end of the world are robots that can chase people down and jump over obstacles. source
778 views