hmm. 2018 not off to a good start… pic.twitter.com/JJtEA4b8Qd

— Eric Pomboy (@epomboy) April 5, 2018
World stock markets on BRINK: 'Epic' bubble about to BURST, experts warn
WORLD stock markets could plummet this year because valuations are likely to hit disproportionate levels, taking them to "epic bubble levels", experts have warned.

Paul Gambles, Managing Director of MBMG Group, said following the 2008 financial crisis, global central banks pumped trillions of dollars into the economy to boost lending and encourage growth.

This has led to a significant increase in stock prices, taking global stock markets to the brink of bursting.

Mr Gambles said: "We had a policy response to the global financial crisis (and) at that point stocks were cheap and they had an enormous tailwind behind them in terms of fiscal support.

"This is quite a dangerous situation and it is creating a bubble, and that bubble has just got bigger and bigger and bigger

"There isn't any doubt now (that) in valuation terms we're in epic bubble proportions, probably the biggest bubble of all time."
The solid purple line at the bottom of this chart is The Scary Guy Economic Indicator. I call it the Pocket Money Wave. If my April projection is correct, and they have been right on lately, a large injection of liquidity is coming into the US economy. 🐂🤠 pic.twitter.com/N9IAn3OC0W

— William G Albert (@billalbert19) April 4, 2018
The Next Crisis Will Be The Last. – Fed hiking rates, Administration engaging in a trade war. Consumers overly indebted with stagnant wages. What could go wrong?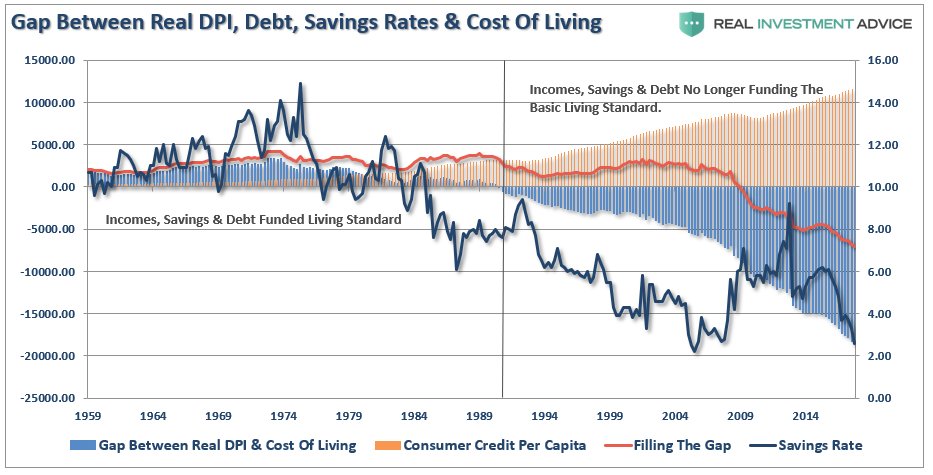 "The best time to invest is in year 10
of a bull market, preferably when a trade war
is beginning."

-Shoeless Joe Jackson

— Reminiscences of an American Capitalist (@4Awesometweet) April 5, 2018
Massive Jobs Data Miss Coupled w/ ATL GDPNoW Forecasts Crashing… pic.twitter.com/Att0cOriRx

— Alastair Williamson (@StockBoardAsset) April 6, 2018
#LaborDepartment blames "weather" for miss on non-farm #jobs number – not an approaching #recession, the end of a #credit cycle, no. Weather.

Come to think of it, we've been having such bad weather in #America since 1979 we lost 8,000,000 #manufacturing jobs too. pic.twitter.com/1GsdRtYVgc

— OW (@OccupyWisdom) April 6, 2018
Small, subprime auto lenders are shutting down as banks & private-equity firms cut off their funding.
Growing numbers of small subprime auto lenders are closing or shutting down after loan losses and slim margins spur banks and private equity owners to cut off funding.

Summit Financial Corp., a Plantation, Florida-based subprime car finance company, filed for bankruptcy late last month after lenders including Bank of America Corp. said it had misreported losses from soured loans. And a creditor to Spring Tree Lending, an Atlanta-based subprime auto lender, filed to force the company into bankruptcy last week, after a separate group of investors accused the company of fraud. Private equity-backed Pelican Auto Finance, which specialized in "deep subprime" borrowers, finished winding down last month after seeing its profit margins shrink.