From Bloomberg: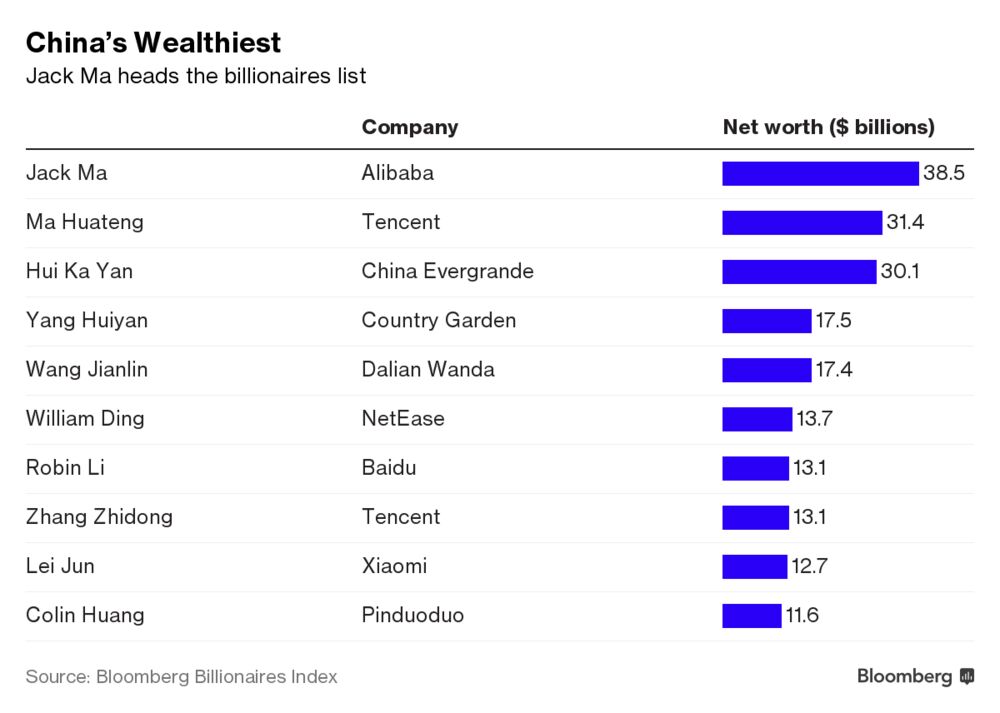 It's official now that Jack Ma, chairman of the Chinese e-commerce giant Alibaba Group Holdings Ltd., is a member of the Communist Party. He's also the richest of a growing gaggle of high-net-worth individuals in China, who between them control $6.5 trillion. The story of how China's Communist Party, long an opponent of capitalist ideology, created one of history's greatest breeding grounds for personal wealth begins four decades ago when then party patriarch Deng Xiaoping introduced reforms that would drastically transform the country into the world's second-biggest economy.
1. How many billionaires does China have?
The Bloomberg Billionaires Index tracks the wealth of the 500 richest individuals globally, 38 of whom are Chinese. More broadly, global wealth research firm Wealth-X found that of the world's 2,754 billionaires, 680 (25 percent) were in the U.S. and 338 (12 percent) were in China. UBS Group AG estimates a new billionaire is minted in China every two days.
2. Why has China's Communist Party let people get rich?
It's a necessary evil. The party identifies among its core tasks the advancement of the fundamental interest of the greatest majority of Chinese people. Deng, who famously said poverty is not socialism, interpreted this to mean that it was okay if some people needed to get rich to improve the livelihoods of the masses. Since the introduction of his reforms, more than 700 million people have been lifted out of poverty in China.
3. Does that mean the party doesn't care if China is communist?
The party's constitution says its "highest ideal and ultimate goal is the realization of communism." But it doesn't give a time frame for achieving it, so party leaders have a lot of room to maneuver within that broader goal. That allows space for divergent views to co-exist: Mao Zedong is still revered despite disruptive moves that led to famine and bloodshed, as is Deng for embracing market forces and foreign investment. Still, it remains important for leaders to pay respects to the founding ideology: President Xi Jinping this year publicly celebrated the 200th anniversary of Karl Marx's birth, including giving a statue to his hometown…
582 views