By Robert Ross
I'm sure you've heard of hedge funds, maybe on shows like Billions or in movies like The Big Short.
Hedge funds are a special type of investment company. They pool money from many investors and use complex strategies to invest, often aggressively.
Most people can't invest in hedge funds—only high-net-worth individuals and institutional investors. So it seems like every time you read about these funds, there's some really rich guy in the story, flying around on private jets, making splashy deals.
But those popular images are largely myth.
The ho-hum performance of the average hedge fund simply doesn't back it up. In fact, over the last five years, you could have beaten 9 out of 10 hedge funds by just buying the S&P 500.
Since 2014, the Barclay Hedge Fund Index has returned 3.4% annually, barely beating US government bonds. And it severely lagged behind the S&P 500, which has grown 10.7% annually during that period.
If you look back 10 years, it's the same story: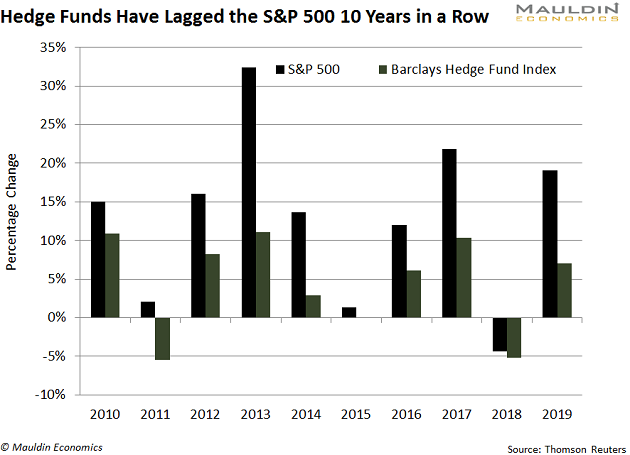 That said, a small group of elite hedge funds absolutely crush the market, earning annual returns in the neighborhood of 15% to 20%.
Even better, you can buy some of the same stocks they do (without taking on huge risks inappropriate for income investors).
The Best Funds Aren't the Ones You've Heard Of
Overall, hedge funds managed $3.2 trillion last year.
Some of the best-known hedge funds, like Ray Dalio's Bridgewater Associates, manage over a hundred billion in assets. But over the past five years, these mega-funds have underperformed both the S&P 500 and their smaller competitors.
Take Crawford Lake Capital Management, for example. This small, elite fund manages $1 billion in assets. Since 2014, it's returned more than 14.1% per year, significantly outperforming the S&P 500 (10.7%).
Tiger Global Management is another top-tier hedge fund. It manages $36 billion in assets, and it's returned 22.3% annually over the last three years.
There's also Anson Funds Management LP, which manages $548 million. The fund has returned 11.7% annually since 2007—nearly double the S&P 500 over the same period.
It's very difficult to consistently beat the market by this much. But these guys aren't doing magic tricks. We'll take a look at what they're buying in a moment.
Tracking the Whales
One of the best ways to track hedge funds is the Bank of America Merrill Lynch Global Fund Manager Survey. It includes 224 funds with over half a trillion in assets under management.
Here's the most recent survey. It shows that hedge funds are buying utilities, staples, and telecom stocks right now.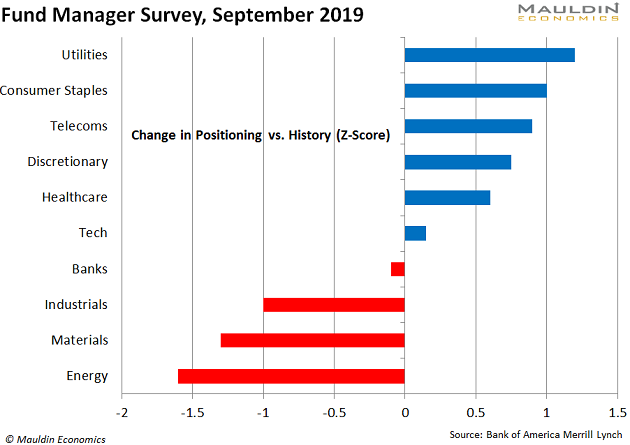 The Global Fund Manager Survey is a great way to see where the overall hedge fund industry is moving. But you can go a step further.
Remember those three funds I mentioned earlier? They all disclose their top holdings each quarter.
You Don't Need Hedge Fund Access to Buy These Three Stocks
Hedge funds have to file something called Form 13F. These filings show each fund's top holdings. They even show how much the funds allocate to each stock.
For instance, Crawford Lake, one of the elite funds I mentioned earlier, has 15% of its assets in The Walt Disney Co. (DIS).
Disney is a diversified media juggernaut. It owns globally recognized brands, including Marvel, LucasFilm, and ESPN. It also owns theme parks around the world. Plus, it launched a streaming service recently called Disney+ to compete with Netflix.
Disney is also a consistent dividend payer. It's raised its dividend for fourteen straight years and sports a 1.4% dividend yield.
Meanwhile, Tiger Global Management has 11.1% of its assets in Microsoft Corp. (MSFT).
Microsoft is one of the largest companies in the world and the dominant player in consumer and enterprise software. It has a wide product portfolio, including premier operating system Windows, Xbox entertainment systems, and professional network LinkedIn.
Microsoft pays a safe 1.5% dividend, and it's increased its payout for 14 years in a row.
We also talked about Anson Funds Management LP. While over half of the fund's assets are shorting the S&P 500, 3.1% of its holdings are in Barrick Gold Corp. (GOLD).
Barrick is one of the world's largest gold producers. Gold is considered a safe haven asset, and investors buy gold stocks when they think stock market volatility is rising. Barrick also pays a decent 1.0% dividend.