via Jeremy Hill
A credit market guidepost suggests the turmoil in high-grade bonds isn't over yet.
The CDX investment-grade index, a measure of the cost of default protection for high-grade bonds, surged during the trading day Monday and at one point breached the previous week's peak before closing 3.68 percent higher. The index rose as much as 13 percent last week amid broad credit market volatility.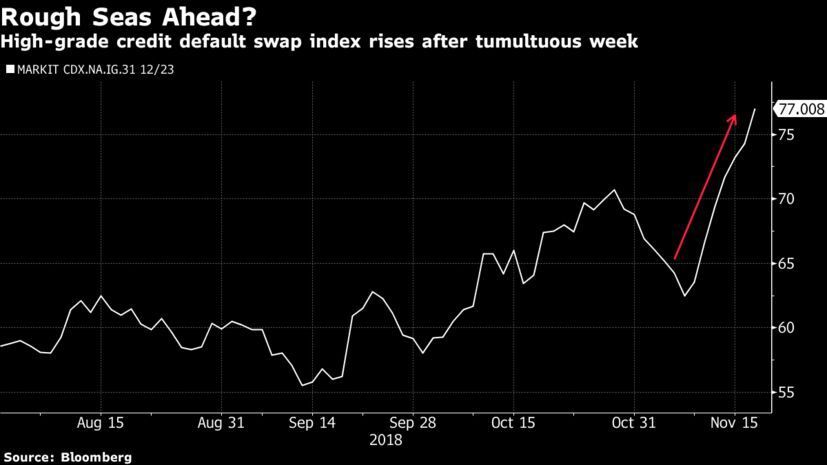 Credit traders may have hoped the worst was over when investment-grade spreads held firm at Friday's close. Some General Electric Co. and PG&E Corp. bonds sold off again Monday and an acquisition-related bond sale from Takeda Pharmaceutical Co. priced well wide of comparable deals.
Guggenheim Partners Chief Investment Officer Scott Minerd last Tuesday 
said in a Tweet
 the sell-off in GE bonds was not isolated and that the "slide and collapse in investment grade debt has begun." Bank of America Corp. analyst Hans Mikkelsen 
took a different stance
, writing in a note that GE's problems will remain mostly confined to the company.
High-grade spreads last week widened to levels not seen since 2016, per the Bloomberg Barclays U.S. IG Corporate Bond Index, and the gauge posted its sharpest weekly move since 2011.