via factset:
While 2018 was a solid year for initial public offerings on U.S. exchanges overall (274 IPOs), the slowdown in activity we saw in the fourth quarter of last year continued into early 2019. The 34-day U.S. government shutdown (Dec. 22, 2018 – Jan. 25, 2019) certainly had an impact on IPO activity to start the year. During the shutdown, the Securities and Exchange Commission (SEC) was closed, essentially bringing IPO activity to a halt. With the SEC only able to perform very basic market functions with a limited staff during the shutdown, no one was available to give feedback to companies planning to IPO.
Following the shutdown, enthusiasm seemed to return to markets. After just five IPOs in January, we saw a wave of 18 companies IPO during February. However, we saw a retreat in March, with just 11 companies going public. But March featured two big names: Lyft (priced March 28, raised $2.3 billion) and Levi Strauss (priced March 20, raised $623 million). Lyft had the biggest market debut since last year's AXA Equitable Holdings offering (priced May 10, 2018, raised $2.7 billion), and optimism remains high for more big tech IPOs in 2019, including names like Uber, Pinterest, Slack, and Airbnb.
Q1 2019 IPO Activity is the Weakest in Two Years
There were just 34 IPOs in the first quarter, down 41% from the 58 companies in Q4 2018 and 40% lower than Q1 2018. In terms of volume, the first quarter saw the worst quarterly performance since Q1 2017; for money raised, it was the worst quarter since Q2 2016. Gross proceeds from IPOs in the first quarter totaled $7.4 billion, down 34% from the previous quarter and 61% from a year earlier. Just two IPOs raised more than $500 million, Lyft and Levi Strauss, the lowest number since Q1 2016 when one company met this threshold. The average money raised for the quarter was $218 million but excluding Lyft the average was just $154 million.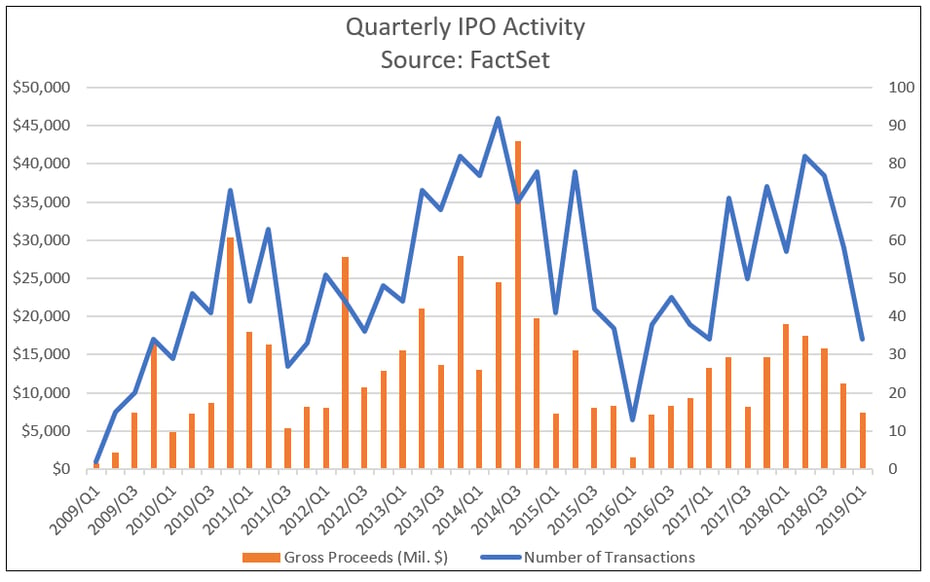 671 views