Is the world experiencing the kiss of death? pic.twitter.com/pZaxea64Cc

— Alastair Williamson (@StockBoardAsset) November 20, 2018
When commodities AND stock markets are doing the same thing like this we have a MAJOR CREDIT PROBLEM GOING ON…liquidity will get much worse imo pic.twitter.com/OwZv4yyCyb

— mcm-ct.com (@mcm_ct) November 20, 2018
Uh Oh – borrowing at the top of the cycle aye? t.co/OGMOSyfC9Z

— mcm-ct.com (@mcm_ct) November 20, 2018
Deutsche Bank shares hit a record low
Shares of Deutsche Bank hit fresh record lows Tuesday after the bank confirmed to Reuters it was involved in processing payments worth $150 billion for scandal-ridden Danske Bank.
No liquidity + higher cost of money + unprecedented leverage = what you're about to see.

Not politics, cold weather, trade talks, Mark Zuckerberg, or any other noise. pic.twitter.com/nkfMxsRrBt

— OW🎄 (@OccupyWisdom) November 20, 2018
JPMorgan: Fewer Market Makers, Fewer Buyers…Liquidity Risk Rising as Market Falls
(Bloomberg) — Add a liquidity drain to the list of things to worry about during the equity sell-off that began in October.
At least that's the view of JPMorgan strategists, who looked at something known as the Hui-Heubel liquidity ratio that purports to measure the number of trades it takes to move prices. For futures on the S&P 500, EuroStoxx 600 and Topix index, the measure has slumped to levels last seen in February.
JPMorgan strategists led by Nikolaos Panigirtzoglou mentioned the phenomenon in a lengthy note that sought to catalog all manner of tightening in financial markets, from bonds to equities. They observed a handful of ominous signs in stock futures, including evidence there are fewer orders resting at the tightest bid-ask prices for S&P 500 e-mini futures. In all, the note said, stocks are heading for the worst year in terms of market depth since at least 2014.
Saying that weakening liquidity is feeding a market decline will reliably start arguments on Wall Street. Where critics see wavering resolve among market makers, others say it's perfectly normal for bid-ask spreads to widen when trading turns volatile. Claims that electronic intermediaries like high-frequency traders will prove unreliable when the going gets rough inform a variety of market structure critiques. The evidence it's true is scant.
JPMorgan's data shows "a more persistent decline in liquidity than simply justified by market volatility," Panigirtzoglou wrote in an email. "It also implies vulnerability because any small selling in S&P500 futures can be propagated by illiquidity."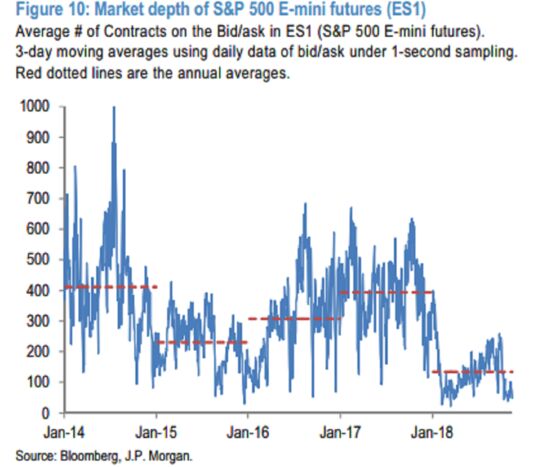 Not only has "market depth for S&P 500 futures contracts deteriorated in October" but it is also "much lower this year on average relative to either last year or previous years," the strategists wrote in the note on Friday. "This persistently low market depth leaves U.S. equities vulnerable from here."
846 views