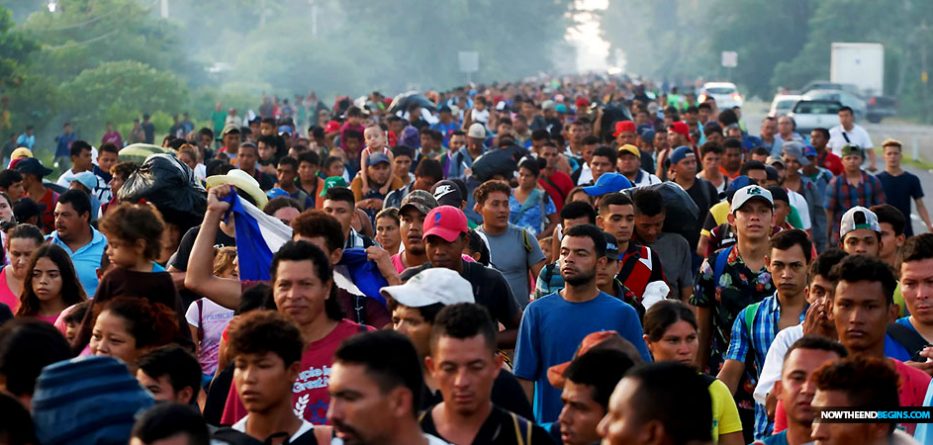 Roughly 5,000 U.S. troops will be deploying to the southern border in response to the migrant caravan pushing north through Mexico, a U.S. official confirmed to Fox News
Like him or hate him, you have to respect him. President Trump is doing exactly what he said he would dowhen campaigning in the 2016 election. Now, he is doing whatever necessary to secure and protect America's borders.
Interestingly, even though Mexico has offered the migrants asylum, schooling, food, clothing and shelter, nearly every single one of them has rejected that offer saying that they only wish to go to the United States. Do you still think this is an 'organic movement' of a 'displaced people', or a caravan organized by Far Left Liberal agitators like Pueblo Sin Fronteras during an election season? Comment below.
5,000 US troops deploying to southern border in response to migrant caravan
FROM FOX NEWS: Some of the troops will be deploying as early as Tuesday. The reinforcements headed to the U.S.-Mexico border are support troops – not combat troops – and will include engineers, as well as aviation and medical personnel.
The troop deployment, first reported by The Wall Street Journal, had been expected after Defense Secretary Jim Mattis approved the request last week. But the number of troops is far higher than initial estimates.
President Trump, meanwhile, has called for the caravan to turn back and warned its members that the military "is waiting for you!"
He tweeted Monday: "Many Gang Members and some very bad people are mixed into the Caravan heading to our Southern Border. Please go back, you will not be admitted into the United States unless you go through the legal process. This is an invasion of our Country and our Military is waiting for you!"
Fox News has learned military police will be among those headed to the border, though they will not be acting in a law enforcement role – but rather in a "force protection" mission, guarding any U.S. military personnel supporting the Border Patrol, according to another official.
Combat troops are not being considered, though the bulk of the reinforcements going to the border are active-duty forces.
Because they would not be performing law enforcement duties they would not be in violation of the Posse Comitatus Act, which prohibits the federal government from using the armed forces in a domestic police role.
There already are about 2,000 National Guard troops assisting at the border under a previous Pentagon arrangement. With 5,000 additional troops headed south, there will be roughly the same number of American forces positioned along the southern border as there are deployed to Iraq and Syria combined.
While troops are being deployed, White House officials are continuing to discuss possible executive or regulatory action to prevent people in the caravan from coming across the border. READ MORE
482 views