Negative Rates Are Starting to Worry ECB Officials
(Bloomberg) — Five weeks since Mario Draghi retired from running the European Central Bank, finding an outright fan of his legacy of negative interest rates has become a lot harder.
Governing Council members, who collectively lowered the key rate to minus 0.5% shortly before Draghi's term ended, are increasingly portraying it as a necessary evil that shouldn't be compounded. Sparse communication on monetary matters by his successor as president, Christine Lagarde, hasn't dispelled that impression.
Banks have picked up on the mood change, dropping predictions that Lagarde — under the guidance of Chief Economist Philip Lane, the intellectual standard-bearer who proposed the latest cut as part of a stimulus package — would ease again at her first policy meeting on Dec. 12.
It's a striking development for an institution whose credibility hangs on the promise that it can always do more if needed to revive inflation, and whose policy guidance explicitly states that rates can still fall further. It suggests that a strategy review planned by the new chief will need a thoughtful scrutiny of the toolkit.
"We don't expect they'll cut rates further," said Sarah Hewin, chief economist for Americas and Europe at Standard Chartered Bank. "I'm not sure there is a consensus that negative rates are bad, but I'm wondering whether with this transition from Draghi to Lagarde — a new broom at the helm — there's an opportunity to vocalize their concerns."
"We will soon see a chain reaction. Banks that do not follow with negative interest rates would be flooded with liquidity…"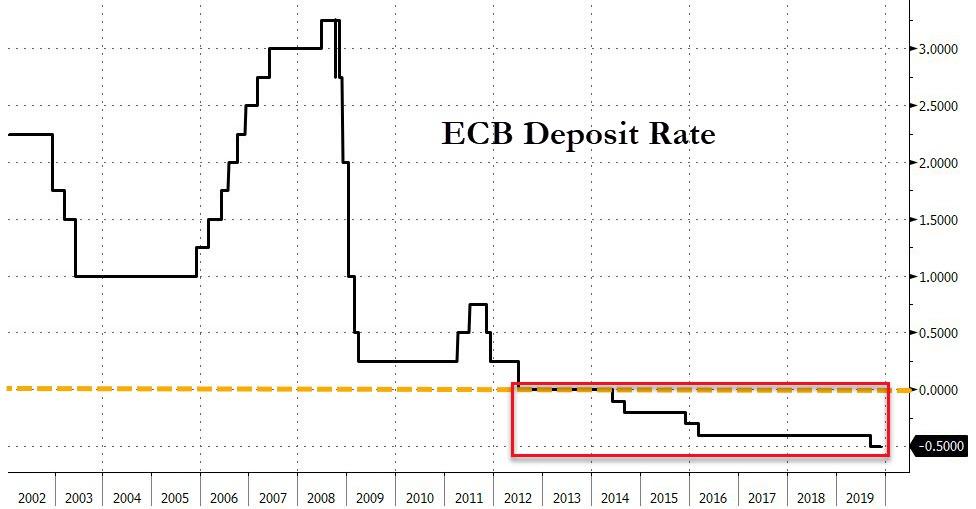 Eurozone retail sales slumped a seasonally adjusted 0.6% in October, Eurostat reported Thursday, well below expectations of a flat reading…
1,123 views