by Amy S.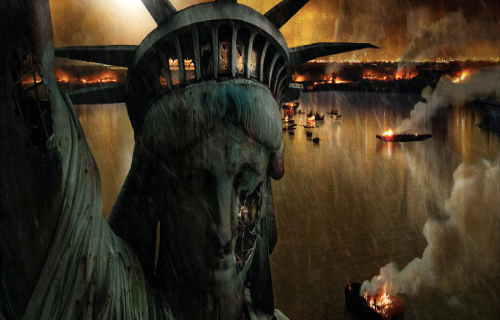 The Global Elite Secret Plans For The Next Financial Crisis
I stated in this article that an "imminent disaster.US stock markets", and that "people seem to have forgotten one central and critical point. Most people seem to believe that they have to lose a great deal of money when crises materialize and forget that it is absolutely possible to prosper during crises as well.
Thus, because they feel they must suffer during a crisis, the 'shoot the messenger of bad news' syndrome commences.
Now that the US markets have traded between a range for several days, the mass media is bombarding everyone again with a "it's a great time to buy more US stocks!" narrative that will prove to be poison to any retail investor foolish enough to swallow these sales pitches.
If you don't understand how Central and Commercial bankers are manipulating these markets to manufacture "up" days to grant the appearance of market recovery amidst great structural fragility, then I recommend that you visit a lot of the referenced links in this article, where you can find a lot of detailed information and analysis about how bankers manufacture these illusions with manipulated rigging. To allocate any of the money you earn on the basis of empty banker promises of higher asset prices without understanding the risk-reward metrics of doing so is NO strategy at all, but instead a risky proposition based entirely on hope.
According to Rickards, the next crisis will likely be a continuation of the 1998 hedge fund collapse and the 2008 banking collapse. He estimates that it will occur around 2020.
As Rickards explains, the '90s were a period of risk and instability for hedge funds. Eventually, Wall Street had to bail out hedge fund managers. Then, in 2008, central banks had to bail out Wall Street.
In both instances, global financial markets nearly ground to a halt. They were rescued at the last minute by government and banking interventions. And the underlying problems that cause these crises were never solved.
Rickards points out that it has been about eight years since the last financial crisis. These events tend to reoccur in eight- to 10-year intervals. Until now, the government has intervened during crashes by printing money. This provides liquidity and prevents bank runs.
The US stock market crash.
After an initial period when the US stock markets sold down by about 17%. Shortly after this initial strong sell-off, the market actually rose slightly for several weeks, invoking the perpetual salesmen employed by global investment firms to declare that the correction was over and that it was time to start buying US stocks again. This is the period I've circled in green above. After many were lured backed into the US stock markets, they finally crashed hard in October. If you look at the US stock market selloff to this point today, I believe that we are currently in that period , a period of relative calm before a stronger, more devastating dive occurs.
The Elite That Are Feverishly 'Prepping' For The Collapse
Once upon a time, "prepping" was something that was considered to be on "the lunatic fringe" of society. But in 2019, wealthy elitists are actually the most hardcore preppers of all. This is particularly true in places such as Silicon Valley, where a whole host of young tech moguls are putting a tremendous amount of time, effort and money into preparing for apocalyptic scenarios. So while interest in prepping among the general population has fallen extremely low right now, the election of Donald Trump has given liberal wealthy elitists even more urgency to prepare for what they believe is a very uncertain future.
So are these wealthy elitists ahead of the curve, or are they just being paranoid?
Only time will tell, but they didn't become exceedingly wealthy in the first place by being stupid.
As I discussed yesterday on The Most Important News, there are certainly reasons to be optimistic now that Donald Trump has become president, but there are also lots of reasons to be prepping harder than ever.
We should be hopeful for the future and working for a better tomorrow, but we also need to understand that we live in a world that is becoming increasingly unstable.
And most of us think that it is just common sense to purchase insurance for our homes, our cars, our health, our lives and so many other things, and yet most of the population is completely unprepared for a major catastrophic event.
Listen Up! The Financial Elite Will Soon Prevent You Accessing Your Own Money!'
I have warned for a long time that the Federal Reserve is planning to destroy the U.S. economy by: printing the U.S. dollar in exponentially riskier quantities until it blows off the charts and crashes, and by easing credit and rates until the average individual and corporate debt loads are so enormous that the resulting massive distortions in the economy suddenly bring on an economic heart attack, leaving no possibility of a short or even medium-term recovery. That day is here!
There is nothing more important in your life right now than the exceedingly dire economic crisis unfolding as I write, and the state of your soul!
In other words, if your spiritual house is not in order, the building financial collapse will be so horrible that you will not be able to emotionally or mentally endure it, and I am addressing the healthy and strong here.
This collapse will knock you out cold, flat on your back, with violence, and most of mankind will never get back up. While the elite are sending signals to their friends that the switch has been thrown, that final preparations for safety are now in order, they are not saying how bad it will be.
I believe that even the elite, such as Sir Templeton (more below) do not fully understand the implications of this crash – that this is the end of America as we know it.
That great criminal enterprise – the Federal Reserve – has accomplished step #1, trashing and ending the dollar system, culminating a multi-year, massive, insane inflation of money supply and credit.
The Illuminati corporations such as Freddie Mac, Fannie Mae, Farmer Mac, FHA, GM, Ford, and GE (which are actually banks), worked hand-in-hand with the Bank Cartel on this sickening, twisted game, switching from pumping credit cards and cars (which have gone to zero percent financing 12 months ago) to a last-ditch horrendous push into mortgage lending.
This insane lending will destroy the lending institutions themselves, as Ford and GM are well aware, but the elite do not care, as after this collapse, there will only be one corporation in the world, and they are all pulling together to put everyone as deep into debt as possible, to assure than no American state or corporation or region will survive when the debt mountain suffocates all life.
This is why so many CEOs are bailing out with insane profits from questionable practices which would normally ruin their career for life, as they have raped their corporation (the latest is Grasso of the New York Stock Exchange); but they know the game is over, and it is now or never – this is their last chance to make millions and move to an island, for insiders are able to see that the economy is literally going to hell, and it will not climb out of hell in their lifetimes. (Some of these characters believe they have a room reserved underground to protect them from what is coming. Some are correct in thinking this, some are not. But many of those underground cities will be death traps, so you had better think twice before paying millions for your reservation.
There are earth changes coming that will fundamentally rearrange the crust of the earth, most likely including your future bedroom.) The U.S. growth rate (GDP) in quarter 3 will probably be artificially doubled, as is the U.S. government custom of late, but it will be such a ridiculously high number, that it should be obvious to all that the massive inflation from the Federal Reserve (and mortgage friends) has led to a final blowoff from the massive liquidity and credit push over the past 9 months. But the housing market is so overpriced and overbought that mortgages are plunging despite the cartel's best effort to postpone the long-planned crash with dangerously wild lending (why they are postponing is not yet clear to me, everything appears ready).
The two great props of the deathly-sick US economy – housing and cars – are gone forever, and can no longer be used to cover up the rapidly worsening fundamentals. Indeed, many are recognizing that these two alone – especially artificially low mortgage rates – have postponed a deep crash which should have occurred 2 or 3 years ago. Sadly, this extension has not been helpful, but has served a very useful purpose for the money elite, namely, greatly deepening private and corporate debt loads, exploding red ink in state and local budgets to dangerous levels, emptying pensions, creating a fatally large and exploding US budget and trade deficit, moving millions of jobs thousands of miles away, and expanding the dollar and derivatives mountain to ensure a global panic.
This has been carefully coordinated worldwide from the headquarters of all world central banks, in Basel, Switzerland. You just don't have a clue how dead serious this news is!! My guess (and experience) is that less than 1 person in 100,000 understands how horrible and total the economic devastation will be in America. Personally, I have met only one person (a broker in Los Angeles) who understood what was coming. I met him in 1999, shortly before Sir Templeton said to get out of stocks. I considered this broker in LA to be a maverick, but expected more and more people to see the danger as the months went by. I was wrong. Literally, no one gets it. People all around me and around the world are saying the bottom has been reached, that the light at the end of the tunnel is growing.
If the Bankers are coordinating the financial destruction of the US, it follows that a time will one day arrive when they are suddenly given a secret signal to coordinate a "take down" of the U.S., after debt loads and dollar weakness is established.
That time has arrived. Evidence Indicates The USA's Plug Has Been Recently Been Pulled Suddenly, in only the last two weeks, the warnings are flooding out of high finance like a burst dam. The message is clear for those who have ears to hear, for these warnings are all from the same inner circle: it can only mean someone has given the order to release the hordes of hell and go in for the kill. Some of these items listed below are reactions from the elite to save themselves and warn their friends.
Other items are legal and political actions to remove any hindrance or safeguard which heretofore inhibited a sudden and massive implosion. Keeping in mind that this overwhelming avalanche of dire events occurred over mere days, here is the list: Russia announces anti-dollar war. Last week Russia announced it is now anti-dollar, Russia & socialist partner Germany discussed switching out of dollars and into euros for financing and, more importantly, conduct their huge oil transactions in euros, not dollars. No less than Duisenberg, head of the socialist European Central Bank (partner of the anti-American Federal Reserve) agreed, as did Communist Russia's partner, German Chancellor Gerhard Schroeder, in a recent meeting.
[1] Japan is unloading massive amounts of dollars, stocks, and US gov debt, as mentioned recently on this site's "Just The Facts" section.
[2] Elitist Belkin: prepare for sickening plunge. As the elite analyst Belkin (newsletter costs $35,000 per year) stated over the last 2 weeks, (quotes are in Just The Facts), even private American banks are bailing out of US government debt
[3], while Skull-n-Bones Trillionaire Bush explodes US debt into the outer reaches of never-never land, which means the US must find 300% more buyers to finance its failing socialist economy than just 2 years ago, (not including burgeoning state and local debt). This simply isn't possible. Belkin says "it's time to prepare for a sickening plunge into December and beyond." Bush is deliberately bankrupting the US for The Bank, while Americans wave their masonic little flags.
[4], on banking collapse fears, and the simultaneous dollar plunge. ECB, bank ruling Europe: "bail out of USA." Two weeks ago the top NWO bank of Europe, the ECB, openly warned Europeans to get out of the U.S. dollar-based economy, including supposedly "safe haven" US gov treasury bonds.
[5] This was printed openly in European financial papers and television. It is important to realize that the ECB and the non-American Federal Reserve are two branches of the same cartel. They are not enemies, although the Fed and the ECB as a team are definitely enemies of the United States. SEC to remove crash protection. After months of giving lip-service to addressing derivatives, short-selling, and hedge-fund risks, reversed itself and plans to ease the rule banning short-selling when stocks are falling.
[6] In other words, the SEC wants to suddenly remove all the stops which have prevented many sell-offs from became a multi-day panic. This is a huge warning. Without these stops, and without derivatives regulation, the US markets could in theory plunge 95% in one day. They will be closed before it goes that far (which is worse than a crash), but I expect this scenario to now come to pass. No one is talking about what the unfathomable derivatives bubble will do on a volatile day. I tell you, it will mean the end of the modern United States. It will become a banana republic, the mockery of the world, just on this point. Yet everyone is silent! Am I the only human being amidst a world of robots? What is going on here?!!
3,581 views