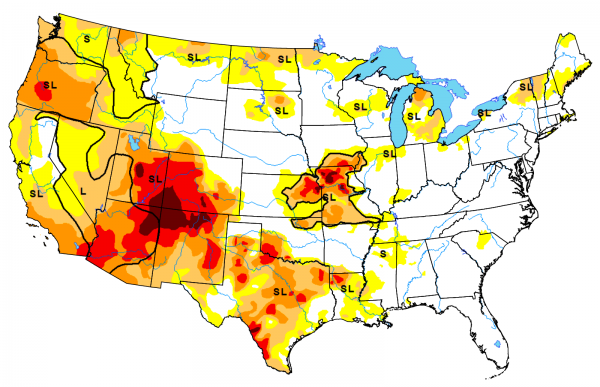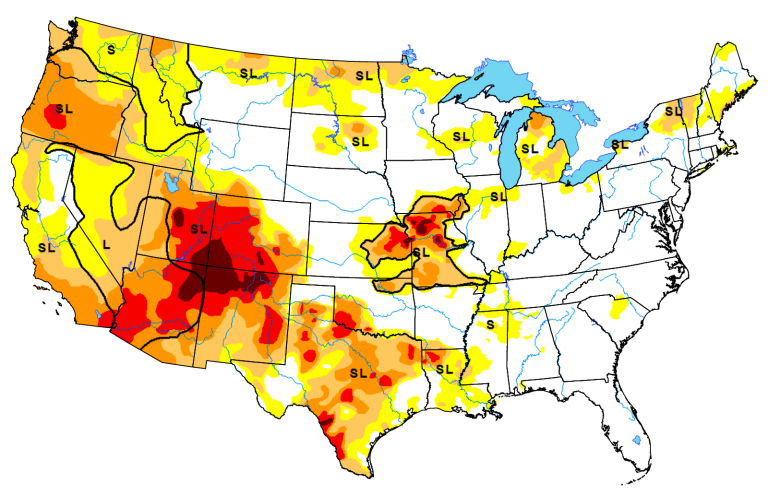 The worst drought in years in the western half of the United States has sparked hundreds of wildfires, has crippled thousands of farms, and has produced what could ultimately be the worst water crisis in modern American history.  As you will see below, Lake Powell and Lake Mead have both dropped to dangerously low levels, and officials are warning that we may soon be looking at a substantial shortfall which would require rationing.  Unfortunately, many in the eastern half of the country don't even realize that this is happening.  The mighty Colorado River once seemed to be virtually invulnerable, but now it doesn't even run all the way to the ocean any longer.  Demand for water is continually increasing as major cities in the Southwest continue to grow, and this is happening at a time when that entire region just keeps getting drier and drier.  To say that we are facing a "water crisis" would be a major understatement.
I have written quite a bit about the drought in the Southwest in recent months, and it just keeps getting worse.  According to Forbes, more than half the nation is now experiencing some level of drought…
Drought conditions across the United States have worsened throughout the summer, culminating in more than half the country experiencing abnormally dry or drought conditions by the end of August.

The latest update of the United States Drought Monitor shows that more than half of the country—nearly 56 percent—is abnormally dry or mired in a full-on drought. More than a third of the country is experiencing drought conditions, and almost eight percent is in an extreme or exceptional drought.
Of course most Americans don't really care as long as water keeps coming out of the taps.  And for the moment, nobody is going without water.
But that could change if this drought continues to intensify.
According to the Denver Post, Lake Powell and Lake Mead have both dropped "to dangerous levels"…
Water levels at Lake Mead and Lake Powell are dropping to dangerous levels, reflecting the Colorado River's worsening "structural deficit," scientists said.
A "structural deficit" is simply a very fancy way of saying that we are using water faster than it is being replenished.
Lake Powell is being steadily drained to support Lake Mead, and at this point the water levels in both lakes have fallen to levels that are unprecedented…
"I want people to know that what's going on at Lake Mead is very, very closely tied to what's going on Lake Powell," Doug Kenney said, the group's chair and a professor at the University of Colorado. "We're draining Lake Powell to prop it up."

Lake Powell is about 48 percent full, and Lake Mead is about 38 percent full. By the end of the year, Powell's levels are projected to fall 94 feet (29 meters) below where the reservoir stood in 2000 when it was nearly full.
Many Americans don't realize how exceedingly important these two lakes are.
Approximately 40 million people in Arizona, California, Colorado, Nevada, New Mexico, Utah, Wyoming and northwestern Mexico rely on water from the Colorado River basin, and it has been steadily drying out for about 20 years…
The Colorado River basin, which feeds the two reservoirs, has been drying out over the last two decades, scientists said. With the demands from farms and cities exceeding the available the water supply, the strains on the river and reservoirs are being compounded by growing population, drought and climate change.

The Colorado River and its tributaries support about 40 million people and more than 7,800 square miles (20,200 square kilometers) of farmland.
If things don't change, and there is no reason to believe that they will, we will soon have a shortfall.
What that means is that certain areas would have their water allocations reduced, and Arizona and Nevada would be at the top of that list…
The U.S. Bureau of Reclamation said the chances of a shortfall in Lake Mead, the river's biggest reservoir, are now 57 percent, up from the 52 percent projected in May.

If the surface of Lake Mead drops below 1,075 feet (330 meters) above sea level, some deliveries would be cut under agreements governing the system.

Arizona, Nevada and Mexico would have their shares reduced first in a shortage.
Are you starting to understand how serious this is?
Scientists tell us that the 20th century was an unusually wet period of time for the southwestern United States.  For most of human history, a bleak and barren desert dominated most of the region, and it appears that we may be headed back in that direction.
During the Dust Bowl days of the 1930s, vast numbers of Americans migrated to other areas due to heat, drought, massive dust storms and a lack of water.
Now Dust Bowl conditions are returning, and it is entirely possible that we could see a new wave of migration in the years ahead.
Despite all of our advanced technology, we haven't discovered a way to defeat drought, and the devastating drought that is currently gripping the Southwest seems to be getting worse with each passing day.
Views: