via freebeacon:
China's Ministry of State Security successfully obtained State Department internal documents from an embassy office manager who was paid in cash and gifts, according to court documents in the case of Candace Claiborne, a spy for China since 2007.

Claiborne, 62, a former State Department office manager posted to both Beijing and Shanghai, pleaded guilty on Wednesday to a single conspiracy charge of defrauding the government by lying to federal agents about extensive contacts with two MSS intelligence officers.

"Candace Marie Claiborne traded her integrity and non-public information of the United States government in exchange for cash and other gifts from foreign agents she knew worked for the Chinese intelligence service," said Assistant Attorney General John C. Demers. "She withheld information and lied repeatedly about these contacts."
Flashback: NIH, FBI accuse scientists in US of sending IP to China, running shadow labs.
Related: During all the Russia hacking hype, China is rising in influence: While Russia's role in the 2016 election dominates the news, China's spying and alarming influence within our borders is too little noticed.
Snopes carrying water…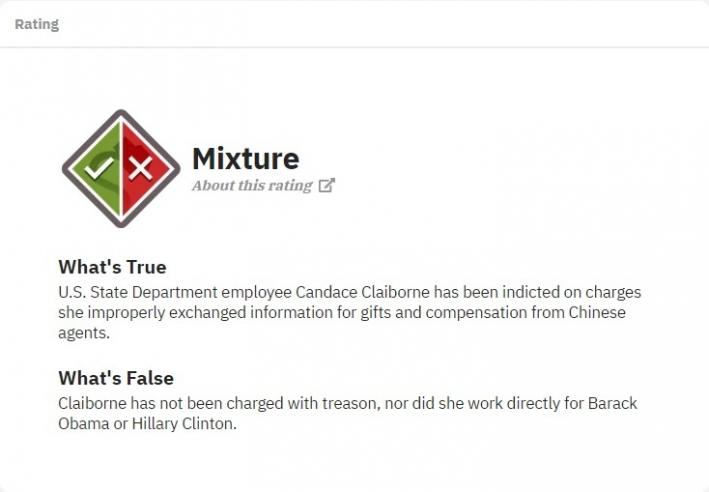 Spin.
h/t GR
1,607 views