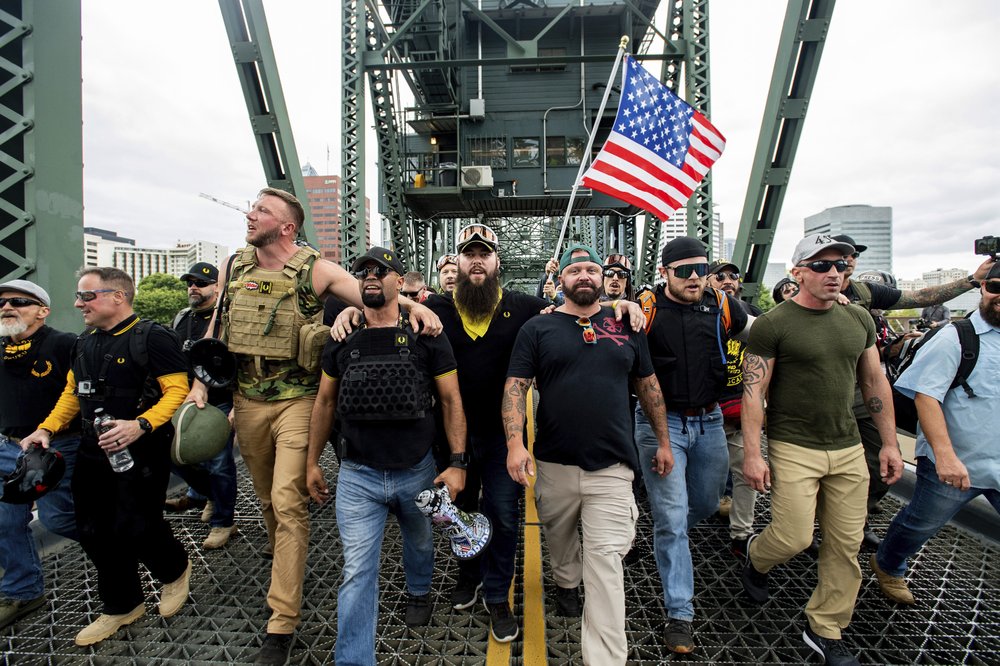 PORTLAND, Ore. (AP) — Hundreds of far-right protesters and anti-fascist counter-demonstrators swarmed downtown Portland, Oregon, on Saturday for a long-hyped rally that attracted President Donald Trump's attention and resulted in at least 13 arrests.

Police seized metal poles, bear spray and other weapons and closed bridges and streets to try to keep the rival groups apart. They were largely successful. Six minor injuries were reported.

"This was a dynamic event with demonstrators frequently moving from one part of the city to another," Mayor Ted Wheeler said at an evening news conference.

Leaders of the right-wing groups vowed to return to Portland, saying they would keep coming back to the liberal West Coast city so long as the left-wing antifascists, known as antifa, groups remained active.

President Donald Trump weighed in early Saturday, writing on Twitter that "Portland is being watched very closely… Hopefully the Mayor will be able to properly do his job."

He also wrote that "major consideration is being given to naming ANTIFA an 'ORGANIZATION of TERROR.'" It wasn't immediately clear what he meant by that because there's no mechanism for the United States government to declare a domestic organization a terror group.
apnews.com/423e0ee1018942a59e218a800b30b59f
PORTLAND, OR (KPTV) – Large crowds of demonstrators gathered in Portland on Saturday, as had been expected for weeks.

By late Saturday afternoon, the situation had been declared a "civil disturbance" by police.

Crowds began forming on both sides of the Morrison Bridge by 11 a.m. Groups then marched through the streets in the hours that followed.

Police estimated 1,200 people participated in Saturday's demonstrations. Multiple arrests were made as the day went on.
www.kptv.com/news/large-crowds-of-demonstrators-march-in-portland-police-make-multiple/article_19eea86c-c11d-11e9-967f-ef34795aed80.html
13 arrested; Cops declare civil disturbance
Fears that the showdown would turn violent prompted some downtown businesses to close and led to a massive police presence. At least 13 people were arrested, according to Lt. Tina Jones of the Portland Police Bureau.
www.nbcnews.com/news/us-news/far-right-rally-portland-met-anti-fascist-protesters-n1043646
1,195 views