The US and China's manufacturing activity seem to be synchronized – and both are slowing…#recession2017? #igwt2017 pic.twitter.com/3eUtruyVRp

— Ronnie Stoeferle (@RonStoeferle) May 4, 2017
Global recession risk rises as the US and China tighten into the storm
Equity investors across the world are positioned for the nirvana of synchronised and accelerating global expansion led by China and the US.
What they may instead get is a synchronised Sino-American slap in the face. Analysts at UBS say the international credit impulse has already "collapsed". The two economic superpowers are both tightening policy into an approaching storm.
Treasury curve continues to flatten, with the 10yr – 2yr yield spread now near pre-election levels. #recession2017? #igwt2017 pic.twitter.com/MIzBJPcBIH

— Ronnie Stoeferle (@RonStoeferle) May 4, 2017
Peak Auto sales? #recession2017? pic.twitter.com/JQlKHKcP0z

— Ronnie Stoeferle (@RonStoeferle) May 3, 2017

First quarter US Economy grows at 0.7% – weakest economy in three years
The U.S. economy expanded at the slowest pace in three years as weak auto sales and lower home-heating bills dragged down consumer spending, offsetting a pickup in investment led by housing and oil drilling.
Gross domestic product, the value of all goods and services produced, rose at a 0.7 percent annualized rate after advancing 2.1 percent in the prior quarter, Commerce Department data showed Friday in Washington. The median forecast of economists surveyed by Bloomberg called for a 1 percent gain. Consumer spending, the biggest part of the economy, rose 0.3 percent, the worst performance since 2009.
Crude oil enters BEAR MARKET !
The price of oil plunged nearly 5% today. West Texas intermediate is now at $45.41, down $2.41 per barrel. It has been a wild ride since April 12, when it still traded at $53 and the industry was talking about $60. Over the past three weeks, it has plunged 15%. It is now at the lowest level since November 30, when OPEC agreed to cut production.
This chart shows the plunge over the past three weeks in five-hour increments: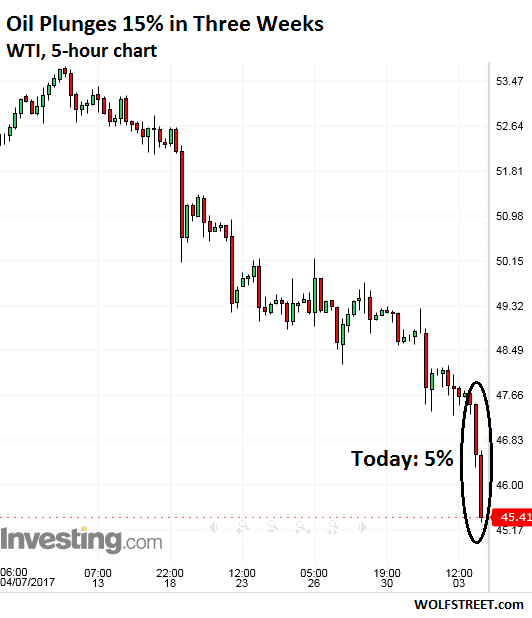 Kyle Bass Warns On China
Kyle Bass:  "All hell is about to break loose in China."
China's credit system expanded "too recklessly and too quickly," and "it's beginning to unravel," warns Hayman Capital's Kyle Bass.
Crucially, Bass notes that ballooning assets in Chinese wealth management products are another sign of a looming credit crisis in the nation.
"Some of the longer-term assets aren't doing very well," Bass said on Bloomberg TV from the annual Milken Institute Global Conference in Beverly Hills, California. "As soon as liabilities have problems – meaning the depositors decide to not roll their holdings – all hell breaks loose."
The wealth management products, or WMPs, have swelled to $4 trillion in assets in the last few years, he said., on a $34 trillion banking system…
"think about this – in the US, our asset-liability mismatch at the peak of our subprime greatness was around 2%! … China's mismatch is more than 10% of the system."
——————
Chinese Commodities Crash Limit-Down
It seems Kyle Bass' warning was extremely timely. The deleveraging of China's $4 trillion shadow banking system just accelerated massively as Bank Wealth Product Issuance crashes 15% month-over-month. With stocks and bonds already plunging, commodities joined the ugliness tonight with Dalian Iron Ore limit down (8%) at the open (not helped by tumbling auto demand).