Wolf Richter wolfstreet.com, www.amazon.com/author/wolfrichter
A very crowded trade goes begging for a contrarian reaction.
The 10-year Treasury yield closed on Monday at 2.86% the highest since January 16, 2014, after briefly kissing 2.89% during the day. At the moment, it is holding at 2.85%. Bond prices fall when yields rise – and being short the 10-year Treasury, and thus betting on a rising yield, has become a very crowded and profitable trade for hedge funds and other speculators.
Short bets in 10-year Treasury futures rose to 939,351 contracts, the most ever, according to Commodity Futures Trading Commission data through February 6, cited by Bloomberg yesterday.
This record came even after the market turmoil on February 5, when the Dow plunged 4.6% and when, briefly, Treasuries soared, with the 10-year yield dropping 13 basis points, which would have made shorts very nervous. But apparently, they hung on, as their record short positions through February 6 shows, when the 10-year yield rose again and closed at 2.79%.
The next step is 3%. The last time the 10-year yield was 3% was in early January 2014, and then only for a few days at the end of a brief spike. In May 2013, it got close, but no cigar (2.98%). And before then, it was at 3% in July 2011.
That 3% is a key level for another reason. At around 3%, the 10-year becomes very alluring for long-term holders, given today's dividend yields and other yields, and it will bring out more buyers.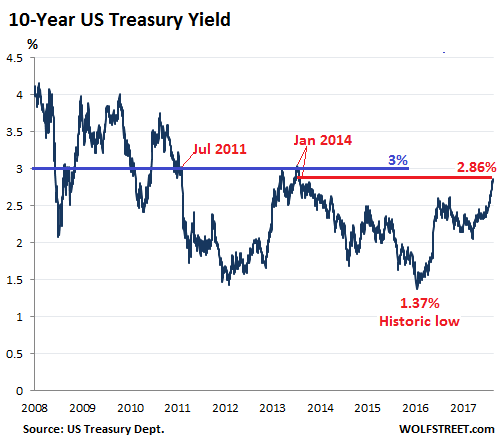 The emergence of these additional buyers may coincide with short-sellers trying to take profits, which may conspire to pump up the price and push down the yield. And this, fired up by speculators trying to get out of a short position, would turn into a sharp snap-back rally for the 10-year Treasury, and a sharp drop in yields. This could take off even before the 10-year yield hits 3%, and it could catch some speculators by surprise.
Tomorrow, those speculators will get to deal with the Consumer Price Index. If it comes in "benign," it could trigger a buying spree of Treasuries with longer maturities and push down their yields. If it comes in on the upside, yields could jump on their way to 3%. For highly leveraged shorts, this will be a white-knuckle moment.
The chart above shows how smooth the one-way bet against the 10-year Treasury has been since September last year. The market, just when it gets this crowded on one side of the boat, is setting up for a downward jag in that smooth spike. With speculators suddenly switching sides, we could see some wild gyrations over the next few weeks.
But on March 21, the FOMC will likely announce the next rate hike and might give clues on what lies ahead. The yield curve has been steepening gently from its dreadfully flat slope late last year, and this is a trend I expect to continue; so in this scenario, over time, the 10-year yield would rise faster than yields of shorter maturities.
The fire under the 10-year yield will be fueled also by the Fed's QE Unwind that has now accelerated and by the surge in new issuance of bonds to cover the ballooning deficits. These new bonds need to find buyers just when the Fed is whittling down its own pile. And they will have to have juicy yields to lure buyers into the market.
So I expect some wild gyrations that will likely give some shorts a bloody nose. But then, the 10-year yield will respond by rising slightly faster than shorter-term yields. And when it clearly and for good breaks above the 3% level, the 10-year yield will once again give confidence to shorts that it's ready for the next leg up. But just because this is one of the seemingly most logical bets at the moment doesn't mean it will be a smooth and pain-free ride.
The chorus is getting louder. But no one will be ready for those mortgage rates. Read… Four Rate Hikes in 2018 as US National Debt Will Spike