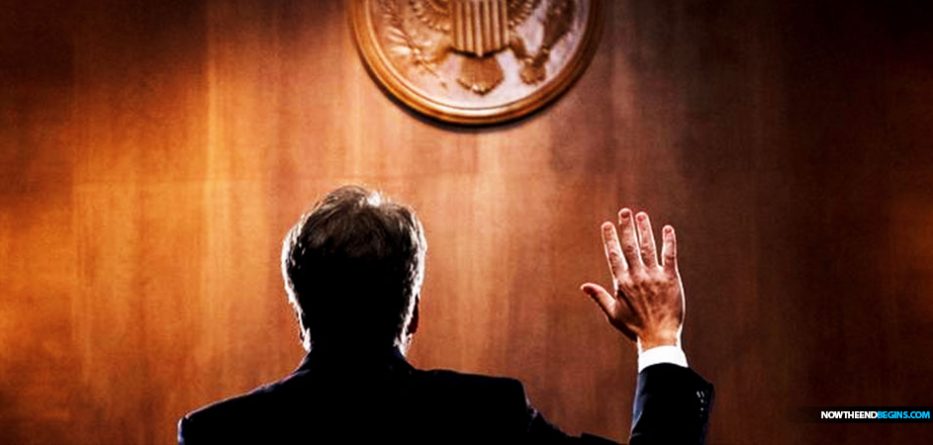 Supreme Court nominee Brett Kavanaugh secured the 50 votes he needs to be confirmed to the Supreme Court, as Maine GOP Sen. Susan Collins announced she would support him.
In an amazing climax to an already stunning process, Senator Susan Collins voted to confirm Brett Kavanaugh today, as did Senator Joe Manchin who had to cross party lines to do so. Predictably, screaming Liberal protestors hounded senators who voted for Kavanaugh, like what you would see in your average third world country.
I watched all of Senator Collins speech, 40 minutes in total, and thought she gave a through, concise and if you'll pardon the pun an unimpeachable defense of why Brett Kavanaugh should be confirmed. She is a credit to her state, and to the trust of the people who put her in office. Excellent job, Senator Collins.
FROM POLITICO: "I do not believe that these charges can fairly prevent Judge Kavanaugh from serving on the court," Collins said of accusations against Kavanaugh. "I will vote to confirm Judge Kavanaugh." Sen. Joe Manchin (D-W.Va.) immediately announced he would support Kavanaugh as Collins's speech ended.
The Senate voted to advance Kavanaugh to a final vote mostly along party lines, though Sen. Lisa Murkowski (R-Alaska) voted "no" and Manchin voted "yes." Sen. Jeff Flake (R-Ariz.) indicated after the vote that he would remain a yes on President Donald Trump's nominee "unless something big changed."
Even so, Kavanaugh's approval is not assured: Senators could conceivably vote differently on Saturday during an expected confirmation vote than they did on Friday.
SENATOR JOE MANCHIN VOTES FOR JUSTICE AND FAIRNESS, GETS SHOUTED DOWN BY CRAZED LIBERALS
SENATOR SUSAN COLLINS GAVE AN EXCELLENT SPEECH, WATCH ALL OF IT
Most senators sat at their desk as the dramatic roll call unfolded, with major suspense over where Murkowski, Manchin and Flake would land. Collins was the first swing vote to support Kavanaugh on the procedural roll call, quickly followed by Flake. Murkowski then inaudibly voted no, a jarring defection that left Republicans with no room for error.
AFTER IT WAS CLEAR THAT KAVANAUGH HAD THE 50 VOTES NEEDED TO ADVANCE, MANCHIN BECAME KAVANAUGH'S ONLY DEMOCRATIC SUPPORTER. MANCHIN, WHO LEFT THE CHAMBER WHEN THE CLERK CALLED HIS NAME, CAME BACK INTO THE CHAMBER AND VOTED IN FAVOR OF KAVANAUGH. HIS PHONE COULD BE SEEN RINGING AND MANCHIN STARED AT IT AS THE VOTE CONTINUED.
McConnell appeared emotionless during the vote, betraying nothing of his confidence level moving forward. His deputies were cautiously optimistic but still uncertain and said Collins has not indicated how she will vote on the final roll call.
And Democrats weren't yet willing to wave the white flag even after Kavanaugh's initial triumph. READ MORE
1,825 views