"So, for America to appear as if it is moving forward, it has to go backward into greater debt?!? If you weren't troubled so far, here is where the stuff starts to hit the fan," h/t Econimica pic.twitter.com/l9p4Ol1rm5

— Alastair Williamson (@StockBoardAsset) February 23, 2018
You're on a ride from hell pic.twitter.com/hPhB6ji0X4

— Alastair Williamson (@StockBoardAsset) February 23, 2018

Fed's Rosengren: Quite Likely Will Need QE Again In The Future. we're all f*cked.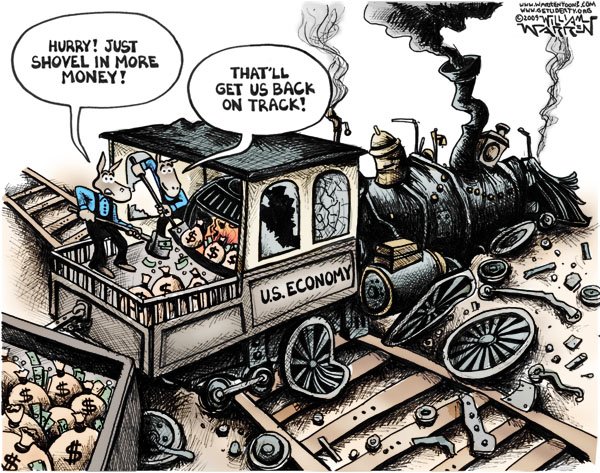 Putting the "Loan" in "Collateralized Loan Obligation" gets tougher as new loan supply wanes
Leveraged loans may not grow fast enough to meet demand

A shortage could open the door to including riskier loans
Wall Street can't get enough of leveraged loans. No, really, there might not be enough to go around.
The shortage could temper sales this year of Wall Street's hottest debt instrument, collateralized loan obligations, which are stuffed with leveraged loans typically used to finance takeovers. The problem: The universe of outstanding leveraged loans grew by $74 billion last year, while sales of new CLOs are projected to rise in 2018 to a record $140 billion.
"The most important question for CLOs right now is sourcing collateral," said John Fraser, head of Investcorp Credit Management U.S., with $11.5 billion of CLOs and leveraged loan assets under management. "Can it be done at prices and spreads and risk profiles that are appropriate? That's the big challenge."
CalPERS Accounting Change = Municipal Bankruptcies Across the Nation
Shifting an amortization schedule from 30 years to 20 years is the stuff of accountancy firm meeting boredom-nightmare scenarios, right? Everyone around the table desperately trying not to nod off and faceplant in their fourth cup of coffee of the day.
Not so in super-leveraged, overpromised California, where the debt-bulging system is so delicate that such a move threatens the structural integrity of municipal governments. This simple tweak to CalPERS, the California Public Employees' Retirement System, may be the difference between cities financially surviving and being driven into forced bankruptcy.
The bottom line is that the change will require the state government and thousands of local government agencies and school districts to ramp up their mandatory contributions to the huge trust fund.