by gorillaz0e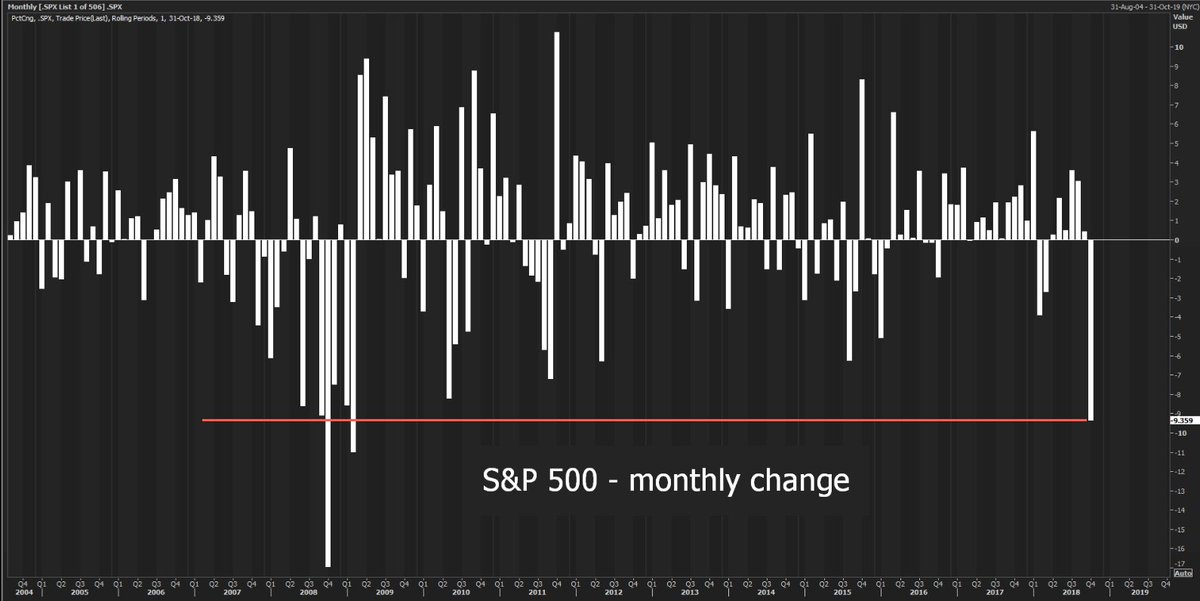 Graph of this issue: pbs.twimg.com/media/DqyqT0fWkAEiv0S.jpg
October was a rough ride for U.S. stocks, which despite regaining a portion of the month's losses Wednesday ended as one of the worst months since the financial crisis.
The S&P 500 lost $1.91 trillion in October, according to S&P Dow Jones Indices analyst Howard Silverblatt. Losses were spread widely across industry sectors. October was the worst month for the S&P 500 since September 2011.
"October volatility is legendary, and we're not just talking about the crash in 2008," Silverblatt told CNBC. "October is a much more volatile month than any of the others as far as quick declines go."
The month kicked off on a rocky note for stocks when Federal Reserve Chairman Jerome Powell said the central bank is "a long way" from neutral interest rates. Powell said the Fed does not need the policies put in place that pulled the economy out of the last financial crisis. He declared that "we don't need" the "really extremely accommodative low interest rates" the central bank put in place a decade ago. The Fed is likely to raise the federal funds rate to 3.4 percent before pausing, according to the most recent projections.
Big technology stocks — most well-known as FANG: Facebook, Amazon, Netflix and Google parent Alphabet — were among the hardest hit. Amazon ended the month down 20.2 percent, and Netflix ended down 19.3 percent. Investors fled both after earnings reports. Facebook and Alphabet finished October down 7.7 percent and 9.7 percent, respectively.
Do you think we have seen the end of this corrections?
Will big corrections be more frequent for the market in the upcoming years?
806 views