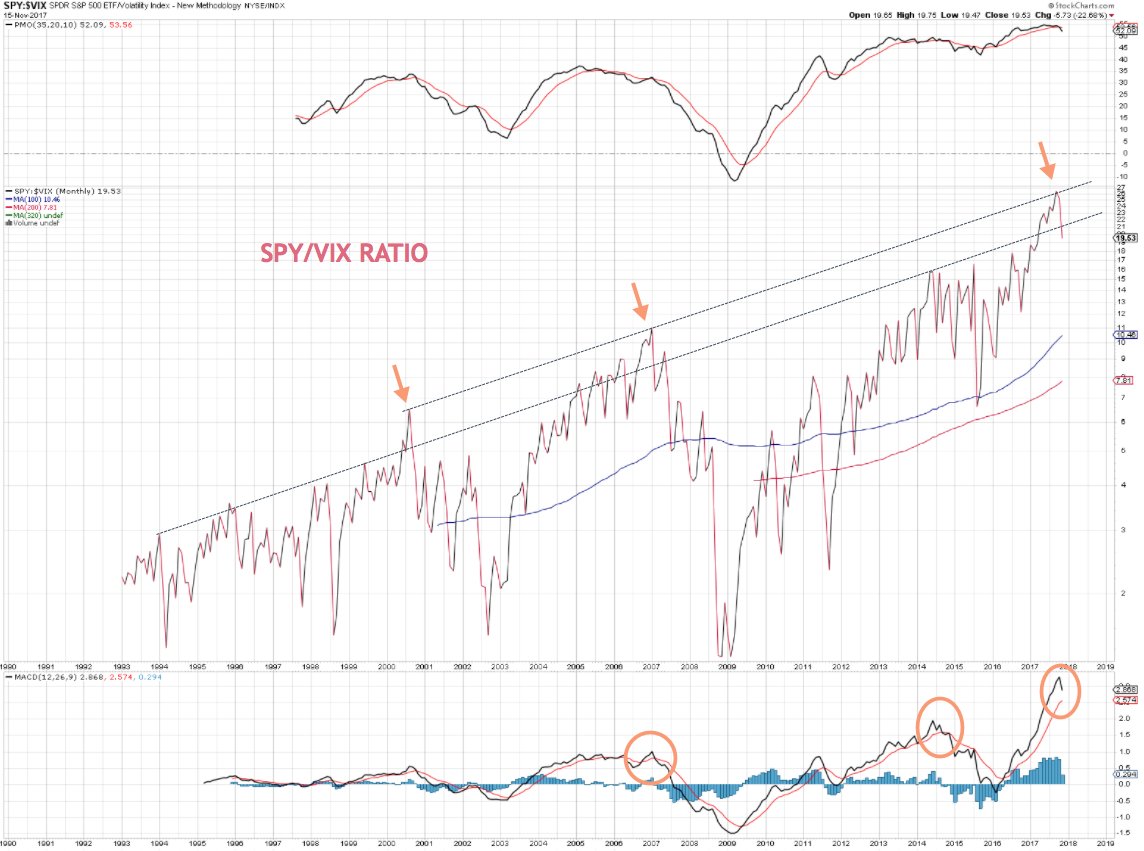 $HYG Triangle of Death pic.twitter.com/yrHMIMBFms

— Alastair Williamson (@StockBoardAsset) November 16, 2017
China home sales vs. 3yr yield $acwi pic.twitter.com/RhCrpmnmGs

— Teddy Vallee (@TeddyVallee) November 16, 2017
Fear of glut grips commodities. Bloomberg Commodity Index has lost all 2017 gains. pic.twitter.com/20GYOAoMS0

— Holger Zschaepitz (@Schuldensuehner) November 15, 2017

twitter.com/NorthmanTrader/status/930859102124806144
The last time 2s10s (monthly) triggered a death cross it was 2007 pic.twitter.com/prQzlAa8Ta

— Alastair Williamson (@StockBoardAsset) November 16, 2017
Charles Dow would be rolling over in his grave if he saw this chart pic.twitter.com/3sDtJCNeyi

— Alastair Williamson (@StockBoardAsset) November 16, 2017

WARNING: Last Time We Saw Anything Like This Was Right Before March 2000 & January 2008 Collapses!
Shades Of 2000 & 2008!
November 14 (King World News) – From Jeff Saut, Chief Investment Strategist at Raymond James: Speaking to the short-term direction of the equity markets, we offer this from another brilliant guru – Jason Goepfert (SentimenTrader) – who wrote this last night:
"The S&P's split personality. Last week, there were a lot of buying climaxes (reversals from 52-week highs) in S&P 500 stocks – 32 of them, which was up from 20 the prior week. There were also a lot of selling climaxes (reversals from 52-week lows), 17 of them, which is highly unusual in a week when there were so many buying climaxes. Usually there are many of one or the other, not both. The only time we've seen so many of both kinds of reversals, showing a highly split market, was in March 2000."
Remembering: Ben Bernanke, on Subject of Inverted Yield Curve, in 2007

About 46% of student parents who borrowed a federal student loan for the 2003-2004 school year defaulted on their debtwithin 12 years, according to an …
MADRID, Nov 16 (Reuters) – Spain issued 4.7 billion euros ($5.5 billion) of debt at a scheduled auction on Thursday, with solid demand for the longest dated …
Puerto Rico is considering suspending debt-service payments for five years, a lead lawyer … Puerto Rico this year initially said it could allocate $8 billion for debt …
The numbers: Household debt rose by $116 billion, or 0.9%, to $12.96 trillion in the third quarter, the New York Fed said Tuesday. That's the highest level in …
Chinese developers facing a looming wall of debt repayments have been thrown a lifeline by regulators easing access to offshore financing. That won't solve all .
teleSUR English
–
12 hours ago
Nearly 35 billion lower income people reside in developing nations and have … yet overwhelming student debt is crippling the generation and preventing them …
WASHINGTON (AP) – The federal government began its new budget year with an October deficit of $63.2 billion, up sharply from a year ago. The Treasury …
Fort Worth Star Telegram
–
14 hours ago
Pension shortfall could cost Fort Worth taxpayers $40 million a year … The unfunded liability is the amount of benefits promised to employees and retirees, but …
C-VILLE Weekly
–
21 hours ago
The second American Health Care Act would have reduced premiums—if it had passed in the Senate, says Garrett. Premiums of $36,000 a year are "ridiculous," .