via John Rubino:
A few years ago the Swiss National Bank (SNB) – which traditionally held "monetary assets" like government bonds, cash and gold to back up the Swiss franc – decided to branch out into common stocks.
This was a departure, but for a while a brilliant one. The SNB loaded up on Big Tech like Apple (NASDAQ:AAPL), Amazon (NASDAQ:AMZN) and Microsoft (NASDAQ:MSFT), and rode them to massive profits, which enriched both the Swiss people and the SNB's stockholders (in another departure, it's a publicly traded company as well as a central bank).
But live by the sword, die by the sword. Turning your central bank into the world's biggest hedge fund means outsized profits in good times, but potentially serious losses if those aggressive bets go wrong.
The following table shows the SNB's seven biggest stock positions. Note that 1) they're all US based multinationals – not a single Swiss stock – and 2) they're all way up over the past few years but way down over the past two months. Total loss from these positions since September 30: nearly $2 billion.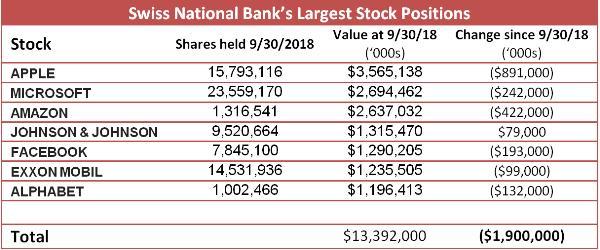 SNB's stock price, after quadrupling during the FANG stock bubble, has given back some of that gain.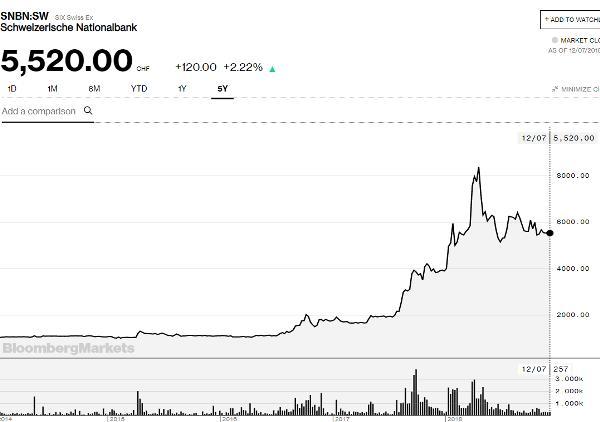 Now, why should anyone other than the Swiss and the SNB's stockholders care whether this central bank/hedge fund wins or loses? Because of the concept of "moneyness" and what it implies for the future.
The quick version of the story is that investors generally hold a variety of assets, some of which are money and some of which are not. Money is seen as risk-free or nearly so, and makes up the part of a portfolio that is expected to hold its value. Once that risk-free core is secured, other assets that fluctuate in value are added to generate excess returns.
490 views