Bloomberg: "The Bubble's Losing Air. Get Ready for a Crisis"
"The 'everything bubble' is deflating. The fact that it's happening relatively slowly shouldn't blind us to the real threat: The world is dangerously underestimating how hard it'll be to deal with the fallout once it pops."
The S&P 500 is on pace for the worst December since 1931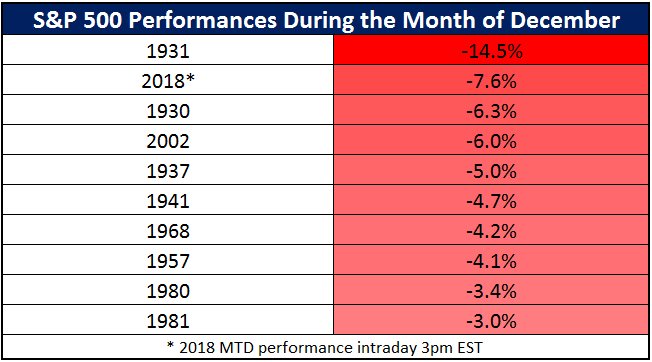 CNBC: It's now or never for the 2018 stock market, which seems immune to any good news
Excerpts:
Citigroup strategist Tobias Levkovich calculates that the S&P 500 right now builds in an implicit forecast of zero earnings growth next year

Levkovich also did a survey of institutional clients, in which they predicted around 4 percent 2019 S&P 500 earnings growth — about half the consensus analyst forecast right now. These professional investors now see the S&P 500 finishing 2019 at 2,850. Sure, that's up nearly 10 percent from here but is 100 points lower than the prior survey in late September.
The last key death cross is poised to engulf the stock market
The Dow Jones Industrial Average DJIA, -0.42% is on the verge of joining other major equity benchmarks in a so-called death cross, where the 50-day — a short-term trend tracker — crosses below the 200-day, used to determine a long-term trend in an asset. Chart watchers believe that such a cross marks the point where a shorter-term decline graduates to a longer-term downtrend.
When the liquidity tide goes out, equities tend to go down @Nedbank @SoberLook @Reuters pic.twitter.com/iaZX3mi8hT

— Liz Ann Sonders (@LizAnnSonders) December 17, 2018
IMF: Trade War Hurting Global Growth, May Cut Expectations a Second Time
"Citing the potential fallout from the Sino-U.S. trade war, the IMF cut its global growth forecast in October to 3.7 percent for both 2018 and 2019, down from 3.9 percent projected in July."
"Conflict Gauge": Dalio's Proprietary World Stress Meter at Highest Level Since 1940s
"For almost two years now, Bridgewater Associates Founder Ray Dalio has been telling anyone who will listen that the rise of anti-establishment populist parties presents a greater threat to markets than the ebbing of monetary stimulus and burgeoning national debt."
897 views