by Ruby Henley
This is the reason for the wall! A California police officer was shot and killed day after Christmas when he stopped a car without a license plate. He was not an ordinary police officer, as he was a legal immigrant who migrated to this Country legally to become a police officer. Not only that he was a K-9 police officer. The illegal immigrant inside the vehicle he stopped shot and killed him, but he was used to that as he was a notorious gang member here illegally and had two DUIs.
There are several aspects of this story I want to make clear –
The K-9 police officer shot and killed was here legally, who had migrated from Fiji. His dream was to become a police officer.
The gang member from Mexico was here illegally and had two DUIs. Yet he was free and driving.
The K-9 dog was given to the slain officer's family, and he knows his partner is dead. He knows his duty is to protect the officer's wife and child for the rest of his life.
President Trump is heartbroken for his family and has sought to comfort them. He has also made sure the officer's dog is with his family, as this is where he belongs.
THIS IS THE REASON FOR THE WALL!
This story has not been mentioned by the Democrats, as this is just too compelling an example for the wall.
It is a compelling example of why we should not have a problem with illegal immigrants – no excuse – as with this slain police officer and his family came to this country – legally – and now are productive citizens – or this officer was before he was murdered by an illegal immigrant gang member with two DUIs.  How can we ignore this any longer?
President Trump is taking Executive Action it does seem at this time to bypass Congress.  What else can he possibly do? There is no good reason they cannot work with him to build the wall this Country needs to keep these type of criminals out of our Country.
BELOW IS A PHOTO OF THE SLAIN OFFICER, HIS K-9, HIS WIFE, AND HIS SON.
GOD REST HIS SOUL.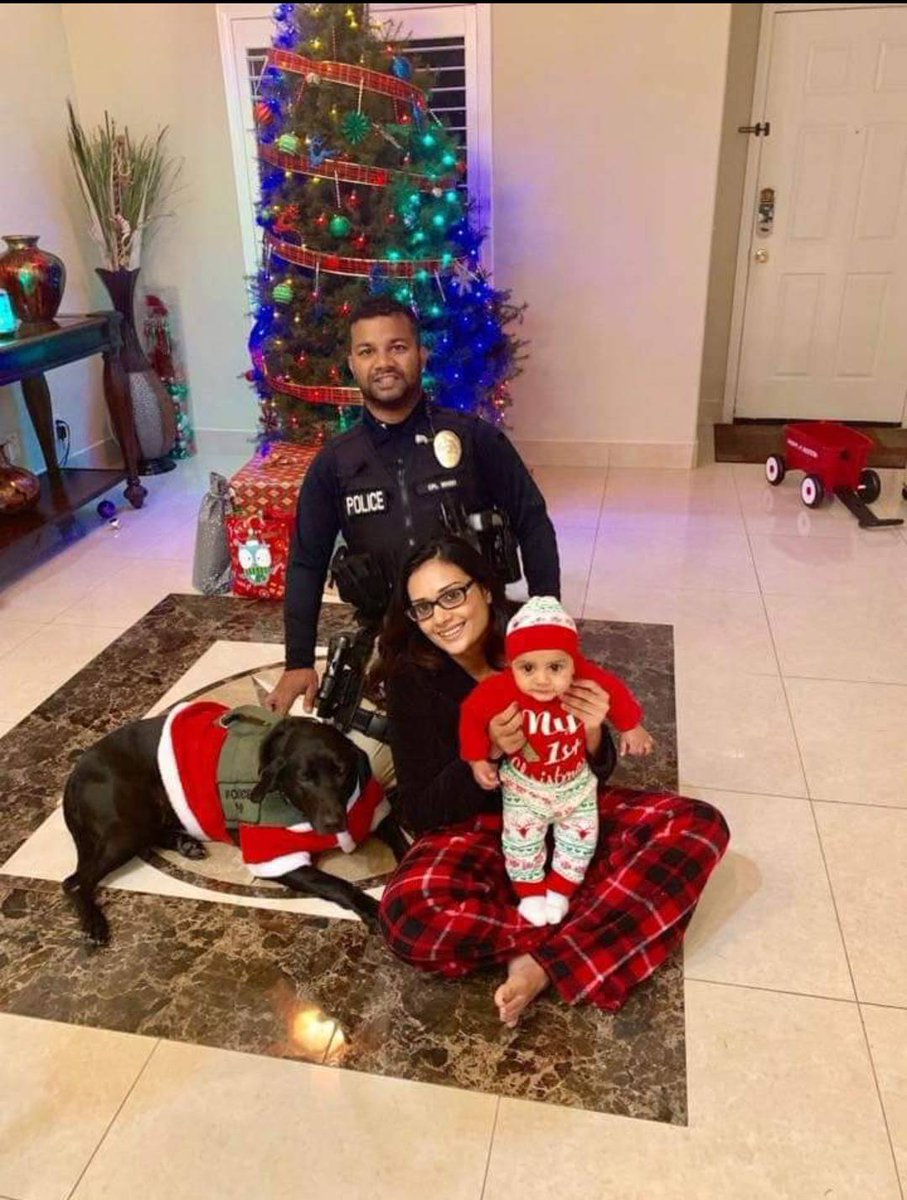 sanfrancisco.cbslocal.com/2018/12/28/slain-officers-k-9-partner-retired-to-live-with-his-family/
Singh, a 33-year-old with a newborn son, was an "American patriot," his police chief said.
"He came to America with one purpose, and that was to serve this country," Richardson said.
Singh drove more than two hours each way to attend the police academy in Yuba City, Richardson said. He joined the Merced County sheriff's office as a reserve officer and worked as an animal control officer in Turlock before being hired by the Newman force in 2011.
English was Singh's third language and he had a thick accent but took speech classes to improve his communication, the chief said.
President Trump is ready to claim Executive Privilege to bypass Congress and build the wall.
President Trump said today he will declare a national emergency to circumvent Congress if he can't reach a deal with Democrats to fund his promised border wall. He spent most of the day in Texas near the U.S.-Mexico border to draw further attention to his case after negotiations with lawmakers blew up.
Trump says he won't reopen the government without money for the wall. Democrats say they favor measures to bolster border security but oppose the long, impregnable walling that Trump envisions. He is asking $5.7 billion for wall construction.
THE FOLLOWING IS A STATEMENT FROM LINDSEY GRAHAM –
As the Newman community prepares to lay to rest Cpl. Ronil Singh, the fallen officer's accused killer is set to make his first court appearance. Here is a timeline of what led up to this point.
TRUMP EX-ATTORNEY TO TESTIFY ON CAPITOL HILL –
btcbrain.com/2019/01/trump-ex-lawyer-michael-cohen-to-testify-on-capitol-hill/
QUOTE –
Known as Trump's "fixer," part of Cohen's job was to make the president's problems go away — by any means necessary. Now it is Cohen who is going away, due to be incarcerated in FCI-Otisville, a medium-security federal prison in New York.
"In furtherance of my commitment to cooperate and provide the American people with answers, I have accepted the invitation by Chairman Elijah Cummings to appear publicly on February 7th before the Committee on Oversight and Government Reform," said Cohen.
I have been living in a personal and mental incarceration ever since the day that I accepted the offer to work for a real estate mogul whose business acumen I deeply admired. Today is one of the most meaningful days of my life. The irony is that today I get my freedom back.
Cohen has a track record of erratic and unethical behavior, caught on tape at one point threatening a Daily Beast reporter with complete financial and social ruin if he published a story with the words "Trump" and "rape" regarding an accusation made by Trump's first wife.
Cohen said that he would bury the reporter under financial problems forever, saying "what I'm going to do to you is going to be f*cking disgusting," and adding that it wasn't possible by definition to rape one's spouse, a comment he was later compelled to apologize for making.
t's unclear whether Cohen's testimony contains evidence that could lead to the impeachment of the US president, but given the fact that Trump's casually-tweeted comments (such as criticisms of the Federal Reserve chairman Jerome Powell) have been correlated with major turbulence in the stock markets, the last thing the economy needs at the moment is another wild card.
Like it or not, Cohen will be airing the administration's dirty laundry under oath in front of a government committee in February, something which is likely to cost traders, economists, and of course, President Trump himself, a few nights' sleep at the very least.
END OF QUOTE –
I hope President Trump declares Executive Privilege now and takes the control he needs to take.  Time is running out.
1,380 views