Wolf Richter wolfstreet.com, www.amazon.com/author/wolfrichter
Russia, Japan, and the Fed dumped, China hung in there…. But who bought?
"Official" foreign investors – this would be central banks, governments, etc. – and private-sector foreign investors held $6.21 trillion of US Treasury Securities at the end of June, up by $61 billion from a year earlier, according to the Treasury Department's TIC data released Wednesday afternoon.
But over the same period, the US gross national debt, fired up by a stupendous spending binge, soared by a breath-taking $1.36 trillion. So who bought this $1.36 trillion in new debt?
The largest holder of marketable Treasury securities remains China, whose holdings in June fell by $4.4 billion from May to $1.18 trillion, within the same range since August 2017, despite escalating threats and counter-threats over trade.
But Japan has been systematically reducing its Treasury holdings. They'd peaked at the end of 2014 at $1.24 trillion. In June, its holdings dropped by $18.4 billion from May, to $1.03 trillion, the lowest since October 2011: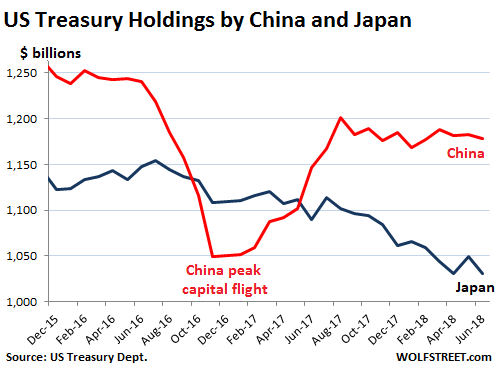 Russia never held as many Treasury securities as China and Japan. But it stands out because it has liquidated 90% of its holdings since May 2013. At the time, it held $153 billion in Treasuries. Then it started shedding them. By March, it was down to $96.1 billion. In April, it dumped $47.4 billion. In May, it liquidated another $33.8 billion of its holdings and disappeared from the TIC's list of the 33 largest foreign holders of Treasuries. That was a milestone. In June, it just hung on to what it had and ended the month unchanged at $14.9 billion: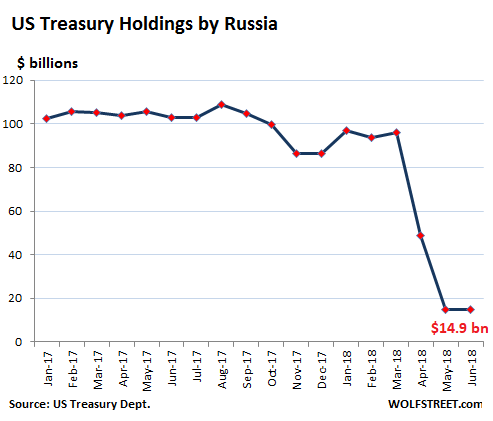 China's and Japan's outsized role as creditor to the US government has been diminishing in proportion to the US gross national debt for two reasons: The total pile of debt has soared; and the holdings of China and Japan have edged down. At the end of 2015, their combined holdings amounted to nearly 13% of the total US debt. By the end of June, this was down to 10.4% (green line), with Japan's holdings (blue line) now down to 4.9% of total US government debt, and China's stash (red line) down to 5.6%: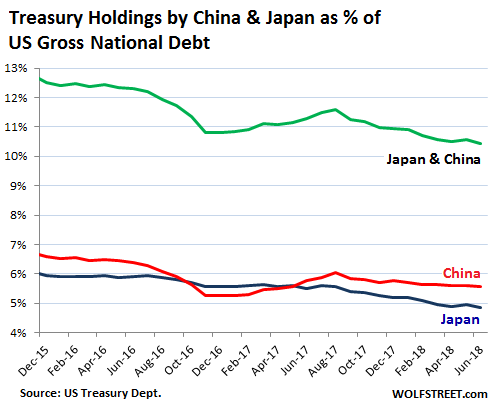 The Runners-up
Perhaps not so ironically: Of the 12 largest holders of US Treasuries, after China and Japan, seven are tax havens for foreign corporate and/or individual entities (bold):
Brazil: $300 billion
Ireland: $300 billion
UK ("City of London"): $274 billion
Switzerland: $236 billion
Luxembourg: $220 billion
Cayman Islands: $197 billion… down from $250 billion in April 2017!
Hong Kong: $192 billion
Saudi Arabia: $165 billion
Taiwan: $163 billion
Belgium: $155 billion
India: $147 billion
Singapore: $122 billion
Germany runs the third largest trade surplus with the US, behind China, Mexico, and Japan (2017), and it's the fourth largest economy in the world, but it held only $71 billion in Treasuries in June. This disproves the common assertion that a country with a large trade imbalance with the US has to get stuck with its debt.
The Americans did it.
By the end of June, the US gross national debt had reached $21.21 trillion, up $1.36 trillion from June last year. Here's who bought all this paper over those 12 months:
Foreign official and private-sector holders bought $61 billion, raising their stake to $6.21 trillion, or 29.3% of the total US national debt (see above).
The US government (pension funds, Social Security, etc.) raised its stake by $263 billion, bringing "debt held internally" to $5.73 trillion, or 27.0% of the total.
The Federal Reserve shed $85 billion as part of its QE Unwind, bringing its stash down to $2.38 trillion by the end of June, or 11.2% of total US national debt.

American institutional and individual investors, directly and indirectly, through bond funds, corporate or state pension funds, and other ways, owned $6.89 trillion, or 32.5% of the total US debt at the end of June, having added $1.13 trillion to their stash over those 12 months!
And here's the proud ownership of the elephantine US debt: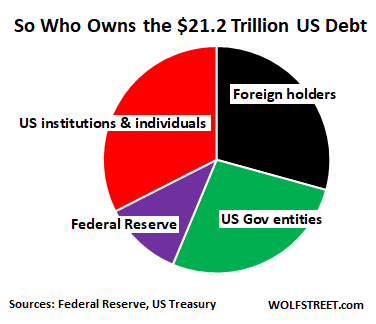 The Fed, Japan, Russia, and whoever might be selling. But Americans are buying avidly – now that yields have come up substantially, with the one-month yield at nearly 2%, the one-year yield at 2.45%, and the two-year yield at 2.61%. There is even huge demand for long-term maturities, as evidenced by the 10-year yield, which is only 2.86%. If there were less demand, the yield would have to rise to lure new investors out of the woodwork.
Views: