by Viraj Shah

Investors looking for safe havens may find solace in precious metals. If Marc Faber is to be believed, gold will shine in the next 3-6 months. The legendary investor, known as Doctor Doom, is predicting a bright future for gold in the next two quarters. A strengthened dollar is making trade difficult, as suggested by President Trump himself. Steve Mnuchin, the U.S. Treasury Secretary nominee warns of an 'excessively strong dollar' which may bring short-term troubles for the U.S. economy. Considering these opinions, it is highly likely that gold will brighten its sheen this year.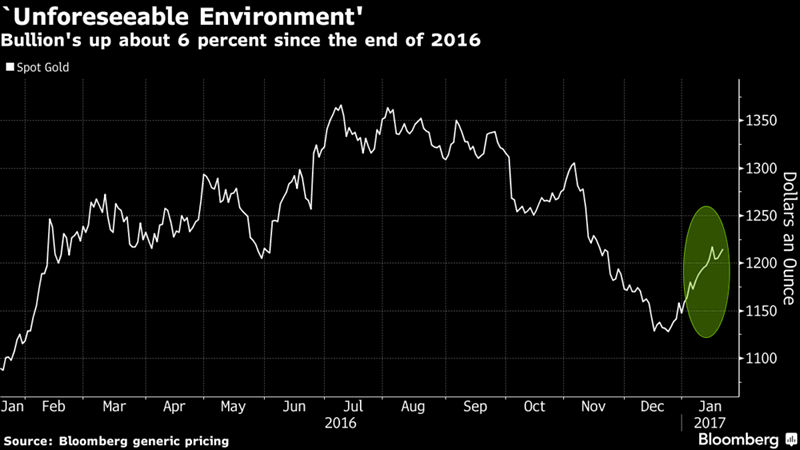 Global FX strategist also bullish
The opinions are based on firm ground as well. The head of Global FX Strategy at Unicredit, Vasileos Gkionakis is of the view that dollar will be losing ground in the upcoming months. Most analysts believe that dollar is overvalued and the inflationary trend in the currency is because of over-optimism of the investors. Note that dollar appreciated from 2014 to 2016 by 30%. Ever since Trump has taken office, the prices of gold have surged. He has also suggested that exchange rates would be brought down to facilitate trade.


India to consume more Gold
India, one of the largest consumers of gold, will also gain back some traction this year. Somasundaram P R, head of India operations of World Gold Council, suggested a strong push for gold in 2017. The demand for gold will rise to 850-950 tonnes by 2020 in India alone. This will also affect prices globally. After demonetization, the gold demand took a small hit but would likely go back to normal as the country gets over the currency shortage issues. Small investors will also be opting for accumulation of gold because of global uncertainties.
Indian households have record #gold hoard of Rs 24,000 tonnes worth $800 bn t.co/zQmIgaZHBt via @FinancialXpress

— CommodityTradeMantra (@MONEYLINE_FCPL) January 25, 2017

Marc Faber also bullish on yellow metal
Marc Faber commented that people would be moving their liquidity towards physical accumulation of precious metals as well as their stocks. Currently, the liquidity is hooked to stocks and investors are overlooking bonds. Both domestic and international investors have moved to US stocks. This may not be good news for the economy. As dollar loses its value in the coming two quarters, the investors find a safety net in gold as well as silver and platinum.
Marc Faber: Good Times Ahead for Precious Metals t.co/VcQnlgjZv4 #foxbusiness #marcfaber #commodities #preciousmetals #bullion pic.twitter.com/OVEjIBdr0F

— UK Gold Bullion (@UKGoldBullion) January 20, 2017

Faber is known for his gloomy predictions about the market but this time he is predicting a bright future for gold. His opinion is established on the fact that gold ETF demands are rising very quickly. Such a surge in prices was witnessed only in 2011. Investors are now looking up to investment options that can provide safety of capital. China is one such market where money is consistently flowing towards Bitcoin. A panic among investors after a ban for cash is pushed in Davos will only add more fuel to the fire. President Trump is most likely opting for a policy shift soon to lower dollar value for more efficient trade. Rising demands in markets like India will put more pressure on gold in 2017 and prices will surge. Buying gold now would be better for investors before the yellow metal glows brighter.
Conclusion:
Gold is expected to benefit from increased demand and policy shift by USA. Markets across the world have rallied on strong inflows. However, the rally cannot go on for long time and sooner or later there will be a shift to safe heaven.